Moving into a new home is an exciting milestone. It does come with the strenuous activities of orchestrating furniture movement, transportation, storage, moving costs, and the general readjusting to a new environment. However, you may begin enjoying your new home by decorating. Here are some ways to ease into a new space by decorating.
Moving into a new home may mean that you left behind close family and friends that you may have lived with nearby. It may also mean moving closer to family and friends. Regardless of the dynamics, you can decorate by hanging portraits of your loved ones on your walls. Hanging these portraits as a form of decoration also helps you enjoy the memories that you had formed with them, and you carry a piece of them into your new home.
Using reliable movers is essential to transport your fragile pieces, such as portraits, into your new home without fearing damage. Placing your portraits in the back of your car if you're driving to your new home is a risk you may regret later on. You may drive on rough terrain, and the portraits may get damaged. Thus, consider checking out https://www.thebigboymovers.com/locations/east-idaho/ and other professional movers to know how they can help you with your move.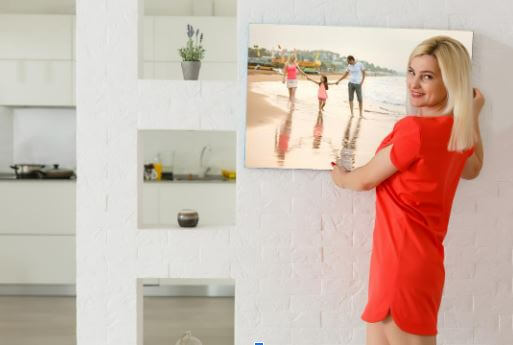 Place Potted Plants Around Your Home
Surrounding your home with potted plants is a great decorating strategy as they bring in a fresh aura around the home. It's believed that potted plants could also help alleviate stress levels. Because moving is stressful and acclimatizing can also be difficult, potted plants may make for a beneficial decoration.
Consider purchasing different-sized potted plants for various areas in your home. For example, you can purchase a wall-size potted plant to place by your entrance. There can be another medium-sized potted plant in the corner of the entryway and a smaller one on your dining table. You can also place palm-sized potted plants on your window ledges, creating an inviting aura in your space.
Painting your door black is definitely one of the unique and challenging decoration ideas for your new home. Black doors have significant importance in accordance with Feng Shui. These doors look good in any style of home and with almost all paint and floor colors. Black interior doors can add a bit of personalization to your new home. These doors are known to elevate your room's space, making it a bit dressier.
You could either purchase black doors directly or DIY paint your door black. For instance, you can either paint a few doors black or just paint a single door black, differentiating it from the rest of the doors in your home. This will help you highlight a particular room without investing much.
Do-it-yourself (DIY) projects are popular for decorating your home. You can research different digital platforms to find furniture pieces that you can make to decorate your home. For instance, you can make a unique bookshelf or pallet side tables, which will add character to your home. You can paint and use them as you see fit while enjoying the decorative effect.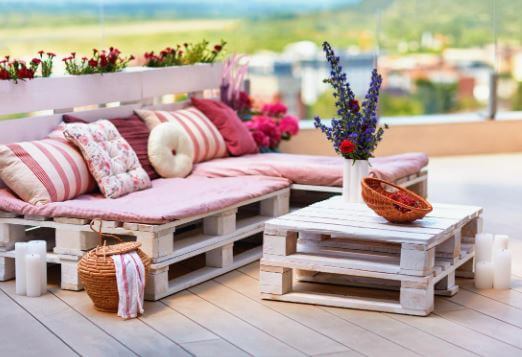 Place Diffusers On Furniture Tops
Diffusers are beautiful-looking bottles containing essential oils that give off a sweet-smelling scent around the house. The diffusers are aesthetically designed, so they fit the decorative pieces of your home. You can place a few diffusers on countertops, for example, so that you and your visitors can admire these while enjoying the scent.
Different essential oils are said to have varying effects on your health, so you can research and discover the ones you'd like to have in your home. For instance, peppermint is believed to help alleviate physical pain, while lavender keeps you calm and relaxed.
Place Complementing Rugs And Cushions
Another way of decorating your home is by placing complementing rugs and cushions. For example, you can place a 'Welcome Home' rug in gray color by your door entrance, which complements the red cushions on your couches as you walk into the lounge area. The rug in the lounge area can be a dark color, such as black, to complement both the rug and the cushions.
You can research the colors that designers recommend complement each other and consider the theme you'd like to have. You can then decorate your home by playing around with the different tones and colors.
Purchase Unique Art Pieces
Purchasing unique art pieces defines your home and portrays your personality, character, and signature. You may invest in quality art pieces or choose depending on the kind of art you find intriguing. Examples of unique art include sculptures made from granite. Different sculptors specialize in certain art materials, and some may intrigue you through research. 
You can place various sculpted pieces of art in the corners of your home. These art pieces are usually produced to tell a story; hence, your home will be home to various stories through art.
Chandeliers make for beautiful decoration in the living room or bedroom. You can purchase a chandelier to complement your interior's theme. For example, if your living room theme is bohemian, you can hang a chandelier made from pallet to enhance the bohemian look. On the other hand, if your theme is more modern-classic, a silver mirror chandelier can complement the interior design and theme. 
Light draping in the living room or bright-colored blinds help with naturally decorating your space. The natural light that comes in when you hang light draping contributes to the look and feel of the space. Besides, the lighter the living room and kitchen space, the more enjoyable it becomes. 
Meanwhile, heavier draping in the bedroom may help you sleep more comfortably. However, consider opening the curtains or blinds wide during the day so that you also enjoy the natural light that decorates your room.
Bedside lamps are not only convenient for when you are resting in your room while enjoying a book, for example, but they also double up as decorative pieces in your home. The type of bedside lamps you choose can depend on your personality and preference. Some enjoy cylinder-shaped lamps in different shades, while others prefer more artsy types of bedside lamps. You can also find services that offer tailor-made lamp designs for your home.  
Paint Walls In Light or Neutral Colors 
You may decide to paint your new home in a different color than what it is when you moved in. Light or neutral colors enhance interior aesthetics and help to bounce around natural light. Some colors you can experiment with include beige, white, and light blue, but the final say will still depend on your preferred interior theme. 
If reading is one of your hobbies, set up a reading corner to decorate your house. A cozy couch and a complimenting rug with a side table and lamp make for a beautiful setup. You can then build a shelf on the wall or purchase a ready-made one where you can place your favorite reads. 
If your new home has a patio, you can consider purchasing furniture to decorate the space. Examples of patio furniture include egg chairs, couches, cushions, rugs, coffee tables, or a hammock. Decorating your patio with such furniture pieces helps create a cozy space where you can entertain guests aside from the living room. You can also place a cozy fireplace or a portable heater to continue to enjoy the area during cooler temperatures. 
If the patio doesn't have a shade or isn't an extension of the house, consider having a shade built over it so you don't have to shift the furniture pieces during harsh weather. 
Flowers are a pleasant and natural decoration around your home. If you have garden space, consider growing different kinds of colorful flowers to enhance your space. This would be an excellent extension of the patio decoration as you would enjoy the space while entertaining others, for example. If you don't have garden space, you can also grow flowers in a pot and hang the pots on your patio or balcony. 
Moving into a new home means your focus on the first few days or weeks will be on boxes and items requiring placement. Tidying up once you arrive is a way of decorating your place already. You may have the most beautiful reading corner, but if empty boxes block the view of the corner, you won't be able to enjoy the decorative space as much as you should. Consider tidying up the space as you unpack and move things around so that you see how your home comes to life through the decorations.
Conclusion
Decorating your home after a move is an exciting process and helps you adjust to your new residence. Some ways to decorate include portrait hanging, placing potted plants around the home, and diffuser bottles. Complementing rugs and cushions also help enhance the space, while unique art pieces tell a meaningful story about your home. You can also experiment with DIY projects, where you can make furniture pieces to decorate your space.
Moreover, chandeliers make for beautiful decoration alongside the natural light that light draping encourages into the home. You can also place bedside lamps and repaint the walls to complement the general theme of your home. Other decorative hacks you can do include setting up a reading corner or enhancing your patio with furniture. You may even grow a beautiful garden and enjoy the natural outdoor decoration. 
Decorating your home comes down to your personality and preference. Have fun experimenting with the different designs and products you can use to decorate your new home. Remember that settling in is a process, so there's no need to rush.