Crisp autumn mornings call you to your deck or patio for a frothy pumpkin spice latte. Make this space your favorite for fall with a few creative under-deck patio ideas and other essentials for the season.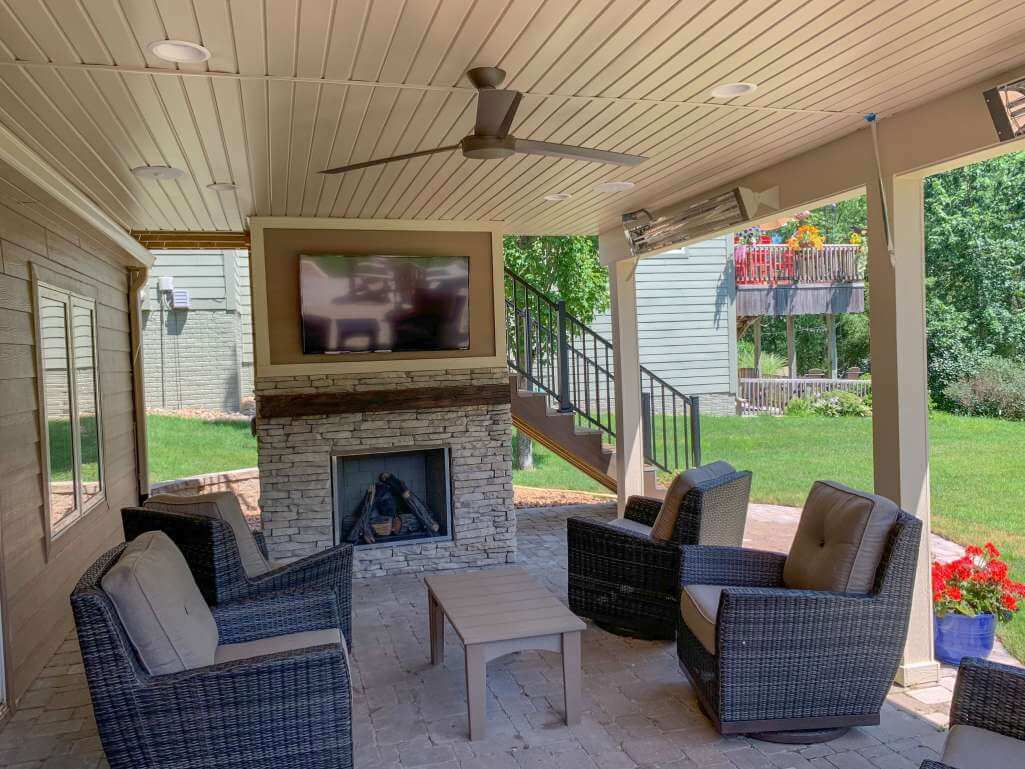 A deck can be much more than a plane of boards and patios more than a slab of concrete or brick. These outdoor spaces transform with just a bit of intentionality and style. Try these ideas to get started.
Cultivate Cottagecore
Bring a cozy vibe to your deck or patio with a cottagecore feel. This romantic country style conveys the quaint feeling of an English cottage with vintage furniture, dried flowers, baskets, and leafy greens.
This nod back to more agricultural days might have you adding miniature rose bushes in your deck pots or choosing cushions with a floral design. Consider plating some herbs along the edge of your patio. Choose a color palette with neutrals and warm tones.
Lighten Up
Adding lighting to your deck or patio not only enhances its utility but also ups the charm factor. A few strands of Edison lightbulbs overhead make any outdoor space feel like a party. Lanterns hanging in trees or on patio tables create inviting spaces.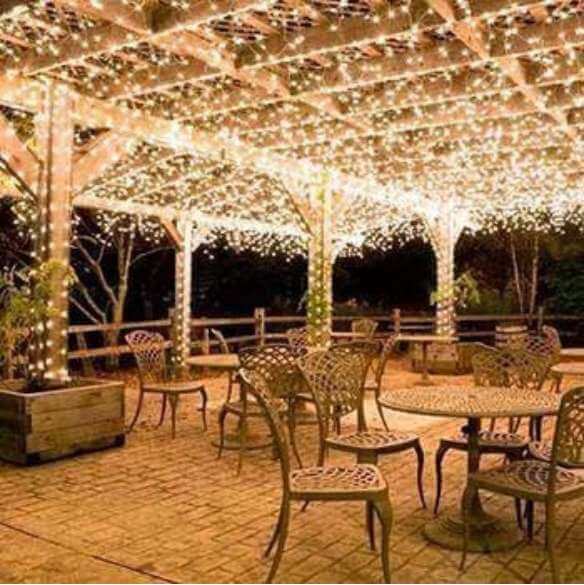 If you're building a new deck or patio, talk to your builder about permanent lighting too. For example, lighting on stairs and along railings helps define these spaces to keep guests safer.
Go for More Green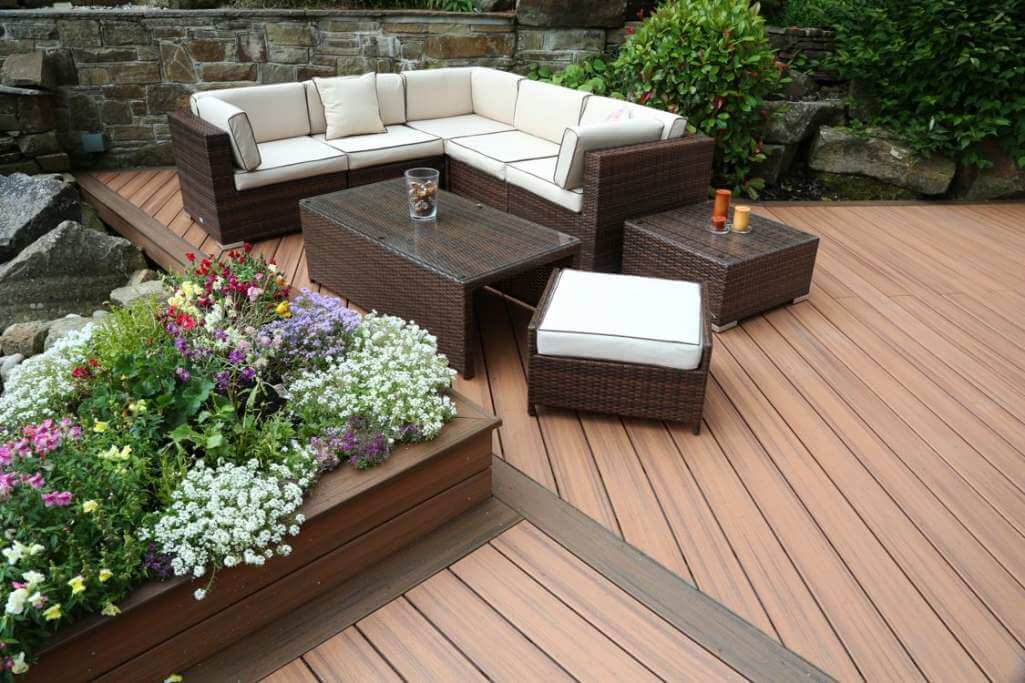 The more greenery, the merrier! Borders of greenery and bright annuals can provide a lovely edge for your outdoor space. Container gardening offers myriad options for texture and color. Be sure to place your pots on risers to prevent discoloring concrete or causing the wood to rot due to moisture. Use these tips to make the most of your container plants:
Fill the containers with quality potting soil.
Follow your new plant's guidelines for sunlight and watering.
Try planting in layers: a tall plant (a thriller), a medium busy plant (filler), and a trailing vine (a spiller).
Water and fertilize as needed (remember to water less frequently in cooler months).
Succulents remain a popular gardening option for indoor and outdoor spaces. You can multiply your succulents by propagating in water or soil. You'll love the vast array of shapes and sizes — and the relatively low maintenance requirements.
Create comfort
Not all outdoor furnishings are created equal. Find the right choice by viewing lines and styles online, but, if possible, take a seat in them before purchasing. For example, some people love an Adirondack chair while others find them less than comfortable. Likewise, some people love a hammock or swing, while others find their lack of structure less than ideal.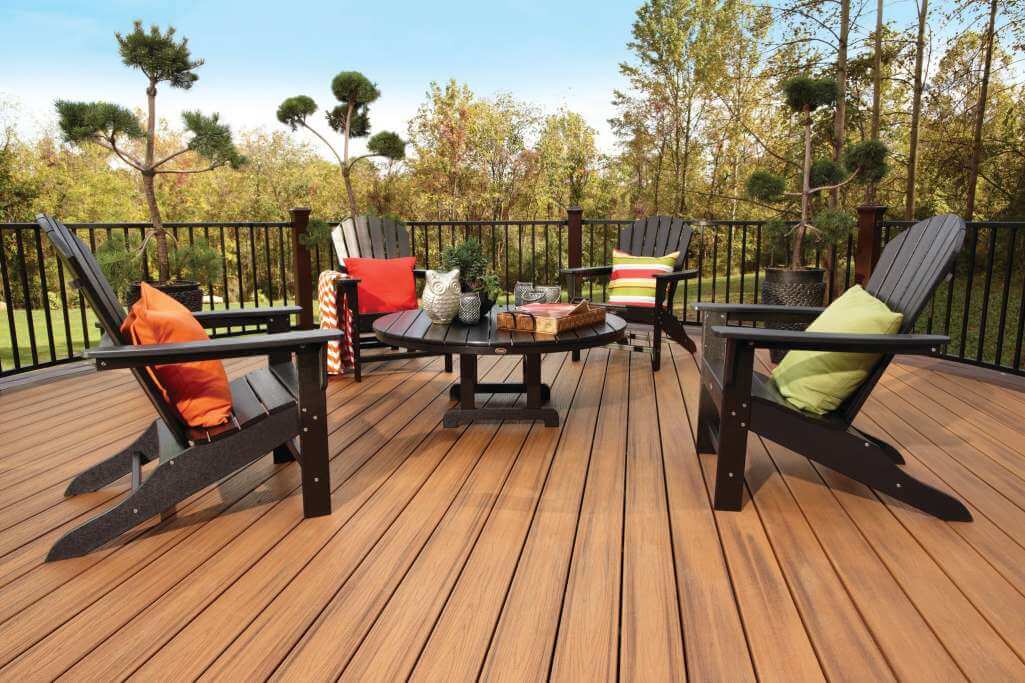 If you already have outdoor seating, consider adding stylish but cozy cushions, outdoor throws, or bring it all together with a weather-resistant rug. All-weather curtains can also make an outdoor space feel more like the indoors while also providing additional privacy.
Add height
Create vertical visual interest with a pergola, arbor, gazebo, or other elements that provide shade but also the opportunity to add lighting or plants overhead. A pergola is built with columns and overhead beams and is usually bigger than an arbor and smaller than a gazebo. A huge trend in outdoor living, pergolas come in all shapes and sizes and can be built from scratch or bought as a kit.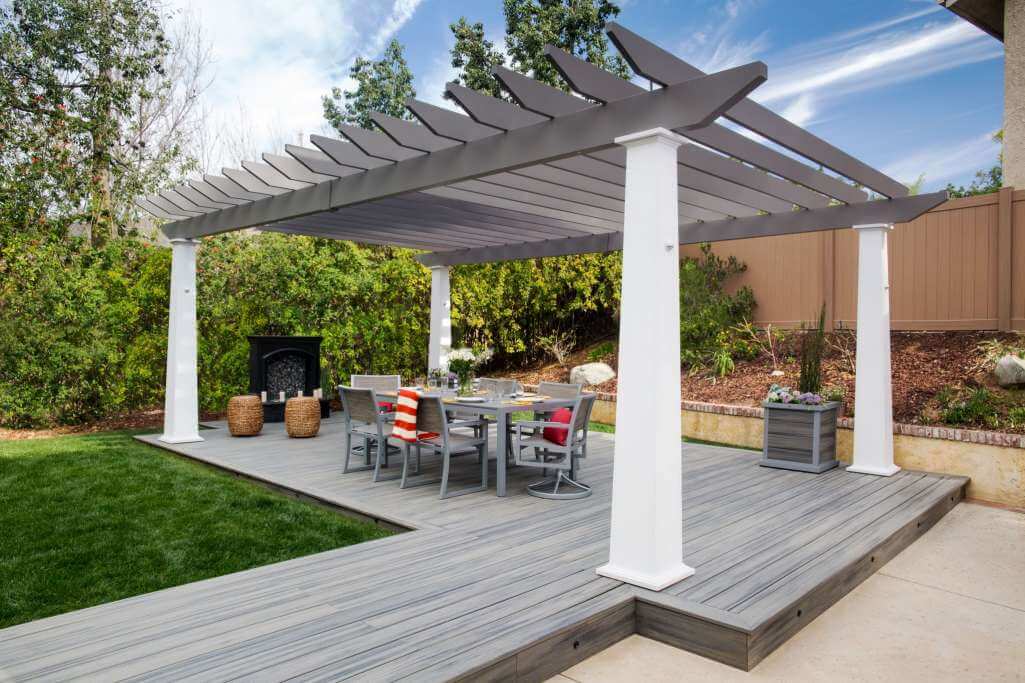 If you have a two-story deck, you can also create cover overhead to protect your outdoor living space by adding an under-deck drainage system. With a system of gutters and troughs, spare your room from the dripping of water or ice seeping through deck boards. With this dry, useable space, you can add lights, fans, and a ceiling. Some homeowners even enclose this space to protect it from insects and weather.
Eat alfresco
With an outdoor living space, you have many options for decorating your dining spot. You might choose a fun high-top table and chair set, something sleeker and more modern, or big, cushioned dining sets that invite guests to lounge for hours. Invest in some fun outdoor tableware (think plastic or melamine) and store it in a handy spot for ease of use.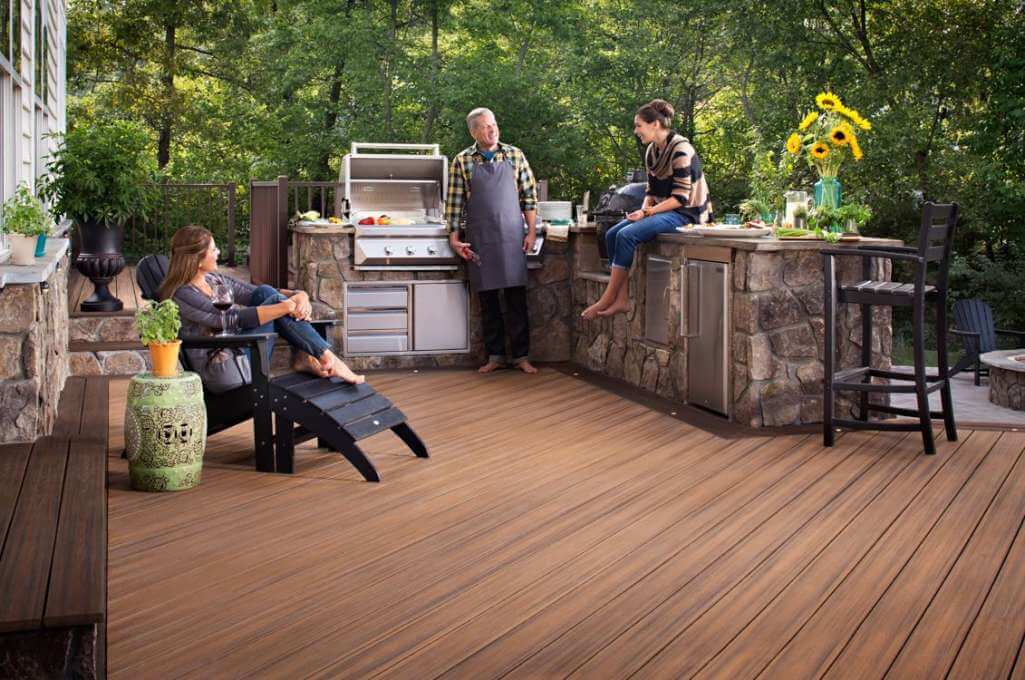 Make your dining space even more convenient by adding a nearby outdoor kitchen, pizza oven, or grill. Remember to follow safety guidelines for any cooking appliances, adding a heat-resistant mat and keeping distance from exterior walls.
Keep it clean
Whatever your decorating style, be sure to sweep your deck and patio regularly to avoid tannin stains and other debris. Wash your deck or patio with soap and water at least annually. Be careful with power washers to avoid any splintering or chipping caused by high pressure.
Once your deck is clean, be sure to seal any wood to protect against rot. To see if sealing is needed, put a few drops of water on your decking boards. If the water quickly seeps in, then you probably need a coat of sealant. You do not need to seal if you have composite boards made of recycled plastic and wood particles.
With a clean, protected deck decorated with your keen design style, you'll savor many seasons — and warm drinks — in your outdoor space. Enjoy!