Engineered oak flooring is a great choice for many homeowners. Oak flooring has been around for centuries, and it's no surprise that people are still choosing this type of wood today. It offers some excellent benefits, including being durable and natural-looking. This blog post will discuss why you choose engineered oak floors in your home.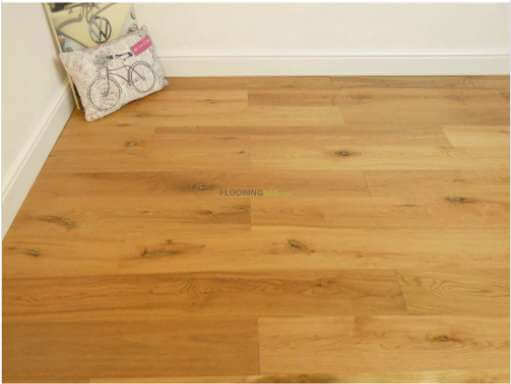 Let's take a look at these reasons.
Easy Installation
Many people choose to install their hardwood flooring, but it is a difficult job requiring the proper tools and knowledge. Engineered wood floors are much easier for do-it-yourselfers because they come preassembled in tongue and groove pieces that snap together quickly with little effort.
If installed correctly, engineered oak flooring can go directly over existing subfloors without any problems or preparation needed beforehand. The planks also don't need adhesive or nails as long as your original subfloor doesn't warp from moisture damage from poor installation.
Extremely versatile
Many people are often unsure about choosing oak flooring because they are worried it will not be versatile enough to fit with other items in the room. For example, some may think that marble floors make a great bathroom floor but clash with an elegant bedroom carpet.
Oak is one of those materials which can work for multiple spaces throughout your home and even outdoors where you have decked or paved areas, etcetera. The wood's natural finish can be enhanced with a sealant or wax, which will also help protect it from any dirt, dust, and other debris that may get caught on the surface.
They can be refinished
One of the great things about these floors is that they can be refinished. This is a smart choice for wood flooring if you need to refinish your floor because it has worn down. The finish won't wear off like engineered hardwood will, even if it's sanded and recoated several times over its lifespan.
They are durable
They require little upkeep because they're extremely resistant to dents, scratches, and stains, making them great for high traffic areas in your home where scuff marks happen all the time, like hallways, entryways, etc. You have to keep up with routine cleaning, but that shouldn't take too much time away from your busy schedule.
Compatible with underfloor heating
Engineered oak flooring comprises layers of various hardwood, and these layers are glued together to form a single flat sheet that can be used for any purpose. The top layer in the engineered wood tiles is generally always an Oak veneer; however, this isn't always so because it depends on what style you want to achieve and what look you're aiming for.
The Bottom Line
Engineered oak flooring is a popular choice for homeowners and interior designers. It can be difficult to choose the right one for your home or project with so many options available. Engineered oak flooring offers many of the same benefits as traditional solid wood floors with added durability, reduced installation costs, and value retention compared to other types of hardwood.