In the search for the perfect snow blower, your specific needs and personal preferences are the most important factors.
That's why it's crucial to be informed about snow blower features and specifications – so you can find the perfect machine to fit your requirements with the confidence that you've checked off all the essential boxes on the road to buying a snow blower.
Along with an understanding of snow blower features and specifications, it's also beneficial to determine when the best time is to buy a snow blower and what you should consider before making a purchase. This guide covers the basics to get you started, but if you're looking for a full breakdown of everything you need to know about buying and maintaining a snow blower, check out this Ultimate Snow Blower Buying and Maintenance Guide.
Below is an explanation of key snow blower features and specifications, along with a quick look at why each is important to consider before making a buying decision.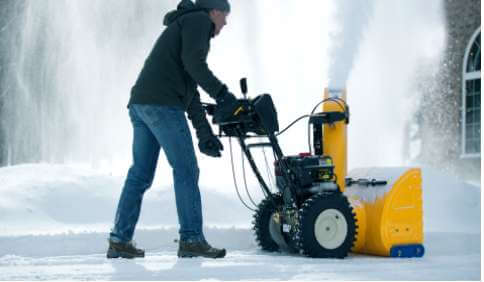 SNOW BLOWER FEATURES TO CONSIDER
·  Push-button electric start – Starting your snow blower has never been easier thanks to the push-button start feature, which eliminates the hassle of the traditional pull cord.
·  Trigger control power steering – This feature allows you to operate two-stage and three-stage snow blowers with a single hand, offering improved control and maneuverability.
·  Heated hand grips – Even the best gloves don't do the trick during the coldest days of winter when you have a lot of snow to clear, so heated hand grips can give you better control and comfort in freezing conditions.
·  LED Headlights – Wintry weather hits at all hours of the day and LED headlights allow you the flexibility to clear snow in the early morning or at night without visibility issues.
·  Skid shoes – A helpful feature on multiple fronts, skid shoes make handling and maneuvering easier and prevent damage on surfaces like driveways and garage floors.
·  Drift cutters – These are a simple attachment extending from the front of the snowblower. When snow piles high in your driveway, drift cutters will guide snow into the auger housing and stop it from falling onto your snow blower.
SNOW BLOWER SPECIFICATIONS TO CONSIDER
·  Clearing width – This specification indicates the width, usually in inches, of the auger housing and therefore of the path that will be cleared with each pass of a snow blower. More clearing width means fewer passes and can lead to less time clearing snowfall. However, if you have narrow pathways that need to be cleared, a smaller clearing width may be the better choice. For very narrow paths, a snow blower might not be your best option, so you might want to consider spreading grit salt instead – you can find out more about options here.
·  Intake height – This refers to the height of the auger housing and determines the amount of snowfall a particular snow blower can clear effectively. Keep in mind that the addition of drift cutters can help clear through snow buildup beyond the height of the intake.
·  Throwing distance – The distance that a snow blower can throw snow. A smaller throwing distance is good for small driveways while a larger throwing distance is beneficial for wider driveways to ensure you don't need to clear the same snow repeatedly.
·  Engine size – Snow blower engine sizes range from 200 cubic centimeters (cc) for consumer-grade, 200-400 cc for midsize, and 400 cc or more for professional grade. The size of your snow blower's engine will determine how much gas it consumes and the horsepower it produces.
·  Horsepower – Snow blower engines have outputs that range from six horsepower to the mid-20s. More horsepower means a larger engine and increased power for the augers and drivetrain.