If you want to create an outdoor living area for your home with the use of your deck or patio or add a shading resource over your doors or windows, you may be thinking of investing into a retractable awning. An awning is not only a functional component for the home, but it adds a nice cosmetic presence to a house.
Before you put in the effort, time, and resources necessary to take this step, it's smart to get familiar with the variety of different options that are available on the market for material and aesthetics to sizes and prices. You can check out varying reviews, e.g. reviews of Sunsetter awnings, to get an idea of the unique styles that are out there and what people have to say about them. But it's really important that you do your research before you make any type of purchase.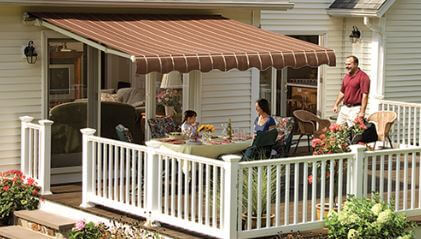 The Basics of Retractable Awnings
When you're doing research, e.g. reviews of Sunsetter awnings or various other reference sites, you want to check out materials, type of mounting capabilities, durability, weather resistance, cost, all the key elements to make the awning the right choice for you.
Frame
The awning is going to have a metal frame that will extend a piece of fabric out over it in order to provide the appropriate shaded area. The frame needs to be strong and durable. It will work with a wall, soffit, or roof mount dependent on whether the home is concrete/vinyl/brick or if it is a single-story or condo or if it is an older type of home that offers eaves.
Cooling Your House
If you get the right awning, it will reduce the temp on the deck by nearly 20% and the interior temperatures by 15% if it is situated over top of a sliding door or window saving AC power.
Fabric
The awning fabric should be such that it has strong quality, a long-lasting lifespan, designed to tolerate blazing sun and other weather elements. It is important to try to obtain a material that will have a warranty attached to it. If it has a ten-year warranty, you know that it will be quality that can be counted on for a significant lifespan. It can also suggest that the material will be mildew and fade-resistant, which are two main issues with awning longevity. The sun eating away at the fibers (UV degradation) causes the fading and ruins the awning. In the time that it takes for you to notice the fading, it's too late; the fading has caused the fabric to thin which will result in a tear coming soon. Replacing the entire awning is more cost effective than just replacing the fabric.
Colors
It depends on the awning that you choose how many varieties of colors that you will have to choose from, but you want to be mindful of what choice you make. Different colors will reflect the UV rays in different percentages. Dark colors are going to attract the sun more than the lighter but it will also retain more heat.
Sizes
Awnings will come in many different sizes from widths that range from 8 up to 10 all the way up to 25 feet and projections that can vary from 8 on up to 12 feet. It's important to have plenty of space to enjoy uninterrupted sun with some of your space occasionally, while still having that relaxing spot of shade and being able to entertain groups of people.
Motorized vs Manual
Motorized is definitely better than having to hand crank your retractable awning open and closed with a wind sensor included that will automatically close if it senses a rain storm.
Making sure that you do specific research to cover your needs, e.g. reviews of Sunsetter awnings or references from other folks, will allow that you get the type of protection that will satisfy you for years to come.