Before I start my career as an Interior Designer, I used to watch celebrity interior designer, Thom Felicia's "Dress My Nest" episodes   without missing single episode and he is one of my biggest inspirations whom I admired high for his marvelous work. After writing  about sunny and bright room makeover, I thought why I cannot give something totally opposite color combination room makeover when I came across with this Thom Felicia's one of beautiful room makeovers with dark walls.
Someone will think grey is drearily dull and lack – luster, but Thom Felicia has proved it wrong amazingly as dark grey rooms are really stylish and chic. Each designer is amazing and each one has a speciality of displaying their own visions. While one is looking at bright and sunny other one might look at chic and cozy atmosphere. Find out here how this dark walls have done wonders in this room makeover.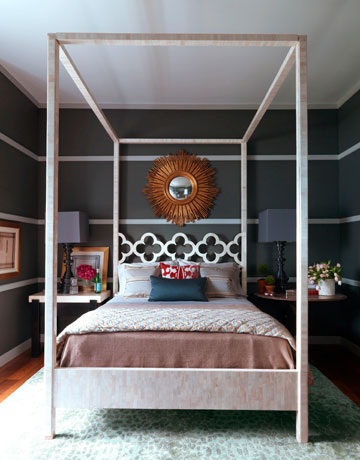 Four postal classic white bed running towards the ceiling has done magic to show the height of the room without making it cramp up and look really stylish. And its a perfect example for a classic simplicity with an unexpected modern flair look. Don't you agree with me?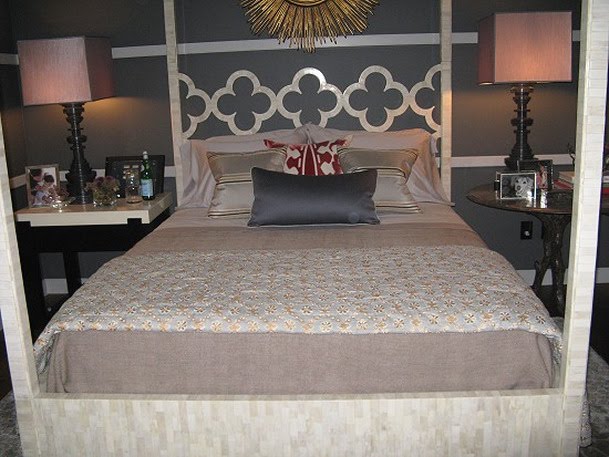 Look at the white  wooden work floral head board popping up proudly leaving the grey wall behind. And light beige linen, small textured white and gold comforter and accent pillows have totally complete the neat look.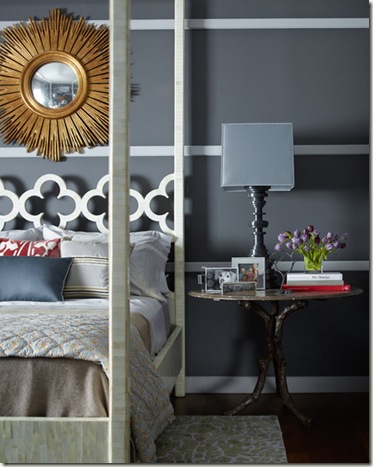 He has not used bulky side tables or chest but a classic stool to hold up perfect grey in color side lamps with all the accent pieces here and there while gold accent sun burst mirror pops richly against rich, sultry wall.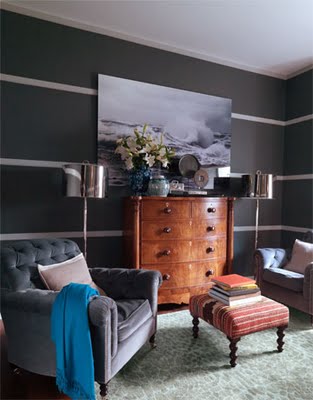 Again perfect example to show mix and match furniture plays wonders in any decor if we use it carefully and confidently. Wooden brown chest, white four poles bed, gold sun burst mirror and chrome shades and accessories with shades of grey while white wooden stripe details running around adding so much energy. What a perfect match?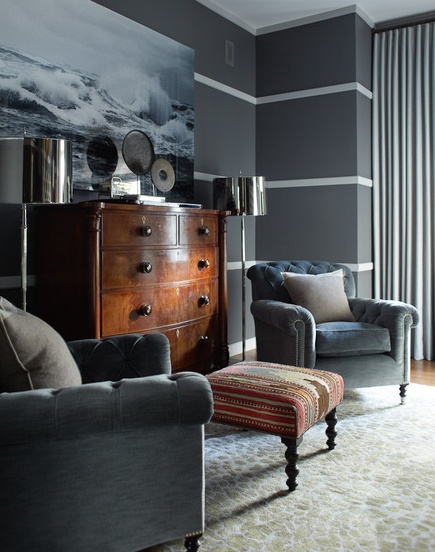 Grey blue velvet chairs with soft grey drapes has blend in to the room making a wonderful bright seating nook to relax and read while the rug feels more comfort to the feet. If we are confident in our vision and give ourself time to do it thoughtfully no color theme will go wrong whether it is sunny bring or dark warm gray. Hope you liked this grey and chic bedroom makeover as much as I did.