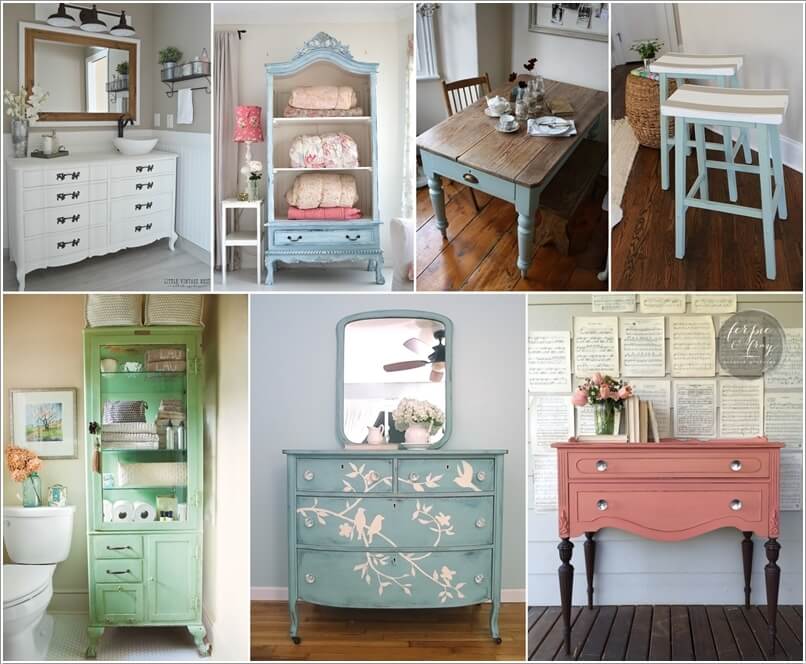 If you happen to have a vintage piece of furniture either already in your home or you have found one in a flea market recently then it is the time to give it a makeover and bring it to limelight. The easiest way to give a makeover to vintage furniture and update your home with it is to use paint. Your home can become a place for painted furniture inspiration in this way for others as well. So,  get ready to grab your paints, sandpaper and brushes and take a look at the ideas we have brought for you:
1. Turn A Vintage Dresser into a Bathroom Vanity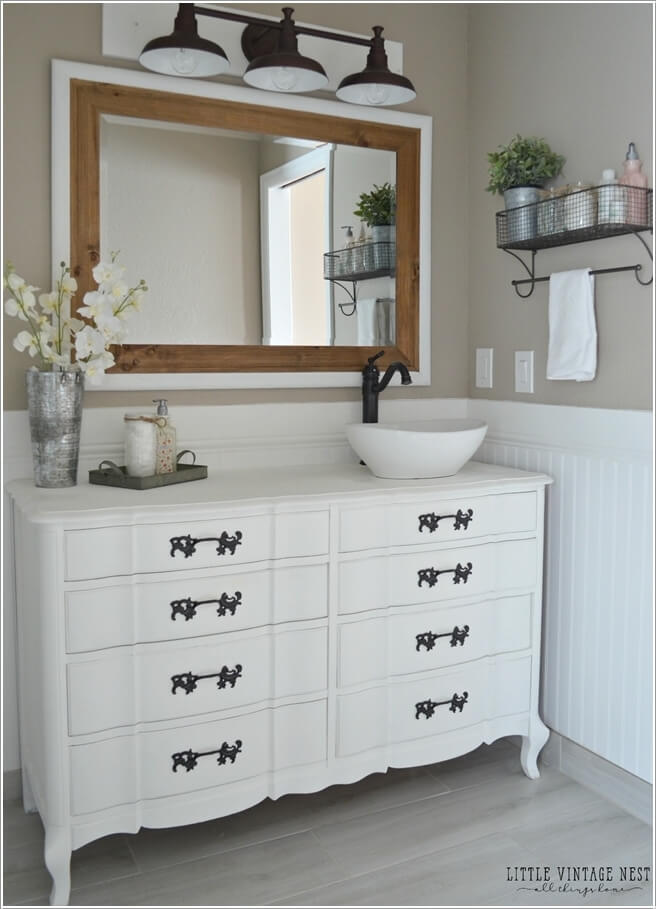 This bathroom vanity is truly a showstopper. It is a vintage dresser given a few coats of paint and accented with black drawer pulls. An addition like this to your existing bathroom will be a game changer for sure.
2. If You Have a Mini Buffet Then Paint The Upper Part and Stain The Legs for a Two Toned Look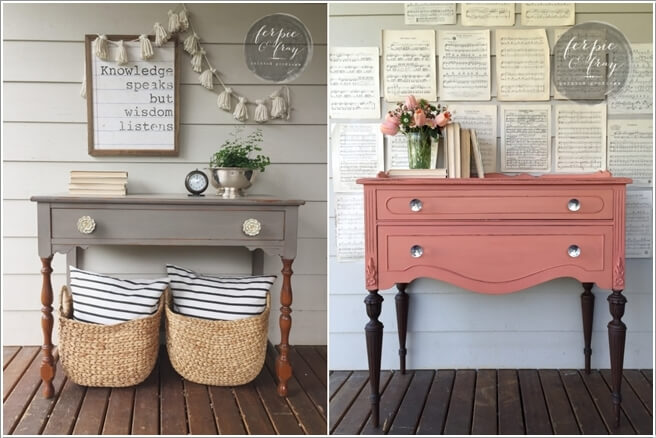 By using a little less paint than required you can create a look that is simply genius. We mean to say that if you leave the legs of a vintage buffet or a table unpainted and only paint the upper part in the color of your choice then the result will be as superb as these two.
3. Color the Drawers Only and Leave The Trim and Sides in the Original Wood Color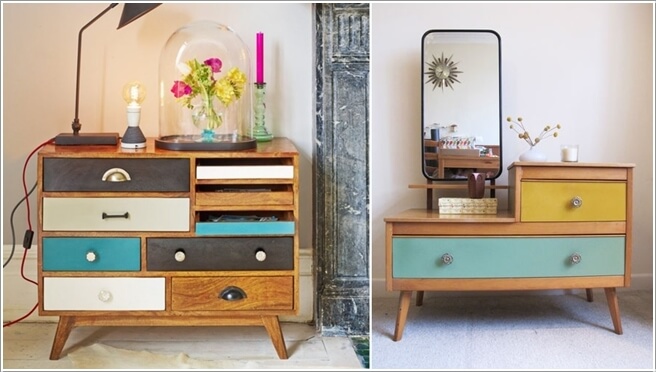 Alternatively, if you have a furniture piece with drawers then you can use small cans of paint and color drawers in two or more colors while leaving rest of the wood in its original form by applying a varnish only.
4. Create a Storage Inside a Painted Vintage Cabinet for Towels and Toiletries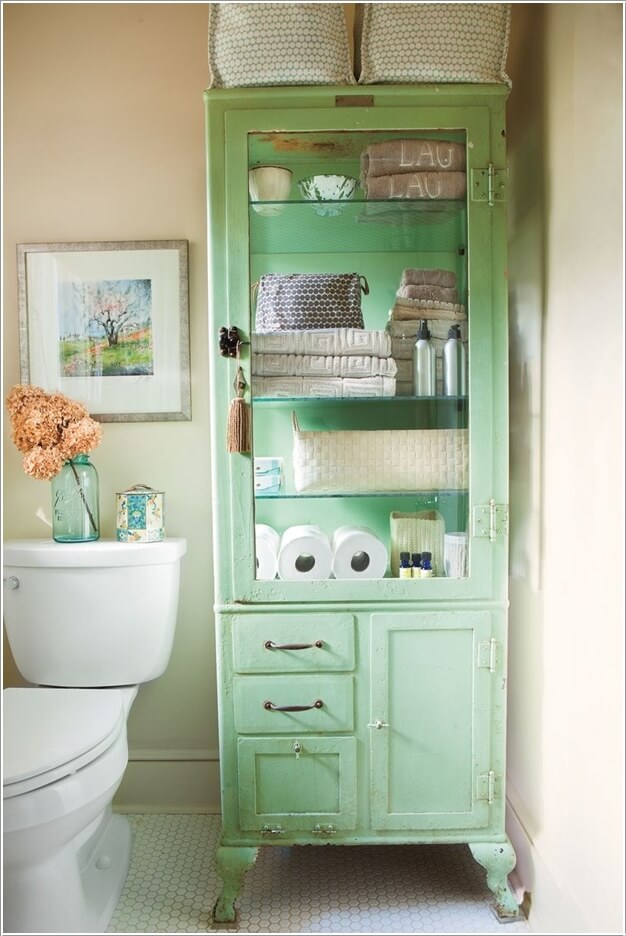 If you want to boost the storage of your bathroom but can't go for spending a fortune on a storage system then think about recycling. By giving a coat of paint to a vintage cabinet you can create a storage for your towels, toilet paper rolls, and other toiletries all at one place.
5. Give a Distressed Paint Look to an Armoire and Remove The Doors to Create a Storage for Linen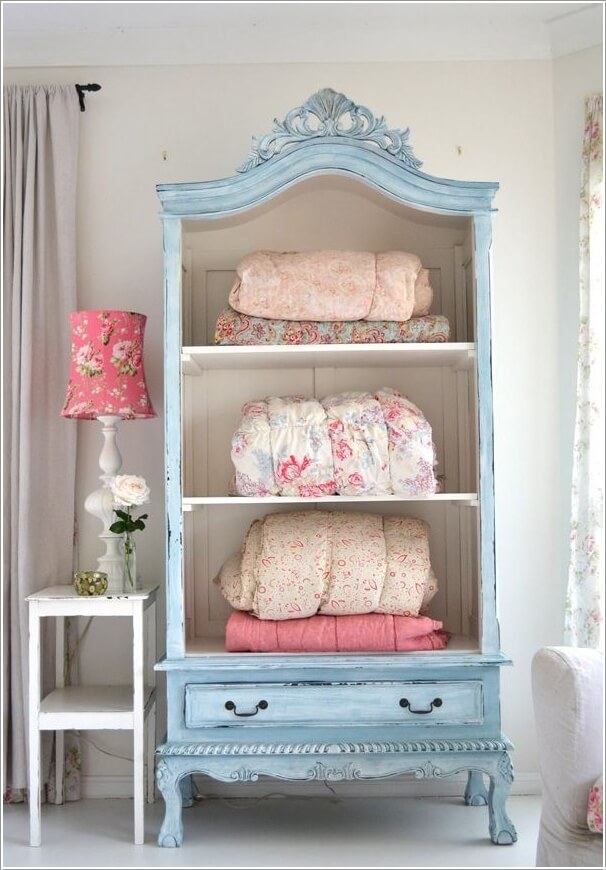 Vintage armoires are great for a shabby chic feel in your home. Simply remove the doors and give it a distressed paint look to create a blast from the past and store your linens.
6. For a Carved Furniture Piece Paint Only The Trim, Sides and Legs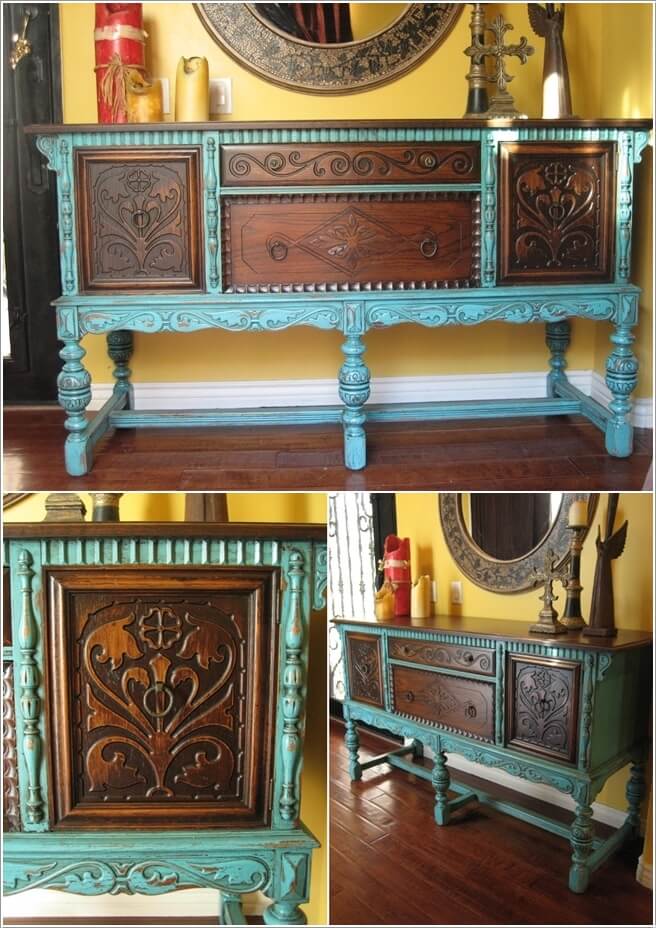 Carved vintage furniture is matchless when it comes to decor with old stuff. So to preserve its beauty simply leave the front part as it is by just giving a polish and paint the trim and rest of the furniture piece like this buffet.
7. Use Stencil Painting Technique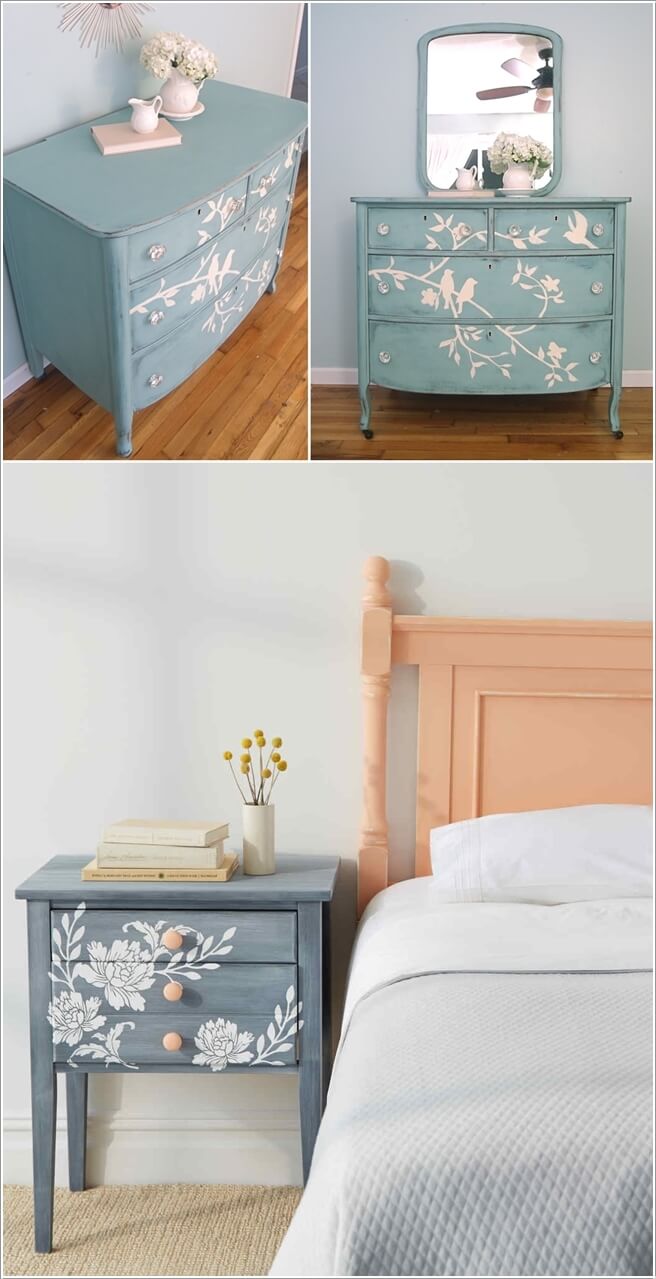 Even if you are not very good at making patterns with paint, by using a vinyl stencil and some paint you can create some beautiful masterpieces with very less effort like these.
8. Pack a Surprise Inside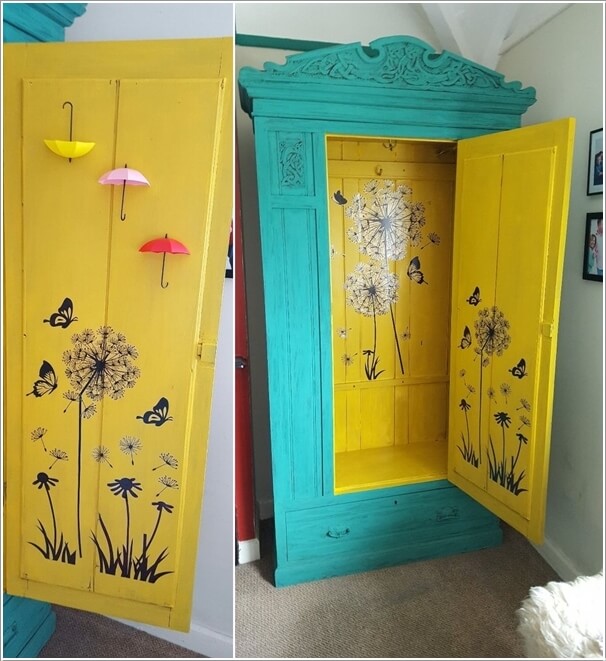 If you have to paint a vintage closet or armoire then paint it with one color from outside and in a contrasting color from inside. Moreover, if you are good at painting patterns then show off a little more creativity as well.
9. Paint Vintage Stools in Patterns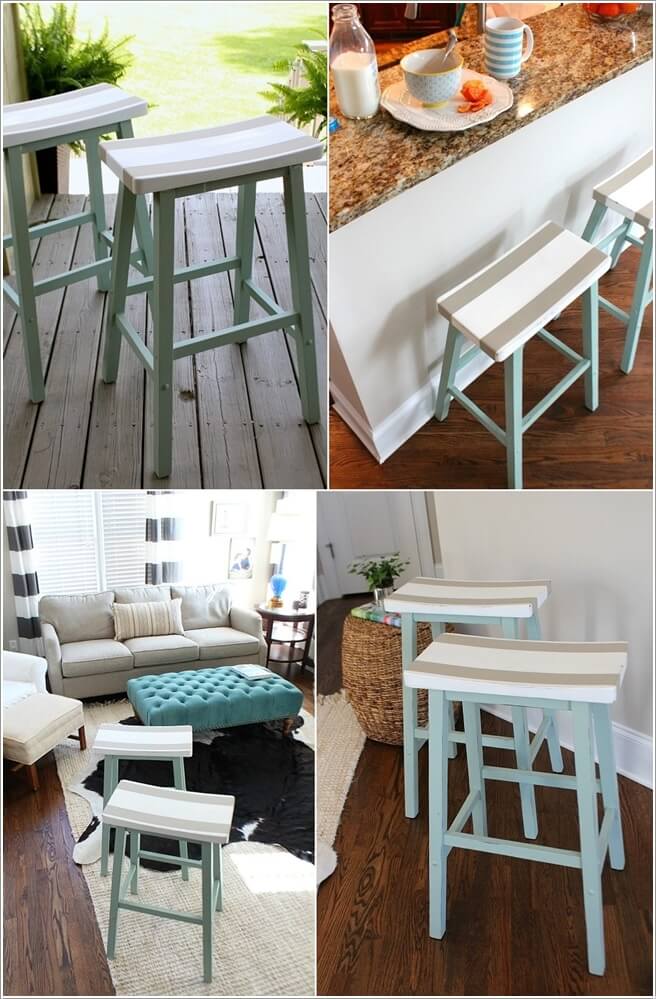 If any space in your home needs some extra seating then think about vintage bar stools. To blend them well in your modern decor paint them in patterns.
10. For a Wood Top Dining or Coffee Table Paint The Legs Only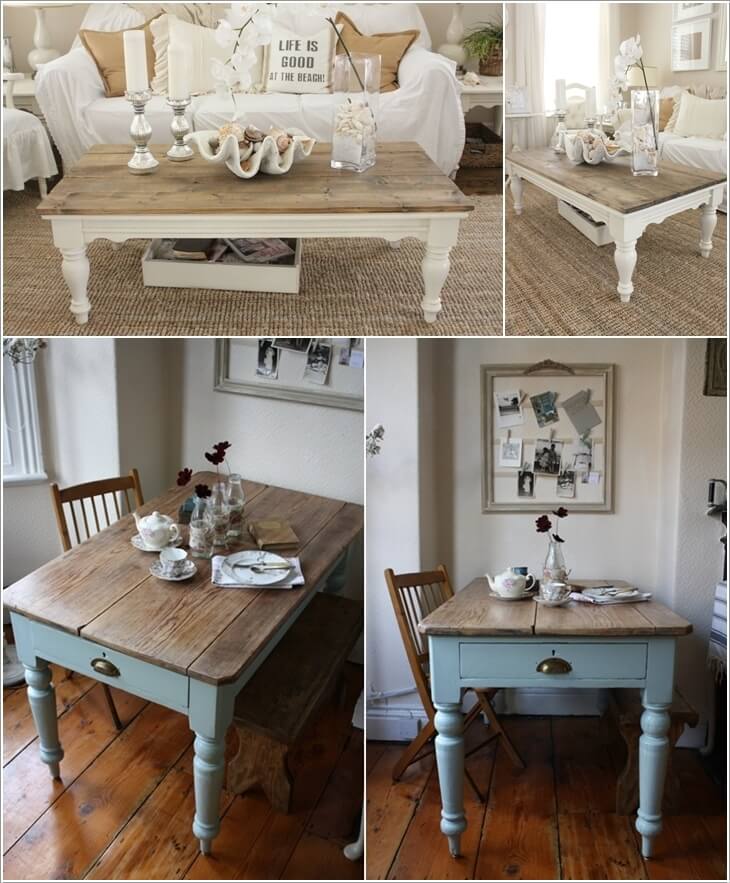 By just painting the table legs in some wonderful color you can bring charm to your dining or living space.