Are you up for remodeling your home? Looking for design inspirations to turn your home into a designer's paradise? If so, we are here to help you out by giving insights into what is trending in the home décor world. Remodeling or decorating your home is not an easy task. To turn your home into a masterpiece, you must be aware of what's popular and trending. To give an enticing look to your home, you need to focus on those windows. Yes, you heard it right. Windows can change the overall look and feel of your home.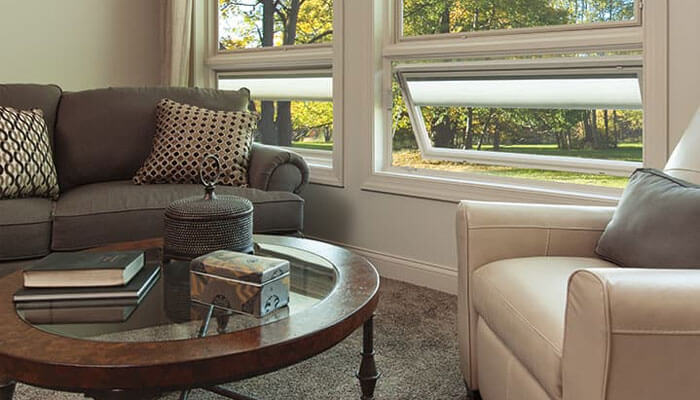 But do you even consider windows when going for pricey home remodeling? Well, many people often overlook the importance of windows at the time of redesigning their homes. Windows are essential elements of your home's overall décor. For more than 25 years, we specialize in windows and doors in the Montreal area, and you can be sure they play a crucial role in giving dynamic appeal to your home's exterior and brighten up your interiors. So, stop wasting your time turning the pages of home décor magazines. Keep reading to get insight into the trending window design ideas at your fingertips.
Arch Top or Gable Style Windows
When you're looking for window designs, focus on the ability of the windows to allow natural light to enter your home. To create an elegant look, invest in half or full circle windows over the top of a door or window. The arch top windows play an essential role in creating an aesthetically appealing view. Arch top windows are perfect for your living room and help you in creating a lasting impression on your guests.
Play with Colored Window Frames
When it comes to the exterior window frames, vinyl windows are what you need to invest in. Vinyl windows are popular amongst homeowners because of their stylish appearance and durability. Vinyl windows are the show-stoppers as they make your house stand out and look visually appealing. If you love drama and want to add a mysterious touch to your home décor, vinyl windows are what you need. But do you know that there is a world of colors that you can explore with vinyl windows? Painted vinyl windows add to the curb appeal of your home in addition to being low on maintenance.
Entry Door Windows
Want to create an unwavering impression on your guests? If so, you need to make the entryway appealing and inviting. A well-designed entryway makes a positive impression and gives an idea about the overall look of your interiors. This is where the entry door windows can do the magic trick for you. From sidelights to transforms, windows will add architectural character to your home.
Switch the Windows for French Doors
Windows can add character to your home if you know which design to go for. To create a panoramic view, you can replace windows with stylish yet practical French doors. You can add a series of French doors into your walls, to uplift the ambiance of your home and create more space. If you think French door style is only for the patio doors, it's time to expand your imagination. You can use French doors for your garage and glass door refrigerator as well.
Bow and Bay Windows for Architectural Interest
Bow and bay windows are what you need to bring your living room to life. This window design also looks great in dining rooms and master bedrooms. For additional versatility and light, you can flank them with casement or single hung windows. But, before you get tempted to redesign your home space with bow and bay windows, you need to know the difference between the window designs. Bow windows consist of a series of windows that are adjoined to form a curved arch. On the other hand, a bay window is a combination of three windows and offers a more angled look. To add more space, you can add a seat under the window design.
Bring in the creativity with window shapes
When it comes to redesigning your house, there is plenty of room for bringing the artist in you to the forefront. Speaking of the window designs, you can flaunt your creativity with window shapes. Instead of opting for regular shape windows, go for artistically shaped windows. You can choose the window shape as per the overall theme of your home. For instance, for Italian styled furniture, arch windows are what you need, to complement the overall look.
Custom styled windows
As we come to the end of our trendy window design tour, it's time to talk about custom styled windows. Amidst the designer windows and furniture, your home may start resembling a hotel. For this reason, it's essential to add a personal touch to your décor. Custom windows are one way of doing so. Want to make an architectural statement or match windows with classy home design? If so, custom windows will do the trick for you.
Contemporary windows are in vogue
Modern homes call for contemporary designs. Clean lines, sophisticated looks, and open spaces are a must-have for contemporary architecture. Present-day homes are incomplete without contemporary window designs. They are in trend as they provide the dual benefits of elegance with durability and strength. Talking about contemporary windows, you can't miss out on double-hung windows. They are versatile and offer two levels of ventilation. This window design is a perfect fit for modern homes. Sliding windows are yet another contemporary design that you can incorporate in your modern apartment.
Hopefully all these trendy window designs will come to your assistance at the time of remodeling your home. Also, note that the simpler the design, more attention it will draw to your home. Whatever design you choose, make sure it blends well with the overall look of your home. With the window designs right in front of you, it's time to start your home remodeling project.