This amazing girls bedroom can be found in Sunflower Furniture.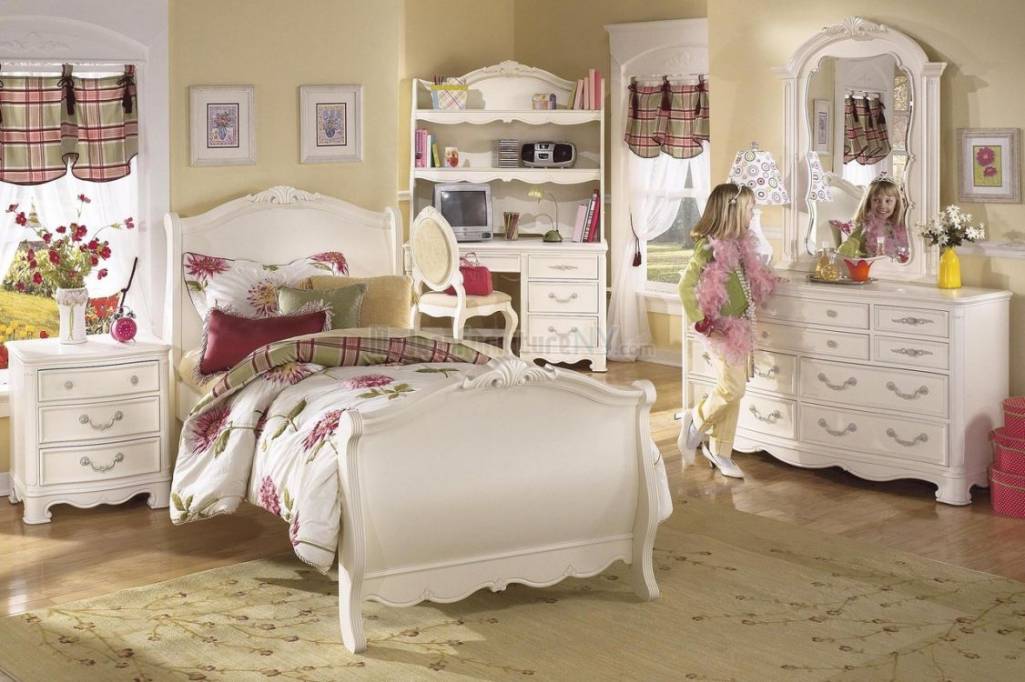 Sunflower Furniture story:
TORONTO STAR Furniture stores a Family affair.
A Sri Lankan couple's success story about hard work, sacrifice
BY VANESSA LU STAFF REPORTER
Fifteen years ago, Margie Vincent de Paul was plucking discarded mattresses and old furniture off the streets of Montreal. The refugee from wartorn Sri Lanka had only $36 in her pocket after spending her family's life savings to get her five young sons to Canada. She furnished her and husband John's home by grabbing castoffs from the street, and throwing old mattresses on the living room floor for the boys. But in an inspiring tale of immigrant drive and hard work, Margie and John Vincent de Paul are now successful business owners. Ironically, it's furniture they're selling, with two stores in Greater Toronto.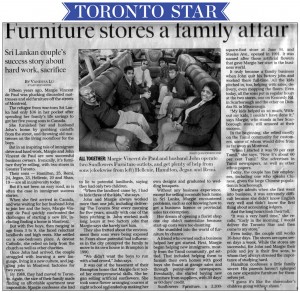 Their sons — Hamilton, 25, Rend, 24, Jegan, 23, Hellenic, 20 and Shan, 19 — are all in university today. But it's not been an easy road, as is often the case in immigrant success stories. When she first arrived in Canada, and was waiting for her husband John to join her and the boys, Margie Vincent de Paul quickly confronted the challenges of starting a new life, including finding a home in Montreal. But with five boys, then ranging in age from 3 to 9, she faced reluctant landlords and high rents. She settled on a one-bedroom place. A devout Catholic, she relied on help from the church as well as other charities. Once John had arrived, the couple struggled with learning a new language, living in a new culture, and juggling jobs in Montreal factories for two years.
By 1988, they had moved to Toronto. Again, the size of their family made finding an affordable apartment near impossible. Margie confesses she had to lie to potential landlords, saying they had only two children. "When the landlord came by, I had to hide three of the kids," she says. John and Margie always worked more than one job, including delivering The Toronto Star every morning for five years, usually with one of the boys pitching in. John worked such long hours at two factory jobs that Margie says she barely saw him. They also fretted about the environment their sons were being exposed to. Fears about potential bad influences in the city prompted the family to move to its own house in Brampton in 1990.
"We didn't want the boys to run with a bad crowd," John says. It was out of the basement of their Brampton home that Margie first tested her entrepreneurial skills. She began selling artificial sunflowers. She took some flower arranging courses at night school and ended up making her own designs and graduated to wedding bouquets. Without any business experience, except for selling coconuts back home in Sri Lanka, Margie encountered problems, such as not knowing how to get a business license or provincial sales tax exemption. Her dream of opening a florist shop one day didn't materialize because start-up costs were too daunting. She stumbled into the world of furniture by chance. A friend who owned such a business helped her get started. First, Margie began helping new immigrants, mostly from the Tamil community, get settled. That included helping them to furnish their own homes with good buys she found at garage sales and through penny-saver newspapers. Eventually, she started buying new furniture from suppliers, with 30 days' or 60 days' credit. Sunflowers Furniture a 2,200 square-foot store at Jane St. and Steeles Ave., opened in 1991. It named after those artificial flowers that gave Margie her start in the business world. It truly became a family business when John quit his factory jobs and worked there full-time. All the kids pitched in, too, helping with sales, delivery, even mopping the floors.
In the beginning, she relied mostly on the Tamil community for customers, some of whom would drive from as far away as Montreal. "When I started it was 99 per cent Tamil," she says. "Now it's about 60 per cent Tamil." She advertises in Tamil newspapers, as well as other ethnic papers. Today, Ike couple has five employees, including one who speaks Chinese, given the huge Chinese population in Scarborough. Margie admits when she first went into business, it was extremely difficult because she didn't know English very well and didn't know the first thing about accounting ledgers. And the long hours took their toll. "It was a very hard time," she re-calls. "Early in the morning, I would deliver the Toronto Star and then come to my store."
Even today, the couple still works 16-hour days. The stores are open seven days a week. While the stores are successful, for John and Margie their pride and joy is their five sons, to whom they always stressed the importance of studying hard. Hamilton confesses a little family secret: His parents haven't splurged on new expensive furniture for themselves yet. "I guess it's like the shoemaker's children going without shoes."