Bathroom is the first place where you enter after waking up in the morning, and often it is the last place where you go to get ready for a good night sleep. Of Course ,the in-between period do require multiple visits throughout the day. In short bathroom is one of the most important place in our homes. Having a messy bathroom, with bottles of shampoos, creams, oils etc taking up the precious space and causing trouble in movement, leads to frustration and unhappy experience.  Managing the precious space in your bathroom through intelligent storage solutions is the key to turn your bathroom into a sanctuary where you could revive your mind, body and soul.
Since we are talking about intelligently managing the storage space in your bathroom, I will list few obvious but often overlooked ways to do so :
1. Use the space below your sink : There could be no bathroom without sink, and there could be no sink without a large space below it, which often gets wasted. Based upon the size of your bathroom, sink could be small or big, but in either case, there is a large vertical space which we tend to ignore and waste. Best way to utilize this space if you have a cabinet inside the sink. But often in smaller bathrooms, opening the doors of the cabinet could take up the precious space. In that case, you could either go with an open cabinet or an open basket. If it's the cabinet, you could safely use it to store things, which you don't need often. Like some medicines, oils and ointments etc. If you decide to go with basket, you could just store the used clothes inside that. It could be real handy.
2. Wall Cabinets : Floor space is very precious, especially for smaller bathrooms. In this case, wall cabinets will save lots of floor space for you. All your medicines, shampoos, facials etc which you require on daily basis, could be stored behind the doors of wall cabinet.  If you have a small bathroom, you could safely go with open cabinets. Doors of the cabinet do take up serious space and open cabinet is an ideal storage solution for a small bathroom.
3. Baskets : Baskets not only could be a useful storage solution below your sink,  but could be used anywhere, where you have idle space. It could be really handy, and can be used to stored variety of things.
These are just few of the unlimited numbers of smart storage solutions available, you could deploy in your bathroom. Pull out waste bins, bakers' jars for your hair-pins, floating shelves, paper holders etc offers multitude of solutions for storage in your bathroom. So, just search for companies who are offering bathroom storage solutions and contact them, via their websites, or  visiting their store.. They will not only thoroughly understand your requirements and recommend perfect combination of solutions for you, but most of them would be happy to install them in your bathroom.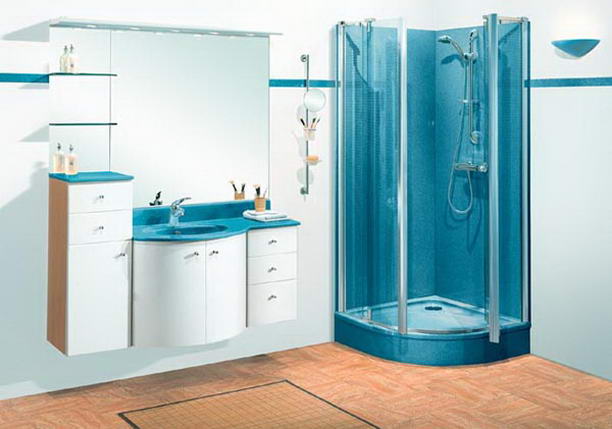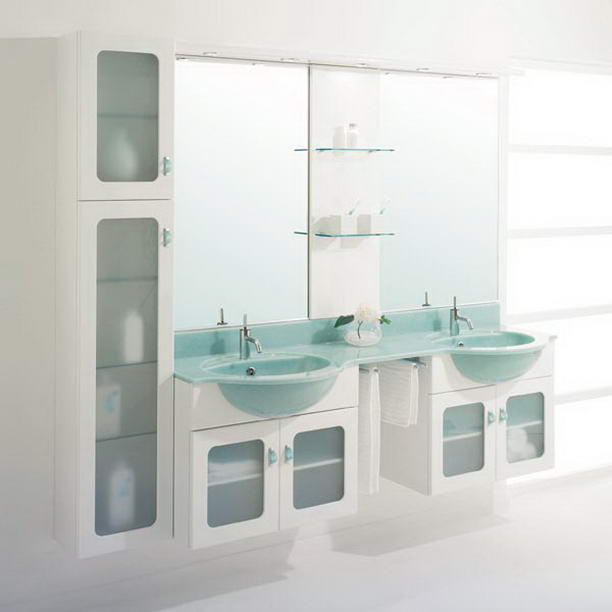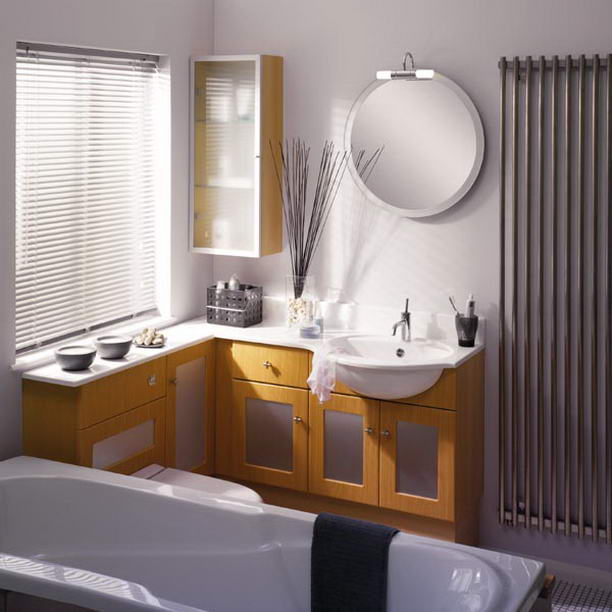 Images from Violet Designs