Can a pink be ever cheerful and energizing than a raspberry shade? It is a colour that provides warmth in winters and refreshes you in summers. So add a punch of surprise with raspberry tones in your home like these…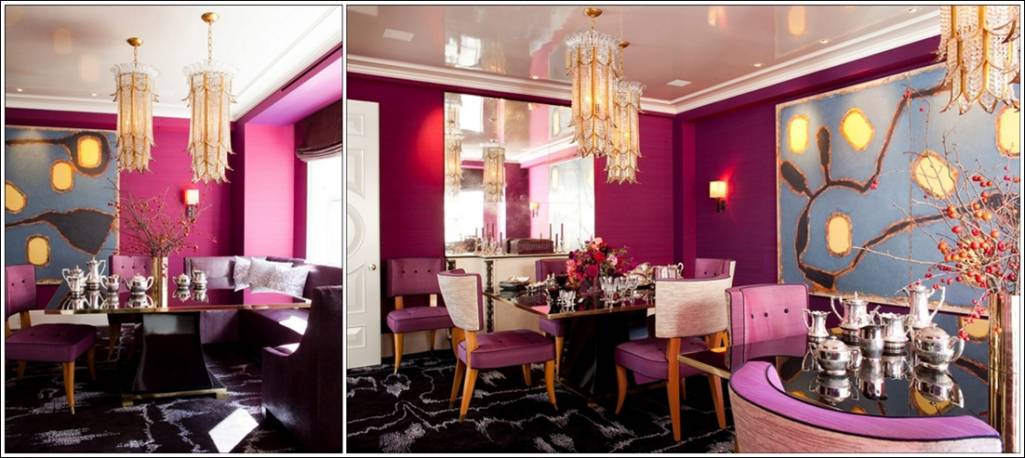 Via: Amanda Nisbet Design
1. Amanda Nisbet Design
This dining area is a combination of two tones of raspberry hues combined expertly with golden crystal chandeliers , dazzling ornamental silver tea set and centre piece flower decorations. Along with this the white ceiling is balancing everything perfectly well.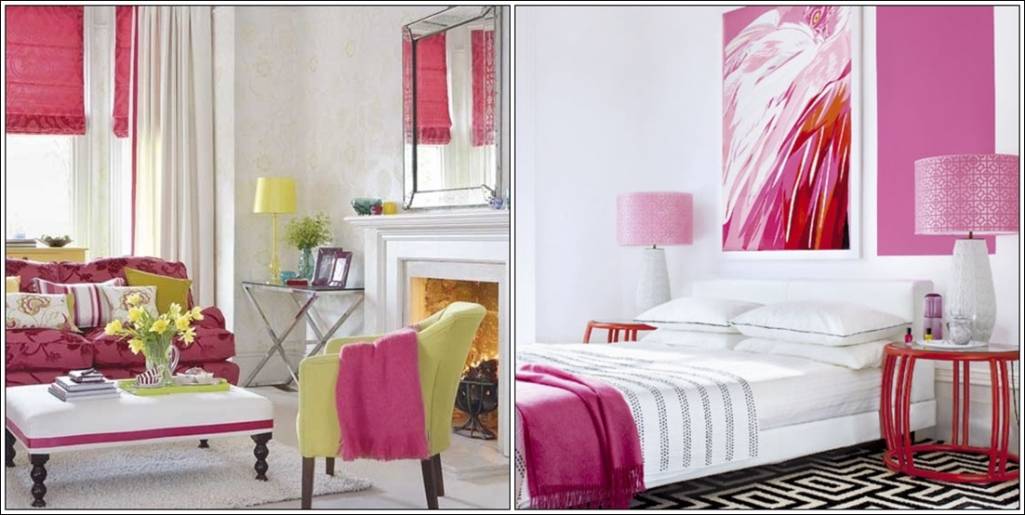 Via: In This 4 Walls
2. In This 4 Walls
The first picture shows a living room with dominant shades of cheerful raspberry in combination with pale lime green .The sofa has beautiful foliage self print and the blinds are also in the same tone. The second room depicts the raspberry and cream bliss where soft colour of raspberry is combined with white .The wall has a beautiful raspberry coloured coating and a photo frame with splashes of raspberry in dark and light shades . The table lamps and side tables are looking classy.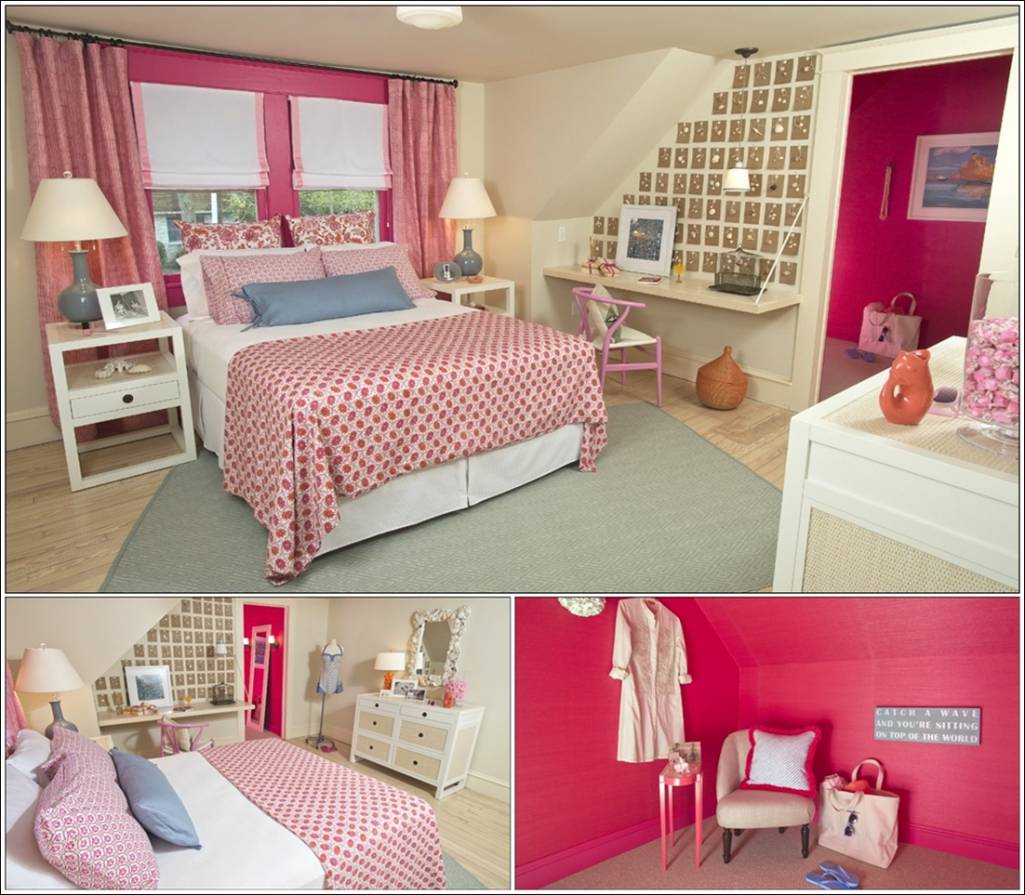 Via: RB Home Design
3. Regan Billingsley Interior
This room also has an ideal colour merging of creamy white, dove grey with a punch raspberry pink. The window treatment here is in two tones of raspberry with the colour of curtains matching with the floral bedspread and the window screen giving a hint of an adjoining room's colour which is all a raspberry world. The adjoining room has a mirror, photo frame and a chair in a pure cream colour that are stunningly contrasting with the pure raspberry paint colour.

Via: Dear Designer
4. Dear Designer
Here a focal point is created in this living room by using raspberry coloured sofas with an ottoman of candy stripes. The rest of the interior is in white neutral shades and the raspberry colour is thus beautifully elaborated.

Via: Joni Spear
5. Joni Spear Interior Design
This living room has the perfect combination of raspberry pink walls and alcove shelves in white and apple green colour. Then a single seater sofa also in the combination of raspberry pink and apple green stripes shows the lively spirit of this room. A white sectional sofa and a floral rug in theme colours make this room complete and welcoming.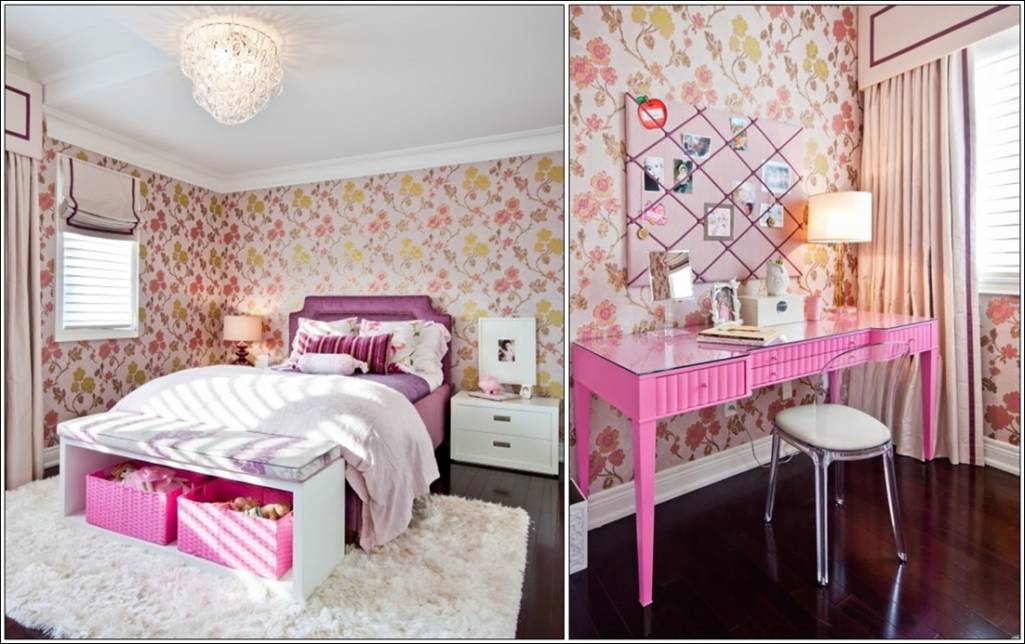 Via: Mhouse Inc
6. Mhouse Inc
Girls` first choice for their room is always pink so why not choose a lively shade of pink like raspberry and combine it with other shades in the right proportion like this room. This room has walls covered with floral pink and green wallpaper. To maintain the elegance the designer has made use of simple white bedding and a rug with pops of raspberry shades in the form of headboard, a table and storage baskets underneath the bed bench.

Via: Hgtv
7. Hgtv
Like to live in a pink world to tickle your heart pink? Then this one is hundred percent for you. This room has the happiness of raspberry shade spread all around in the form of a soft pink rug and pink walls. To contrast it a chair, blinds and the headboards of the beds are tan shaded. With this the bedding in white, green and pink is just the right addition.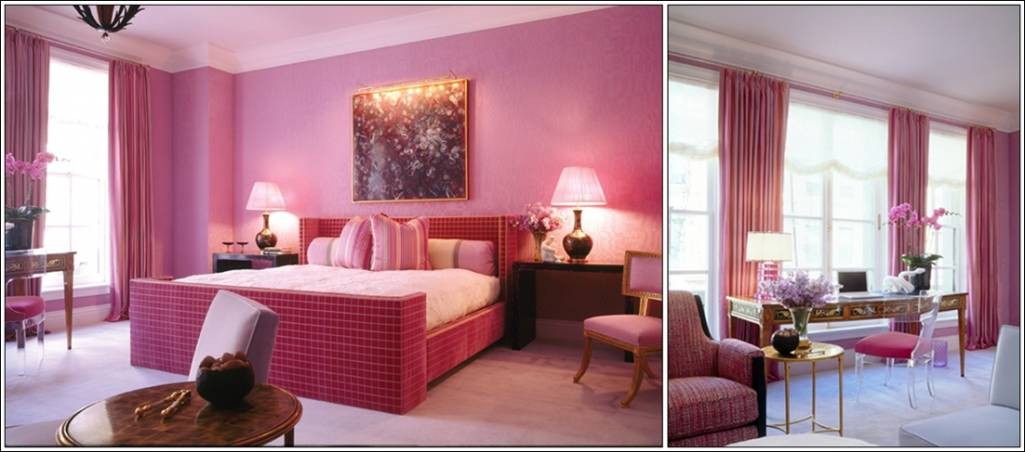 Via: Drake Design Associates
8. Drake Design Associates
This is also another girls' heaven with the spirit of energetic raspberry shade .This room is exuberance all together. It has almost everything in raspberry hue with white used as an understated shade that is flawlessly complimenting the all pink accessories of the room.