You don't have to have a sauna in your bathroom in order to make it look like a spa… You just need to add some rustic elements, more wood, or wooden-like material for the cabinets, put some bamboo or other dry plant. Also, set some candles aside the sink, or around the tub – but be careful with them!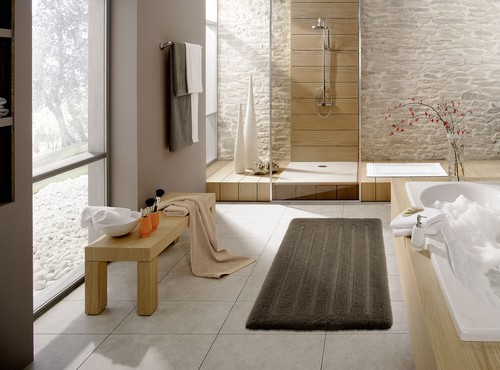 You also have to be careful with the mist – it might look very cozy and warm if you put some little carpet in form of a huge rug in the middle of the floor, or a cozy living-room chair – but you can have trouble with the mist! Hot everything that looks cool is practical! That's why, if you can find some look-a-like variants it would be better!
If you were keeping one dedicated wall in the living room to make it from stone, maybe it's time to think about that special place again! Why don't you instead, make that stone-wall in the bathroom, like Dara Rosenfeld presented in her design? Nothing look more "spa" as the stone – imagine – volcano stones, massage, music, maybe a Buddha sculpture would find its place somewhere in this ambient?