Have you switched from office-based working to a new at-home routine? You're not alone, lots of people across the country have dived into a new way of working due to the coronavirus pandemic, and it looks like home-based roles are here to stay for the foreseeable future.
Of course, not everyone has the same amount of space to play with when setting up a home office. If you have a small space and want to create a functional and enjoyable place to work, we're here to help. Check out these top tips that will help you turn a small space into the home office of your dreams.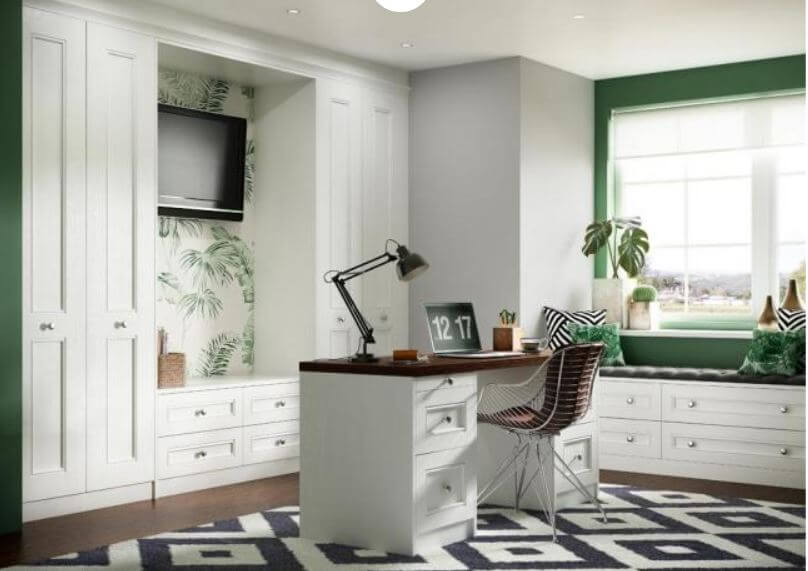 Create a separate work-only space
One of the challenges with working from home is being able to switch off at the end of the day. For this reason, it's wise to create a space solely for work, separate from where you relax in the evening. If you're lucky enough to have a spare room, remove any non-work-related items to allow your brain to focus when you're in there. Alternatively, you can create an 'office zone' in a room of your choice, dedicating a particular wall or corner to work.
Switch the layout to make more room
Struggling to fit everything into one room? Then it may be worth taking a step back and considering if you could switch the layout to make more space. If you're using a spare bedroom, could you move the bed to face a different direction to free up wall space? Or if you're in a living room, could you reposition the sofa, cabinets or other furniture? Get experimenting by moving your belongings around to see how you could make the space work best for you.
Use interior décor tactics to trick the eye
If you're worried about your space feel cramped, dark or cluttered, there are plenty of interior design tricks that you can utilise. Firstly, a great way to make a room feel bright and airy is to use light or neutral paint colours, rather than deep or dark hues. Another great trick is to hang mirrors on the wall, as these bounce light from the window and create the illusion of a bigger space.
Get creative with furniture choices
Have a look into some clever furniture options that are designed to work well in small rooms. For instance, fitted home office furniture may be a great choice, as it means you can utilise every inch of space effectively. Whether that's creating a floor to ceiling shelving unit, pull out drawers or integrated desk, the possibilities are endless. You could also look into foldable desks that you can put away when not in use, or those that can retract and expand, to save space.
Hopefully, this has given you some inspiration for creating a home office you'll love. Remember, no matter how big or small the room, there are plenty of ways to make the most of it and create an inspiring space to get your work done.