One key reason why most homeowners invest in a property with a backyard is to gain access to the therapeutic outdoor space from where they can frequently rejuvenate and unwind from a busy day at the office. Furthermore, backyard spaces are especially appealing to families with young children, since kids can be entertained with a wide open space to run around and play in. Notably, despite making life more enjoyable and adding value to your space, having a small garden can have several limitations. Particularly in terms of coming up with creative ideas on how to transform the outdoor space. In the subsequent paragraphs, we have put together an assortment of ideas on how you can upgrade your small outdoor garden into a serene functional space.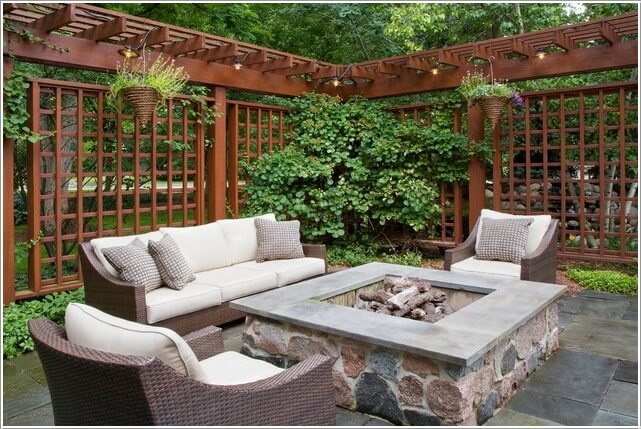 Create an illusion of space and introduce different experiences through zoning
Zoning is an effective approach to transforming a small backyard into an interesting environment for entertainment and relaxing. There are several ways through which a small backyard can be broken into sections. For using fences, and screens, different areas of the outdoor landscape can be tailored to proffer separate feels. A different way to introduce zoning to an outdoor space is by constructing an outdoor room that features a barbecue area or a comfortable spot for sheltered dining without impeding natural light. Zoning can also be achieved through creating contrast using different materials such as porcelain tiles, wooden decks, sandstones that blend well with plants detailing the surrounding.
Invest in compact furniture solutions
According to the Charming Bench Company, the best way to successfully furnish a small garden is to think of the space like a small room in a home. Therefore, simply lift the furniture ideas you would utilize for a small room and implement them in the small backyard. A small swing bed, outdoor table, gliders, benches, and adirondacks are some of the solutions that if well arranged will maximize functionality within the small outdoor space. You do not have to invest in all the pieces but only what you deem necessary. For instance, if space is a bit tight, you can only consider a few chairs or a bench placed along the perimeter of the garden.
Transform vertical wall spaces into vertical gardens
Whether you want to add a splash of colors to the outdoor space or harvest an assortment of herbs, dull vertical wall spaces can be instantly transformed into living wall units by incorporating small plant baskets and pots. Other ways of transforming vertical wall spaces include building frames that can be attached directly to walls or attaching layers of fabric where the plants will live on the wall. If resources allow, you could incorporate well-coordinated irrigation systems to keep the plants glowing through the seasons.
Coordinate fixtures with the overall design
If your home themes a modern look, then the same fixture should be replicated in the small yard. Achieve harmony in the small space by adopting a coherent theme with the indoors. For instance, if you have a focal point in your living room, you can adopt the same idea to add an optical illusion to the outdoor space without overcomplicating it. On a different note, a modern garden design incorporated into an old cottage can be a great idea as long as cohesiveness has been achieved between the two units.
Give the garden a cozy glow with affordable lighting
The perfect garden lighting can introduce a significant difference to your small outdoor garden, especially during the winter season when color sparse and daylight hours are shortest. Non-solar lighting offers endless options. For instance, fence lights coupled with step lights can be leveraged to illuminate the perimeter of the garden and steps detailing the garden. String lights are a great option for adding a nice fairytale feel especially during festive seasons such as the Christmas holidays. When it comes to creating impact through lighting the outdoor space, then less offers more. Lighting can also be utilized for highlighting interesting details in the garden such as water or vertical garden features.
Add character to space through painting
Finally, painting is one of the most transformational ways through which you can inject character into a small outdoor garden. For instance, subtle shades of green are a great choice for traditionally themed gardens. Subtle colors are excellent during low light seasons such as spring whereas bolder colors introduce an outburst of energy when the sun is brightest during summer. Color can also be used to link a modern garden with traditional surroundings. In general, when colors should be carefully considered based on the theme one wants to achieve.