The addition of an aquarium in your living room, and other living spaces, is a great way to draw attention to these spaces and create conversation pieces for your guests. However, there are many other benefits to keeping an aquarium of any size in your home, and the enjoyment of one is much more than just a cool decorative touch.
The following briefly highlights some awesome living room aquarium designs, as well and showcases the reasoning why adding one to your home is must. Everything from mental health to a learning stimulus is part of your ownership of a fish tank.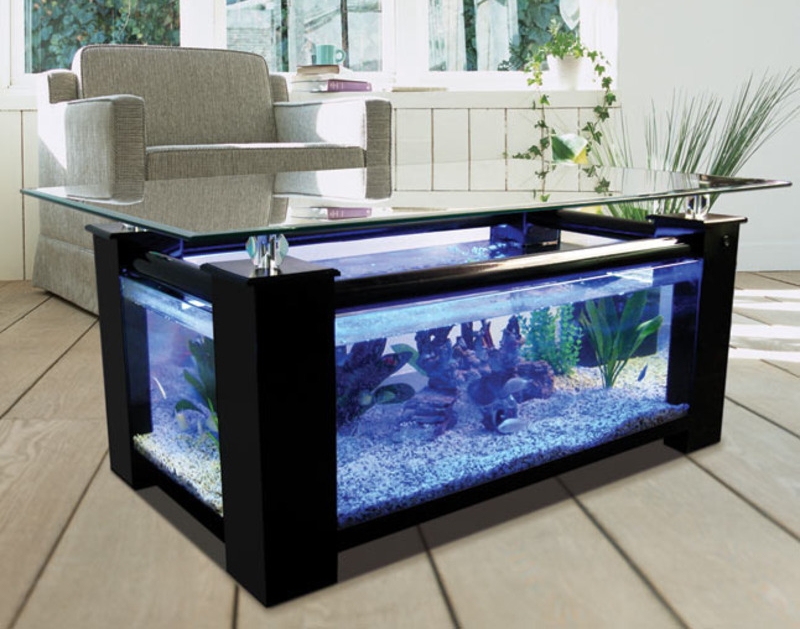 Benefits of an Aquarium
Many people keep an aquarium due to the decorative touch it adds to their living area, and the idea of both unique movement and lighting as an addition to their space. But it has many more benefits that you may want to consider if you are wavering on adding one. For starters, it is a great way to continue on a lifelong journey of learning, as well as introducing responsibility to children. Learning about care and maintenance of both the tank and fish species helps support critical thinking and cerebral processes.
It also has surprising mental and physical health benefits, and can be a source of anxiety reduction. Its overall effect supports a reduction of stress and depression as well, and can inadvertently improve blood pressure and heart function.
Awesome Ideas for a Living Room Aquarium
Although you can totally take advantage of any sort of fist tank you choose, there are some pretty awesome designs in existence that allow you to view your fish in unique ways. Specialty tanks can either be custom built, or even created on your own if you have any DIY tendencies. Take a look at these cool ideas below:
Fish Tank Tables
Fish tank side and coffee tables are an excellent DIY project. You can use existing tanks and build them into tables, or design your own using cut glass and waterproof sealant specially designed for tank repair and building.
These not only are amazing focal points for your living areas, they can be fully enjoyed in terms of unique design and even specialized lighting. Learn more about tank lighting options to accompany your tank placement and style.
Built in Tanks
Build a tank into an existing bookcase, wall, cabinet, old television stand, or other stand alone piece of furniture. This is another project that can be a home project to help upcycle old, unused furniture or even reclaim thrift store buys.
Picture Frame Tanks
Instead of hanging a large focal piece on the wall, build a fish tank into the wall to look like a picture. You can use a frame or simply allow it to set into a recess. This does require some basic carpentry and wall finishing work, and access to filter and other supportive products can be placed into a built in cabinet below or even on the other side of the tank.
Dividing Wall Tanks
Instead of a dividing wall or partition between a living space and kitchen or dining area, make your area alive with a living wall. Floor to ceiling tanks, or inserts to allow you to see from one side to next will bring interest and life to your living space. This may be best done by a professional contracting company to building stability and safety.
Window Aquariums
Instead of windows, place aquariums to view the outside world. Areas that do not get direct sunlight is best, and good maintenance for algae growth is a must, but these are incredibly popular and fun to incorporate into your living areas.
Water Walls
Create a water wall along a main wall space. Similar to a dividing partition, this can be built into a main wall. Skip wallpaper, pictures, and paint jobs and instead highlight various fish, plants, and lighting effects. Salt water tanks in particular work well for large spaces as you can take advantage of living corals and other features.
Panoramic Aquariums
Panoramic aquariums are often narrow and long, and can span the length of a room as a dramatic addition to your space. They can be built into the wall, or placed along a wall, but either way it must be customized to fit your space. These are dramatic designs that you are sure to enjoy.
Conclusion
Recreate your living space with an awesome aquarium design that you either make or have made for you. All these ideas are simply a tip of the iceberg of suggestions when it comes to the many designs you can take advantage of, or dream up. Plus, by adding a fish tank to your decor, you are actually supporting your overall health!
We'd love to hear which of the above designs are your favorite!