Your interior space is where you spend most of your time relaxing and having a good time with family and friends. After a long day's work, you need a space that is not only welcoming but comforting. It's, therefore, important to have a list of interior ideas that will spruce up your home. Painting your walls and adding a fresh coat of color to your furniture such as kitchen cabinets, can make a huge difference when it comes to your home's interior.
When it comes to painting, you can play around with different ideas. But, picking interior paints isn't that easy. You need to know which colors to use and how to blend the colors.
Just ensure that the colors that you pick can freshen up your spaces. Even when on a tight budget, you can still transform your interior into a vibrant space affordably. Here are interior paint ideas on a budget that you can explore for a new look.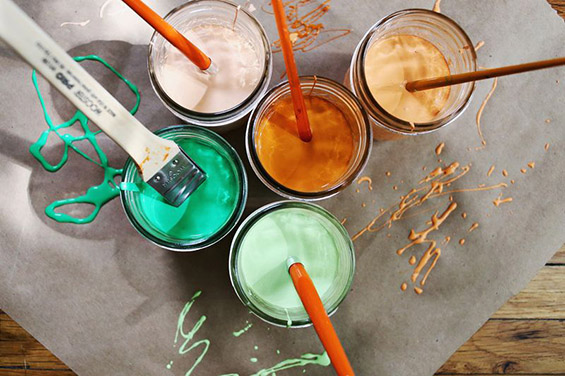 Temporary wallpaper
Temporary wallpaper is a budget-friendly way of decorating your interior walls. It's removable and requires no paste or water. You can pick wallpaper depending on your preference and select from different patterns and colors. A temporary wallpaper accent wall can be placed behind a headboard, in a room lacking artwork or any real architectural features or on any wall that looks empty.
Choose horizontal stripes for small spaces to make your room look larger and bold wallpaper patterns in vertical stripes to make your ceiling look taller. One advantage of using temporary wallpaper is that you can update your space easily. You can also remove it anytime. Temporary wallpaper can also be placed on shelves or inside cabinets to add a touch of color and pattern.
Textured walls
Adding an extra bit of texture can add charm to the dullest space in your home or office. By pairing textured walls with décor pieces such as linens, artwork, antique brass, and wood tones you can give your interior a fresh look. Textured walls can offer depth and a feeling of warmth to an old room. Unlike traditional paint, textured walls make a visual impact without bold color. For example, you can add professional wall textures of lime paint to your white wall space transforming it into an inviting space.
Add an accent statement wall
Adding an accent statement wall is another awesome idea to apply to make your room look different. To create a stunning accent wall choose the right accent wall paint color that accentuates other colors in the space. For example, for a warm-colored wall, choose a warm accent color. When picking neutral colors, check that their undertones and temperature don't make your accent wall look out of place. Remember that the main point is to make your accent wall the focal point.
These are just a few of many interior paint ideas that you can apply on a budget. While wall painting colors can enhance the beauty of your interior, they can also make your décor look horrible if not picked well. Always pick the right color combination and ensure that the selection matches the theme, style and furnishings.