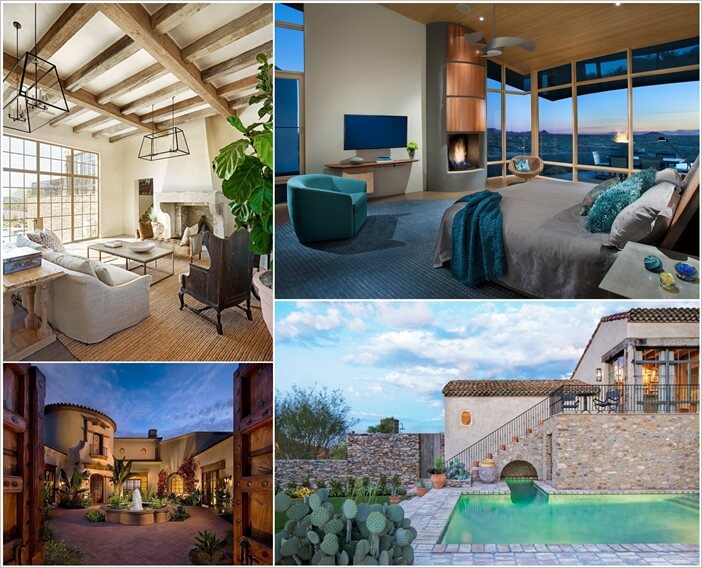 A desert has different geological as well as climatic conditions compared to cities or countryside. This is why while designing homes in deserts, these factors are kept in mind. For example, if we talk about the exterior then waterscapes, sand hues, and specific flooring materials are common in dessert homes. Regarding the interior there are different ways to decorate with colors, sand tones and themes such as rustic. Since we are talking about design and decor, you might have this questions popping up in mind that what are some good interior designers near me? Now, let's take a look at some desert home designs:
1. A Home with a Waterscape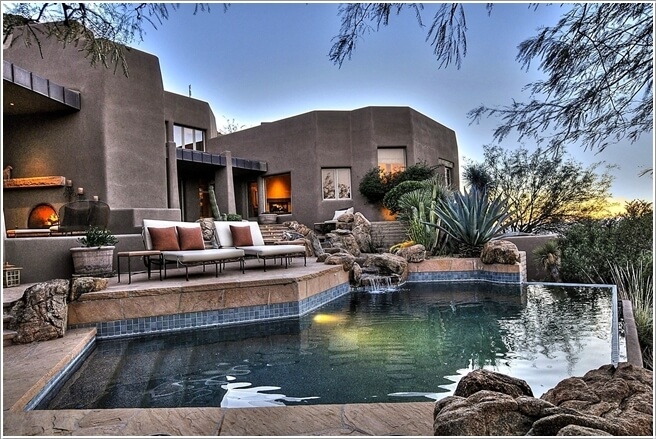 If we start with the outdoor part of a desert home then a waterscape is a feature that stays on top. Since a desert is a dry area of land, a pool or a water feature can do wonders and keep the residents of the house relaxed and entertained. Because a swim or a plunge in the water is always refreshing.
2. Flooring Material That Makes Dust Less Visible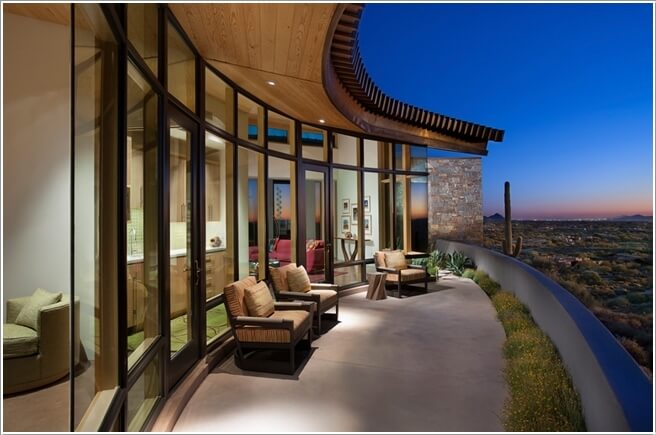 Another outdoor feature of a desert home is the use of flooring material. Since, there is a huge amount of dust that you have to deal almost everyday, a floor like concrete can minimize the visibility of dusty foot prints.
3. A Home Bursting with Energy of Colors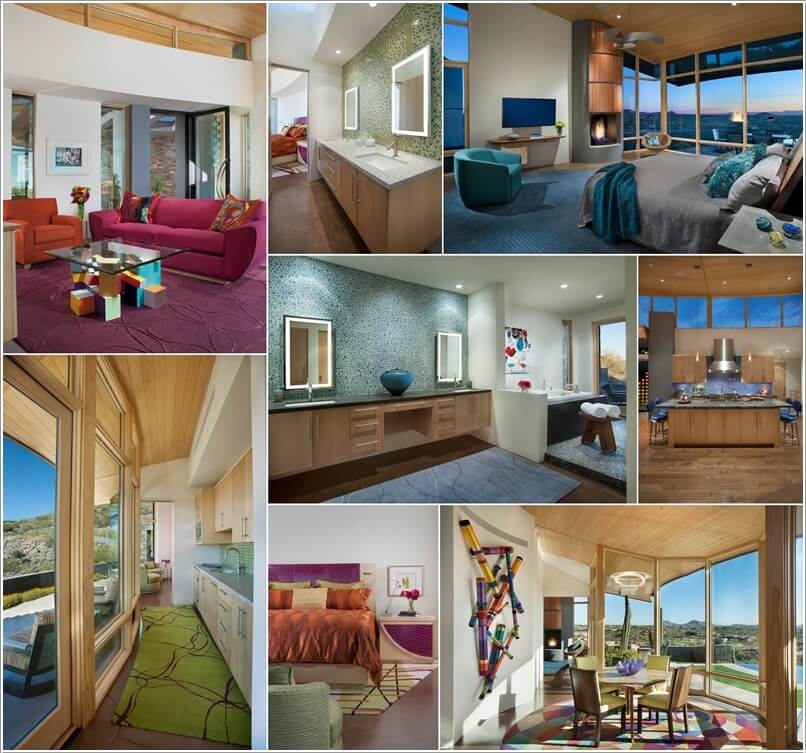 When a vast expanse of land around a home is either sand or with wild plants then things can easily go boring and monotonous. For that one great idea is to make use of colors in the right balance such as this house. If you observe the color use in this house you will get a great design tip. As you can see only common spaces such as the living room and dining room have a blend of many colors while all the individual spaces such as the bedroom, bathrooms and kitchens are designed with one, two or three complementary colors at the most.
4. A House with Glass and Stone Walls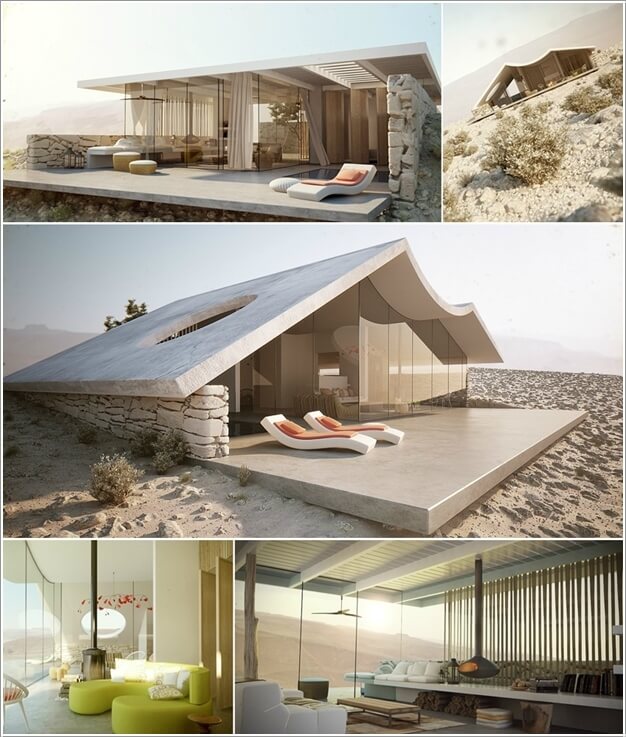 This house amid a desert built over a concrete platform combines the natural material stone with glass. Thus creating a perfect combo of modern design with rustic details. The interior is kept simple with few hints of colors.
5. A House with The Architecture and Decor in Sand Hues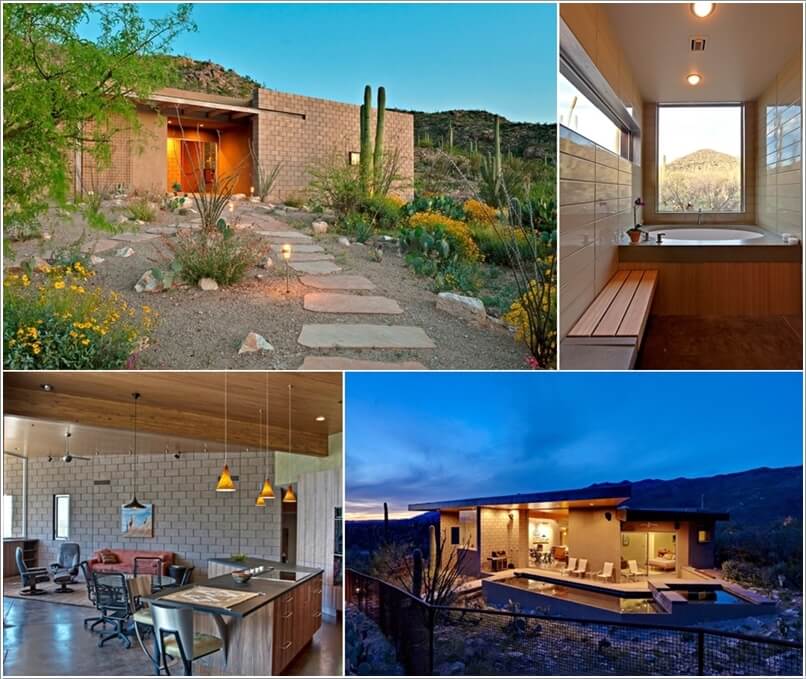 This house blends well with its environs. As you can see not only the house is built with sand colored materials but the decor is also chosen in the same color scheme.
6. A Beautiful House at Elevation That Packs a Surprise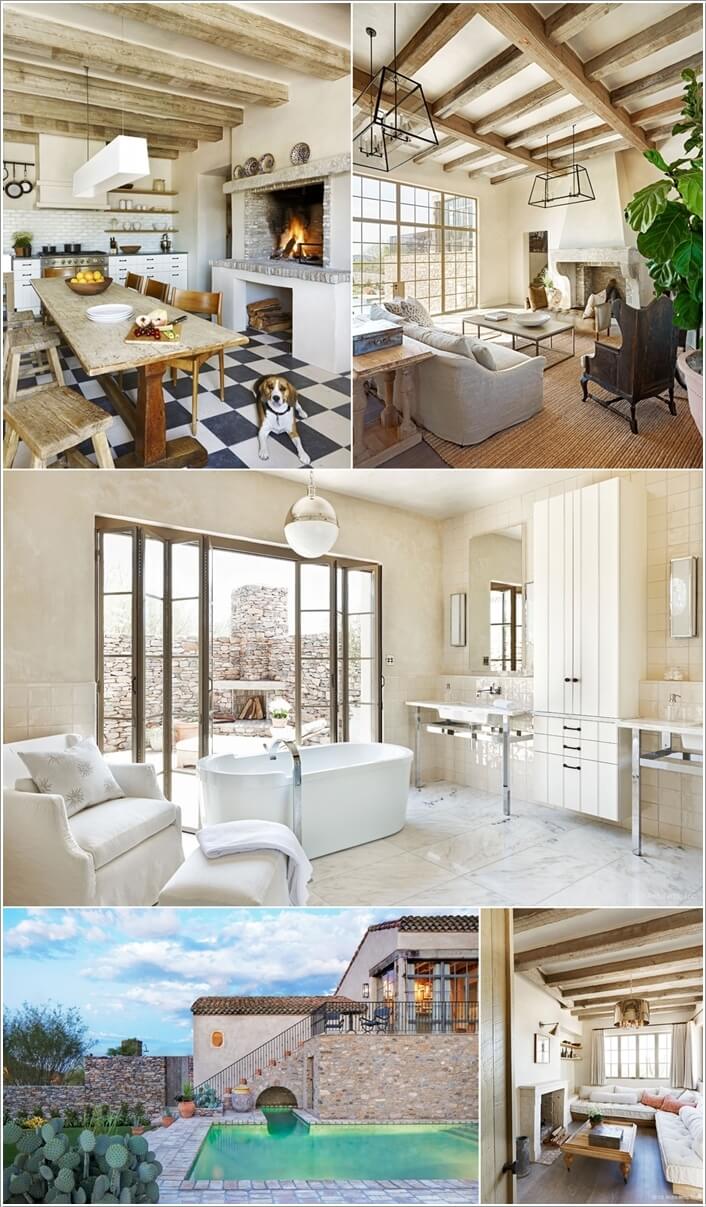 This house if full of surprises right from the beginning. The saga starts with a pool with serene turquoise water and goes to the outdoor seating space at the terrace. Then comes the interior of the house. Each and every space is designed intricately in rustic and traditional details that surely leaves everyone awestruck.
7. A Single Storey House with Everything Warm and Cozy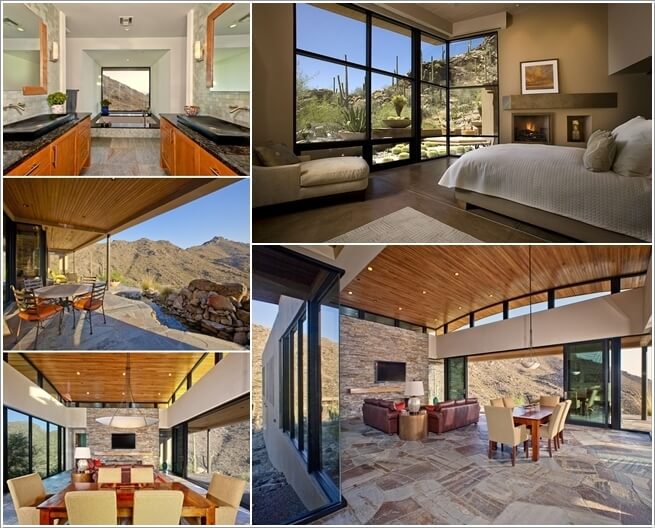 This single storey house offers all the amenities one could wish for and is decorated in warm tones.
8. A Stunning House with a Spanish Style Courtyard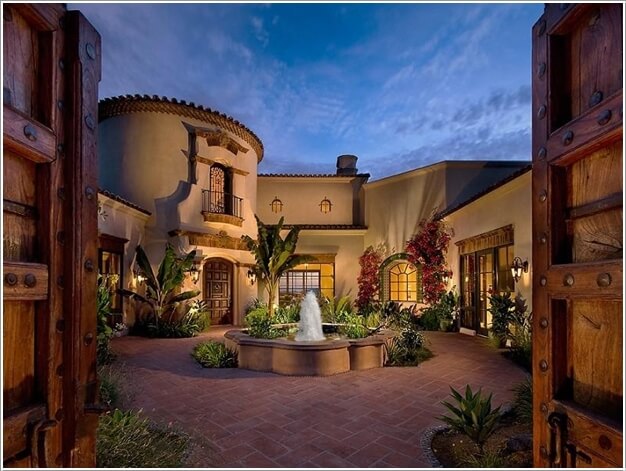 This house has an entrance that is grand and a true design marvel. Taking its inspiration from Spanish style this house is the perfect example of luxury.
9. An Industrial Style House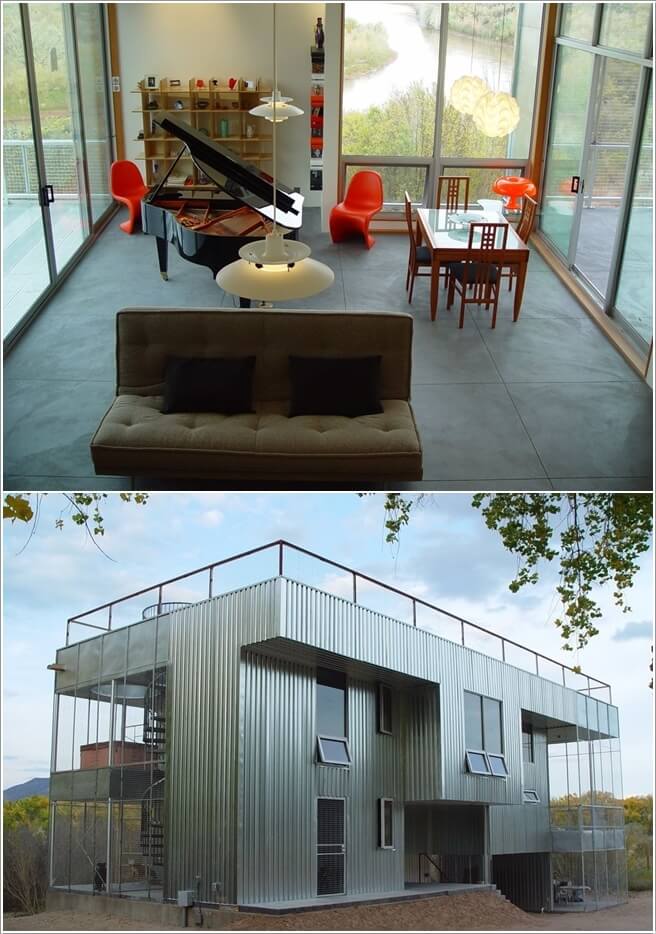 This house is built in industrial style with the use of corrugated metal and trusses. The residents of this house have a lot of pets and this why you can see there is an animal house integrated in its design too.
10. Modern Amid Desert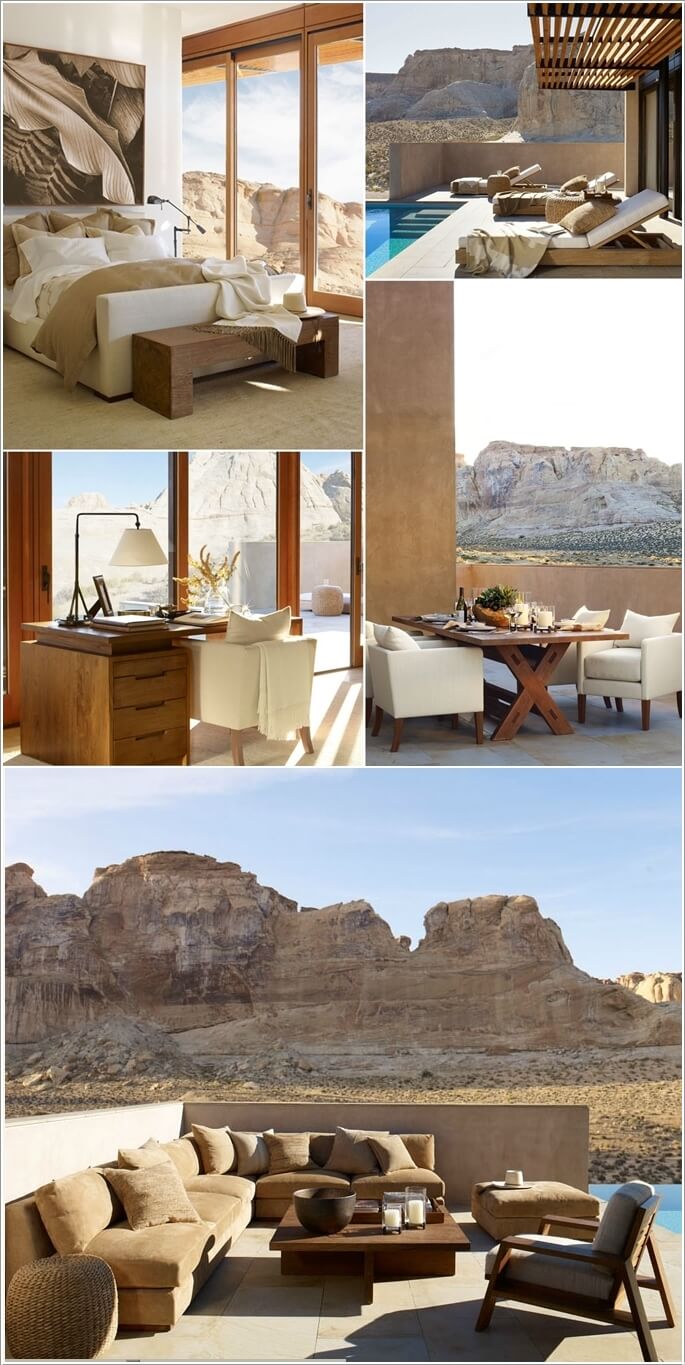 This house has all of its decor done in uber-modern style. Moreover,the decor is kept simple and mostly sand, woody and white hues are used for the decor.