A living room is the perfect spot in the home to unwind. Television can be watched and fireplaces can be enjoyed, helping us all relax until bedtime. Of course, there are some millennials out there who don't believe that living rooms are needed, but they're still an important part of the home for one key reason; they have room for a comfortable couch!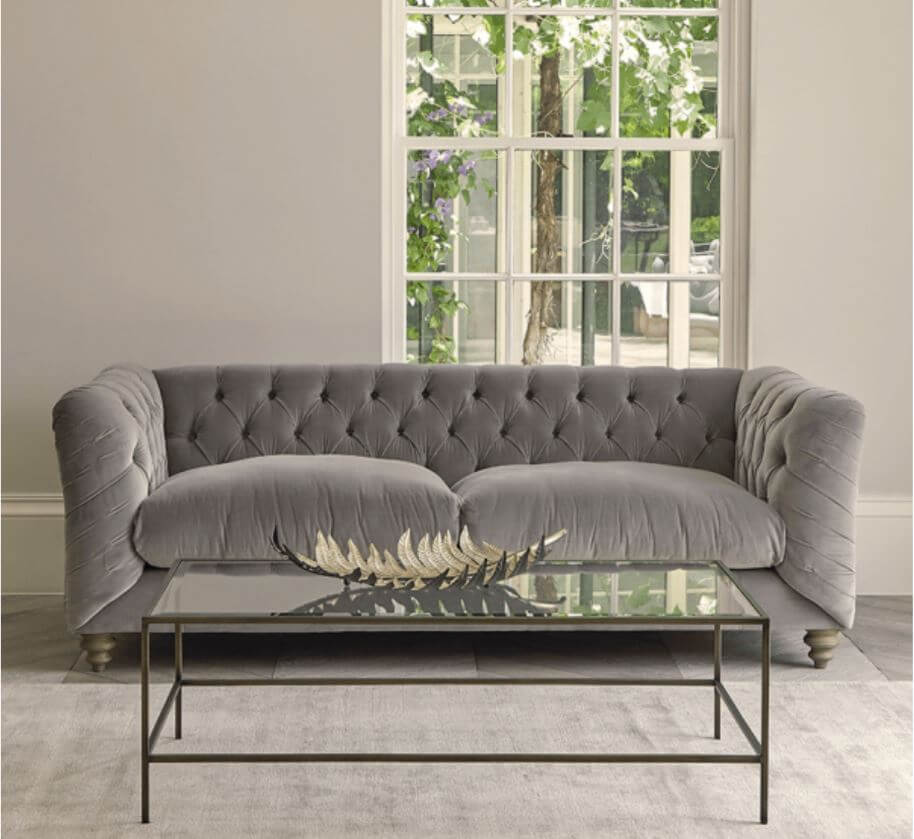 Of course, the living room must be designed to please, and a snug buttoned sofa can work wonders here. Still, do you go for a traditional design or a quirky fabric? What's more ideal, curved backs or straight backs? If you search long and hard enough you're bound to find a buttoned sofa you like, but then comes the question of how to arrange it within the living room.
Consequently, here's how to effectively incorporate a buttoned sofa into your living room.
Modern or Classic Look?
Buttoned sofas like a chesterfield sofa have racked up a reputation through the years for being 'posh' furniture. Their older iterations tend to be straight-backed and more rigid in design, as if a statement of wealth and power. They're also typically a lot firmer, covered with velvet and have tall wooden legs on each corner for extra height. In the end, those looking for something snug and modern for a cosy flat might not think the buttoned sofa can provide that.
However, companies such as Cox & Cox do provide more casual and contemporary takes on the buttoned sofa, meaning these kinds of sofas can fit in across a broad spectrum of living rooms. They're a less a statement of class and more an example of comfort, with curved, softer backs that allow the user to lean in and slouch more snugly. Depending on the nature of your home, ensure you pick the right one for that kind of space. After all, overtly posh furniture in an otherwise casual, care-free home might stand out a bit!
Colour Schemes
There are fewer dreadful sights than a mismatched colour scheme. A clash of trends and a meeting of opposites rarely works for the best, and it can demonstrate a serious lack of foresight and planning. Even if you have the most luxurious objects in the room, if they don't complement each other's colour pallet well they'll never seem like they quite belong together. After all, colours say a lot about a room, so it's important to get them right and strike out for consistency!
For example, if your living room has warm colours slapped across its walls, paintings and other furniture, follow this trend with your sofa. It will complement the room more nicely and seem like an addition that is suited to the room rather than throwing everything into disarray. A theme should always be found in every room to bring about a sense of organisation, and it can be found in the colours you've used already.

Matching Buttons
Sticking with the theme of 'blending in', distinctive looks should never stand on their own. That sense of belonging stems from being in a group, whether it's people or furniture. After all, you wouldn't have knives and forks in your draws that belonged to different makes and sets! Therefore, if you consider your buttoned sofa to be a flash of genius, why settle for that quick flash? Go for a big long streak of inspired design instead!
Your buttoned sofa will look more in keeping with the living room if it's surrounded by similar furniture. The buttoned aesthetic shouldn't be reserved for one object, and if there are other examples of it to be found around the living room then the sofa will look like part of a set. Consider incorporating buttoned poofs and stools into the space too, and your sofa will be the heart of the room instead of the peculiar, mysterious object that's randomly placed.