Your bedroom should be a restful, relaxing oasis. You spend so much of your time there, and it's where you go to recharge. Along with the latest bedroom trends in terms of style, you want to think about what personally makes you feel tranquil and at ease.
The following is a guide to creating the perfect retreat.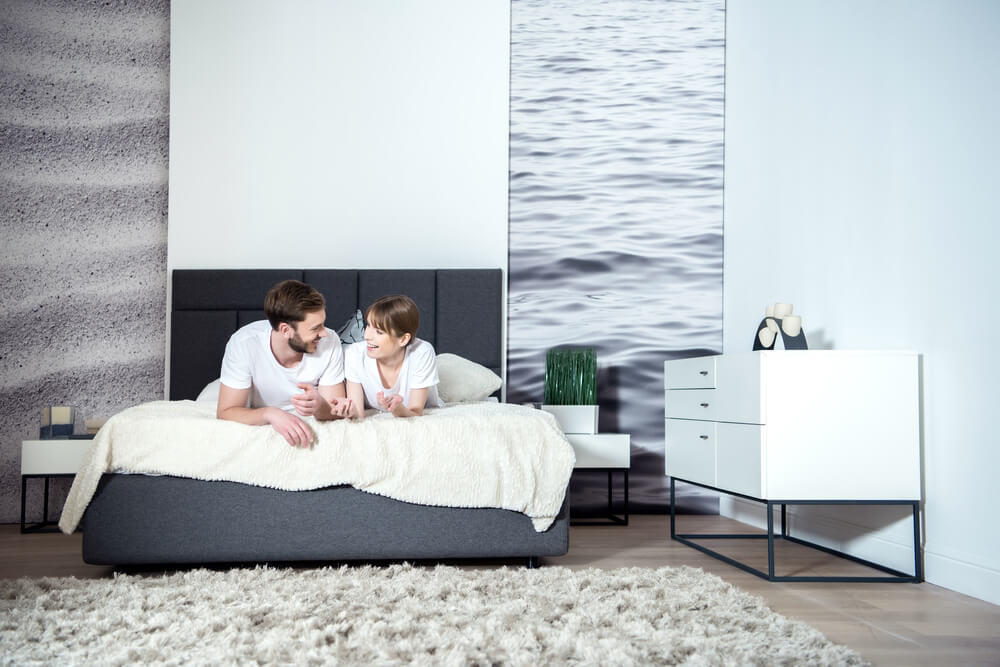 Choosing a Bed
If you don't already have a bed, or you're ready for a new one, it's a big decision. The bed is obviously the focal point of your bedroom, and it's also where you're going to spend a significant chunk of your life. You want to combine form and function.
The bed style you choose is also going to guide the style of the rest of the room.
As you're choosing a bed, start by thinking about the size of your room. If you have a large bedroom, getting the biggest bed you can afford is a good idea. This will keep the space from feeling empty, and it will give you the right sense of scale. A big bed is also comfortable.
Think about the other pieces of furniture you'll have in the room in addition to the bed, and make sure you're not going to create something that feels too cluttered. You want furnishings that again are the proper scale for the room but not so large that it feels overwhelming or cluttered.
A bed with a modern profile can be good because it's low to the ground, so it's easy for kids and pets to get on, plus it gives your space a streamlined, clean look and feel.
If you go with something too ornate, even if the size is generally right, it can seem out of proportion.
An eye-catching headboard will make a statement in a bedroom. As you choose your headboard, consider again the size of the room but also the ceiling height. If you have lower ceilings, you want your headboard to be a bit lower, but if you have high ceilings, you can choose a higher headboard for impact and drama. A higher headboard will draw the eye upward.
Make Use of Vertical Space
A good way to use vertical space in a bedroom is to mount your bedside lighting on the wall. Sconces are perfect because they look timeless and elegant, and they give a room a curated designer feel. You're also reducing the amount of space a lamp would take up on a bedside table. Then, you can choose a table with a smaller footprint.
Pendants are another good lighting option that makes use of the vertical space you have available.
Add a Seating Area If You Have the Space
If you have room for a seating area, it's a beautiful and cozy addition to a bedroom. A couple of armchairs and a small table are perfect, or even just a single chair. It gives you a place to relax and read when you don't want to lie in bed.
Choosing a Color
Light color schemes tend to work well in bedrooms because they're calming, versatile and they can create the illusion of more space.
However, if your room faces the north, you might be able to go with something darker and more dramatic.
Don't choose colors that will overstimulate you. For example, oranges and reds can be energizing, and you don't want that as you're trying to fall asleep.
If you want a sophisticated, timeless bedroom design, choose a single shade or stay within the same tonal family with a single color.
The Best Layout
Before you decorate a bedroom, draw a layout on graph paper. You should focus on the direction where the natural light comes from.
You'll start by positioning your bed in your layout, and then you'll organize other furnishings around it.
If your room is a rectangle, put your bed lengthways. If your room is larger, you have more options. For example, you might center it in the room. If you have a small bedroom, you might want to put your bed in a corner giving you more floor space around it.
Quality Bedding
The places you should put the most money in your bedroom design are your mattress and bedding. No matter how aesthetically beautiful a room is, if you don't have a comfortable bed, then you don't have the ideal bedroom.
Don't underestimate just how comfortable the right mattress can be, as well as things like a lightweight, breathable duvet and a mattress topper.
When you have high-quality bedding, it can reduce neck and back pain, help with allergies and allow you to get good quality sleep each night, helping you feel better all around.
When you're choosing bed linens, opt for the highest thread count you can afford. It should be at least 300. Cotton and linen bedding that's ethically sourced and made is a good option.
Layer your bed, and choose materials that feel good to you and are soothing. Don't choose things that are scratchy or irritating, no matter how good they look.
Keeping Clutter Out of View
Clutter can create feelings of anxiety. You never want to feel anxious in your bedroom, so think about how you can have a minimalist design in your bedroom.
You want to eliminate clutter as much as you can, and what you can't get rid of, find clever ways to keep out of view.
Choose pieces of furniture that double as storage, like benches with a top that lifts or nightstands with drawers.
Window Coverings
Finally, your window coverings should also be considered when you design your bedroom space. During the day, you want to maximize the natural light that comes in, creating a space that feels bigger and brighter.
At night, you want as much darkness as possible. A blackout blind can be a good option.
Full-length curtains are beautiful, bring the eye upward and make your ceilings appear higher, and they give you a nice, luxurious aesthetic.