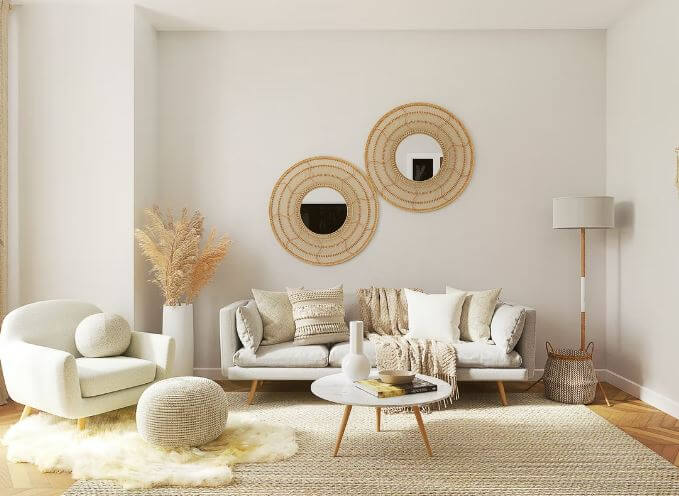 Do you want to know how to design a cozy living room? You're in luck, because that is exactly what we are going to talk about today. A lot of people think that in order to make their living room cozy, they have to sacrifice comfort. This simply isn't the case. There are a few simple tricks you can use to make your living room both comfortable and cozy. We will discuss some of these tricks in this blog post. So without further ado, let's get started!
1. Start with a neutral color palette
To design a cozy living room, you'll want to start with a neutral color palette. This will create a warm and inviting space that you can then accessorize with pops of color. You can use neutrals like cream, beige, or even gray as your base colors.
Then, add in pops of color with pillows, throws, and artwork. These can be changed out seasonally or as your taste changes.
2. Add layers of textures
When adding furniture and decor to your living room, be sure to include a variety of textures. This will give the space more dimension and make it feel cozier. Adding a soft blanket or throw pillows is an easy way to do this. You can also incorporate different textures by mixing and matching different materials such as wood, metal, and glass. Also, you can get sheer curtains that let light into a room while still providing some privacy. They come in a variety of colors and patterns so you can find the perfect ones to match your living room's style.
Another important aspect of making your living room cozy is to add layers of lighting. This can be done by adding lamps around the room. You can also use string lights or fairy lights to create a warm and inviting ambiance. Candles are also a great way to add some extra coziness to your living room. Choose scented candles that fill the room with a pleasant smell. You can also use diffusers with essential oils to make your living room smell great.
3. Use warm and cozy materials
One way to make your living room feel cozy is by using warm and cozy materials. This can include things like blankets, throws, pillows, and rugs. Consider adding a few of these items to your living room to make it more inviting and comfortable.
If you have hardwood floors, a rug can also help to soften the space and make it more comfortable. Choose a cozy material like wool or cotton for your rug to make the most of this tip.
Another way to add warmth to your living room is with a blanket or throw. Drape one over the back of your sofa or armchair, or keep one handy so you can snuggle up when you're feeling chilly. Look for a cozy material like wool or cashmere for the best results.
4. Install comfortable furniture
You can't have a cozy living room without comfortable furniture! When shopping for furniture, choose pieces that you can sink into and relax. Look for sofas and chairs with plenty of cushions and soft fabrics. You should also make sure there's enough space to stretch out – no one wants to feel cramped in their own home.
And don't forget about coffee tables, side tables, and ottomans. These pieces of furniture are great for putting your feet up or setting down a drink. They can also provide extra seating when you have guests over.
5. Hang some art on the walls
Not everyone is an artist, but art can really make a room pop. If you have some blank walls in your living room, consider hanging up some of your favorite pieces. You can buy prints online or at local stores, or get creative and frame some of your own photos or postcards. Art doesn't have to be expensive – even something as simple as a few colorful prints can really brighten up a room.
If you're not sure how to hang art, start by grouping similar pieces together and then play around with different arrangements on the floor. Once you have something you like, mark where the nails should go with a pencil before finally hanging them up. And don't be afraid to rearrange your art every once in a while – it's a great way to give your living room a fresh new look.
So there you have it – these are just a few simple tips to help you design a cozy and comfortable living room. Just remember to keep things tidy, add some personal touches, and make sure there's plenty of seating for when your friends and family come over. With a little bit of effort, you'll have a living room that you can be proud of. Thanks for reading!