Decorating your home with a luxury style doesn't only require high end furniture. To unlock the full potential of your interior spaces, it is equally dependent on establishing the right mindset and philosophy. Nonetheless, finding the best luxury furniture for your living spaces will play a central role.
Whether looking to transform a room or decorate the entire home, these top tips on using stylish furniture to achieve luxury interior design should serve you well.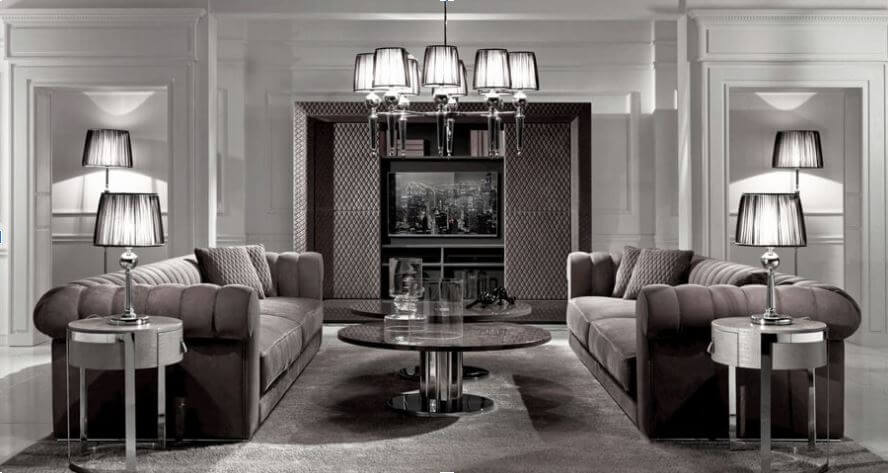 Find an authentic luxury style 
Designer furniture shouldn't be limited to larger properties. When utilized correctly, even a studio flat can scream luxury and style. One of the key aspects for any homeowner or interior designer, then, revolves around maintaining an authentic personality.
There are a variety of interior design styles that suit the pursuit of luxury and can be used in conjunction with high end furniture. Art deco, transitional, classical, contemporary, and Hollywood regency are just some of the best styles. When you love the look that you're attempting to create, it becomes a lot easier to find Eichholtz designer furniture or alternative solutions to suit your needs.
Luxury interior design can take many forms but should always look to establish sophistication, elegance and a distinctive atmosphere that's impossible to ignore. Achieve this, and your luxury living room or bedroom will hit the mark.
Seek inspiration from luxury furniture designers
While it's important to inject your personality and character into the interior designs, that doesn't mean you shouldn't take inspiration from others. In fact, you may find that hiring a professional to curate dining room furniture and homeware accessories is the answer.
However, it is equally possible to build a luxury design through DIY methods. Upscaling your living spaces can be achieved through luxury furniture. Whether looking at timeless styles or current trends within the realm of luxury design, lighting choices will have a monumental impact on the aua created. A glamorous 12 lamp chandelier can deliver a striking vibe as soon as you enter the room.
Inspiration can be found in multiple locations ranging from magazines and websites to films, showhomes, and social media. You can take notes from all of those outlets. Just be sure that all ideas and luxury furniture integrate with each other.
Use a combination of Eichholtz designer pieces from luxury furniture retailers like Tulip Interiors laid out in a thought-out approach to Feng Shui can work wonders. 
Master the application of colour
An effective use of colour doesn't only set the tone for the room and guide high end furniture purchases. It also subconsciously changes your mood and emotional reaction to the property. It is an essential feature of any luxury living room or home.
Some colours are naturally associated with luxury. Gold is linked to the precious metal and instantly conjures up thoughts of high class and eliteness. Meanwhile, purple is connected to nobility. Deep reds, royal blues, and black tones are also commonly thought of as luxury colours and are regularly used in high end home design. Meanwhile, a pallet of neutral shades brings sophistication and elegance to kitchens and bathrooms.
The right colour scheme will help you make a statement. Smarter furniture choices can use colour to accentuate the room or build a consistent vibe. A splash of colour that has sentimental value to you can also feed into the pursuit of distinct elegance.
Focus on function
Whether looking for dining room furniture or pieces for the luxury living room, it's important to remember that aesthetic appeal is only half of the battle. You must consider whether the space is intended for entertainment and how many people will use it at any given time.
Stylish furniture will lose its stand out appeal if the rooms fail to feel fit for purpose. When examining dining room table choices, for example, bigger isn't always better if working in a compact space. Meanwhile, all seating arrangements should aim to deliver comfort and intimacy. 
Decorative accessories and artworks are used purely for the aura and aesthetics. As far as furniture pieces are concerned, though, every item should be a necessity. Overcrowding rooms is one of the quickest ways to ruin the vibes you've created.
Look for luxury textures
Luxury interior design can benefit heavily from the exploration of different textures. The successful integration of layers will significantly boost a room's wow factor to make the room feel far more interesting from the moment you step aside.
Textured walls can add a sense of intrigue while layers of silk, wool, faux fur, and velvet can aid the visual appeal and improve the sense of touch. Floor rugs bring warmth and cosines to living rooms or bedrooms while cushions and other accessories can bring a bed or sofa to life. Bathrooms can even benefit from plush luxury towels. Textures should be used to help accentuate the room rather than take it over.
An array of natural materials have enjoyed a resurgence in popularity too with marble, wood, leather, and brushed metals all included. A host of luxury furniture manufacturers, designers, and curators are using them. So, you won't struggle to find textures for your home.
Gain consistency throughout the home
Finally, it's vital to remember that your innovations and inspirations should be designed with the entire home in mind. That doesn't mean that every room should look identical. However, establishing a stylish feedthrough that covers interior and exterior features is key.
Completing this process may be a little easier when dealing with open living spaces as the colour schemes will naturally blend into each other. However, Eichholtz luxury furniture and other styles can also be used in separate living spaces to develop a consistent vibe throughout the home while simultaneously retaining a distinct appeal in each room. As with all aspects of home design, balance will be key for creating luxury styles.
 Even if you are redeveloping one room at a time, keeping one eye on the long-term vision for the home is essential as it will allow you to maintain the right mindset and philosophy. The stunning styles will deliver a lifetime of happiness.