Most people who like to spend their time in the kitchen will agree that when equipping this type of space, it is important to harmonize aesthetics and functionality. Depending on the space of the house, you should do your best to make a comfortable and spacious kitchen.
Choose carefully your complete interior, gadgets, and your tiles, because the perfect harmony of all these elements will make a cozy and beautiful place for you. If you cannot decide what your kitchen should look like, follow these useful tips on how to create a modern-looking and functional kitchen.
Renovate It to Your Liking
Although the renovation of the kitchen can be time-consuming and requires patience, once you do that, you will spend most of your time there. Yet, sometimes it can be difficult to decide on a certain option so try to make your renovation easier. When you want to make a nice change to your kitchen, the folks from Calgary kitchen renovation company will offer a multitude of different kitchen designs and along with you choose the style and colors of it. With their experience and help, as well as with many useful tips and tricks available, you will get a completely new space created according to your desires and possibilities.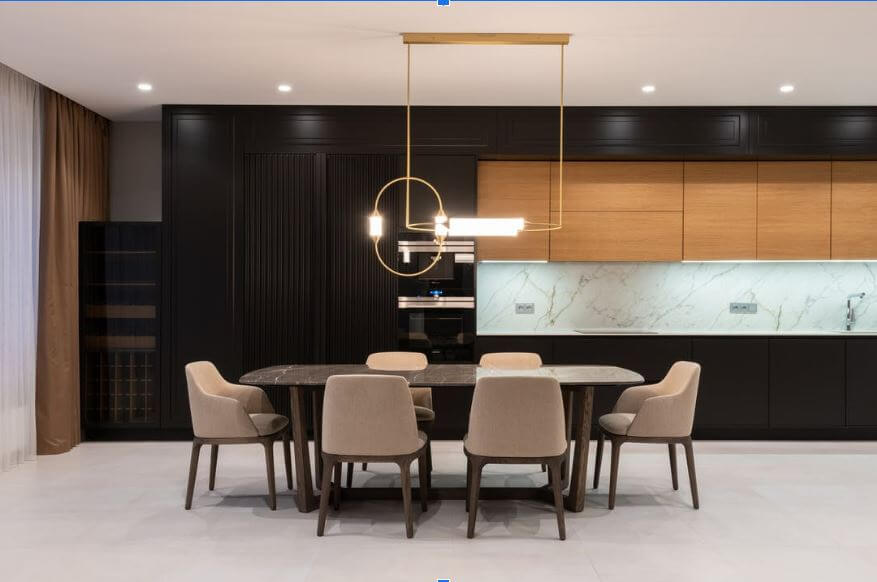 Choose Unique Wall Tiles
Before you buy all the necessary elements for your functional kitchen, choose a modern and unique design for your tiles. They will change the appearance of your kitchen wholly. The choice of your tiles depends on your taste or whether you prefer a simple or colorful design. If you want to achieve elegance, then choose the tiles in one color that will complement the minimalist style of your kitchen. 
Nowadays, tiles that imitate wood or stone are very popular, because they fit into almost any interior. If you have a smaller kitchen, then opt for a bold design, just to refresh it additionally. Also, your tiles protect your walls from dirt and stains after you prepare food, so they are a functional choice as well. You can clean them easily and they are a very important detail, which should not be neglected.
Use Every Part of the Space
If you have a smaller kitchen, then your main concern is probably where to put the entire dish and all kitchen gadgets you have. For that, it is important to plan wisely in every corner of the kitchen. You can make a kitchen where you will be sure that every inch of free space will be used. 
You can help yourself with practical ideas such as installing open shelves, where you can put various plates and your most beautiful china or cups. In that way, it will not look boring or old-fashioned, and you get enough space for everything at the same time.
Take Care of the Lighting
Try to put your kitchen in a room where there is enough natural light. It would be nice to have at least one window that could be made in a square or rectangle shape. The window can help your kitchen look bigger because of the light and also give it a modern look. Also, use lighting for functional purposes. 
You can install small light bulbs just above the work surface or in your drawers, to make everything more practical. In addition, you can buy modern chandeliers of unusual shapes that will be placed above your kitchen island and you will easily get modern and functional lighting in your kitchen. Architects mostly avoid installing crystal chandeliers, because they look too traditional and can take up too much space.
Replace Your Old Device
Renovation may demand some unplanned costs, but do not save your money on buying new devices. You will have to find new, modern-looking, more practical, and right appliances that will fit into your new kitchen. 
Your new devices will be more sophisticated, take up less space and they are more energy-efficient. Besides, buy a new elegantly designed faucet that will match the sink, and which is made of a material that is easy to maintain. Do your best to match colors and designs, and of course to make it more functional.
Use Neutral Colors
In the modern designed kitchen, what attracts attention are colors. They can significantly change the look of the kitchen and give it additional space, so be imaginative. For instance, you can choose the gray, white, or black color of your kitchen floors and make an interesting contrast with the color of the walls. 
You can also use the colors of the wood which will give it a more natural and refreshing look but do not make it too colorful. Neutral tones will create a pleasant and cozy atmosphere, and your kitchen will become your favorite room in the house.
All of these ideas for the renovation of your kitchen can transform it into a real masterpiece. The most important things are your plan, imagination, and creativity. You can take some help from the ones who are experienced in the renovation of it, or you can do it on your own. Nevertheless, with a little effort and imagination, it may resemble the modern and beautiful kitchens from the magazines.