Colouring your kitchen worktop
If you asked the average Briton, 'What is the focal point of your kitchen design?' the vast majority would say, 'The kitchen worktop'. Therefore, it's essential to choose the right colour, as it can affect the aesthetic for the whole room.  Fortunately, there are some informal rules to apply that can significantly help your decision-making. With all the varieties of colours, tones and textures to choose from nowadays, it's important to take your time.
corian worktop colours

Keeping your kitchen in the shade
The easiest place to start is to decide whether to have a light or dark shade for the kitchen. White kitchen worktops are always popular as they provide a bright, clean and modern-looking feel that makes the most of natural light. Conversely, are you leaning towards a dark, sleek, luxurious finish? If so, it's probably best to partner it up with lighter shades of cabinetry, flooring or even utensils, to offset what could be a slightly depressing feel if not considered fully.
Proving the correct tone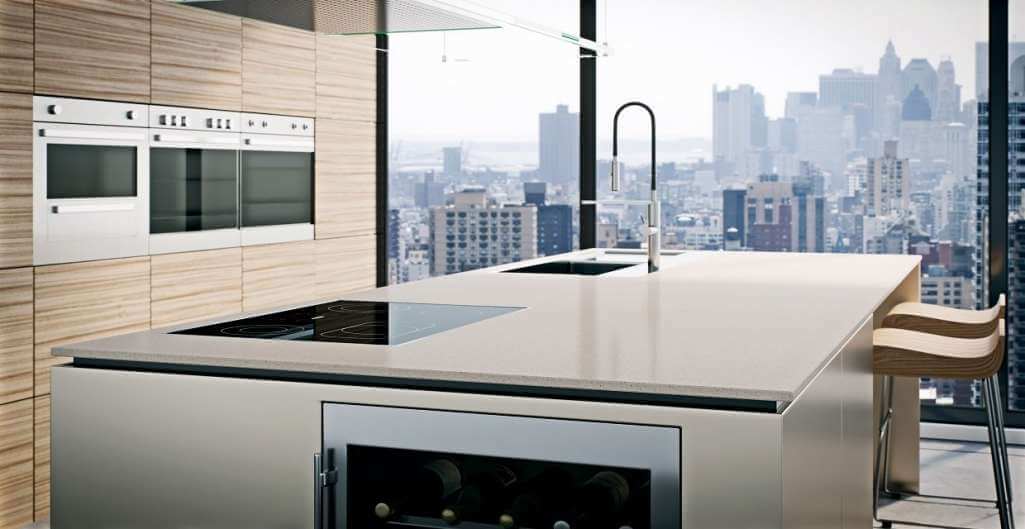 Once the shade has been chosen, you can take it a step further and decide whether you want a monotone or multi-toned feel for your kitchen worktop. Monotone kitchen worktops are wonderfully retro, especially when they are in black or white. However, choosing this style limits the choice of material, as they primarily come in acrylic or laminate. Multi-tone kitchen worktops are generally more appealing to consumers as they are made from more sought-after materials, like wood or stone. Granite is immensely popular in the UK, providing a modern, shiny finish in white, black or brown. Wooden kitchen worktops never go out of style, and despite the care that needs to be taken with this material, the classic beauty of wood, and the richness it brings, light or dark, can fit any type of kitchen, from pastoral to modern.
A touch of class
Texture is an important part of choosing a colour for your kitchen worktop. Will it be a bold, strong, red laminate or perhaps a more classic surface-style laminate that mimics the natural materials like stone or wood? The natural gradient of granite, quartz or timber has such a basic, primal, tactile feel, it's very difficult to then go for something man-made like acrylic, regardless of the similarity to the touch.
It's a personal choice
Once you have decided on the shade, tone and texture of your worktop, there is a final factor that needs to be taken into account; ensuring that it matches the flooring and cabinetry. This is where your personal taste comes into play. Shiny, glossy kitchen worktops work well with shiny flooring but on the other hand, some people like a contrast of a matt finish for the floor to really set off their white kitchen worktops. Another school of thought is to simply choose the same colour but have a different tone to your worktop. A deep brown worktop could have a light brown floor, and vice versa. Try not to make a significant contrast, as a beautiful kitchen can be the hub of a home for a decade or more.