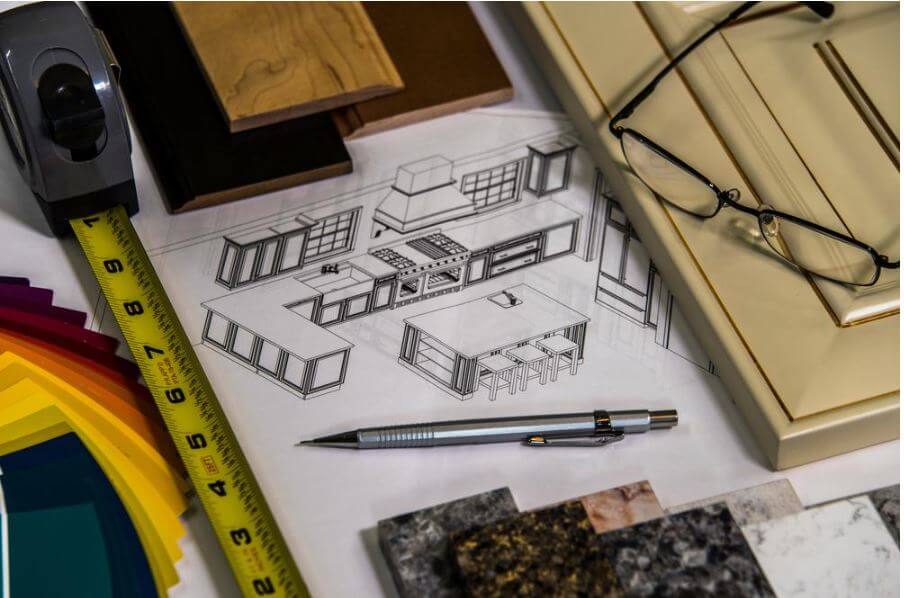 Does your kitchen look boring and gloomy? Maybe you should consider remodeling it. After all, it's the heart of your home, so don't wait any longer and give your kitchen the boost it needs!
There are many reasons why you should consider remodeling your kitchen. First, it can improve kitchen functionality by adding storage organizers, a pantry area, smaller appliances, a kitchen island, cabinet lighting, and more kitchen space.
Second, it can help you meet your family's needs. For example, you may install double ovens if you want to spend time baking with your kids. Or you may add a large table at the center of your kitchen if you value simple family gatherings. 
Third, it can improve your home's resale value, offering 50 to 80% return on investment. You also have better chances of selling your home quickly because most house hunters appreciate the updates and enhancements done on their soon-to-be kitchen. 
However, kitchen remodeling can be a costly project. If you're wondering how much it would cost, this comprehensive guide may help you. This article will discuss the average cost of remodeling your kitchen as well as the factors that may affect it. 
What Is The Average Cost Of Remodeling Your Kitchen?
On average, remodeling your kitchen will cost you around USD$25,000, or USD$150 per square foot. This is the typical starting cost of a budget-friendly kitchen remodeling project—others would probably cost around USD$30,000 (mid-grade) to USD$60,000 (high-end). 
Of course, you don't have to spend tens of grand for a basic kitchen upgrade. In fact, you can redo your kitchen with just USD$6,000. If you want the result to be favorable despite the project being low-cost, you must be creative and resourceful. 
What Are The Factors Affecting Kitchen Remodeling Costs?
The cost of upgrading your kitchen can be affected by key factors: size, finish level, scope, and services.
Size
Usually, the larger the kitchen, the more expensive the remodeling will be. However, this isn't always the case because what's important isn't the floor area but the fixtures, furniture, and finishes that come with it. This means more cabinets, appliances, countertops, and accessories.
Here's a quick guide to help you size up your project:
Extra Small Kitchen:

This is less than 60 square feet and is ideal for simple meal prep. This is usually equipped with common kitchen appliances.

Small Kitchen:

Equipped with common kitchen appliances as well, this is around 60-90 square feet and is ideal for one cook.

Medium Kitchen:

Usually in L or U shape, this kitchen is around 90-120 square feet and is spacious enough for two cooks. 

Large Kitchen:

This has better cabinet space and is ideal for a large group of people with an area ranging from 120-200 square feet and better kitchen appliances.
2. Finish Level
This refers to the quality and price of the materials to be used. The higher the finish level, the more expensive the remodeling will be. 
Here are the different finish levels to consider:
Budget Level:

This includes materials from general stores like IKEA.  

Mid-Grade Level:

These are good-quality materials with an affordable price range.

High-End Level:

These are expensive high-quality materials displaying a high level of custom work and craftsmanship. 

Luxury Level:

These are the most expensive materials you can ever find, where craftsmanship and custom work are beyond your imagination.
3. Scope
Scope refers to the type and amount of work that has to be executed. It's categorized into two broad categories: full and gut renovation. 
Full Renovation:

During the full renovation, you must take everything out and replace them with new ones. These include your furniture, appliances, cabinets, fixtures, and finishes. This is why it's also called rip-and-replace renovation because that's what you'll actually be doing. 

Gut Renovation:

During the gut renovation, you must remove your walls, transfer your gas lines, reroute your plumbing lines, and rewire your electrical lines to change your kitchen's layout and add more space. Because of the procedures you have to deal with, hiring professionals is highly recommended, such as licensed contractors.
When it comes to costs, both can be expensive in their own ways. Although, you may be able to save more on full renovation because you don't have to change your kitchen's layout, which requires hiring professionals. 
4. Services
When it comes to kitchen remodeling, there are two main types of services to consider: build and design.
Build Services:

These firms offer demolition and construction services managed by a general contractor. 

Design Services:

These are firms managed by architects and interior designers. Their main role is to create technical designs, such as two and three-dimensional floor plans.
Some build service firms may offer both build and design services, which may cost more than build-only firms due to additional workloads.
Final Words
Remodeling your kitchen can be expensive. On average, it costs around USD$25,000 or USD$150 per square foot. However, the total cost may vary depending on some factors. These include kitchen size, finish level, scope, and services. 
Since the cost of remodeling a kitchen is no joke, make sure to plan everything before doing anything to prevent unwanted expenses. You can also hire professionals to make sure that your money is being used properly.