Do you always adore pastel shades and love the coziness of soft tones? If yes then why not make your living rooms speak out your taste. Here are some living rooms with decent pastel hues …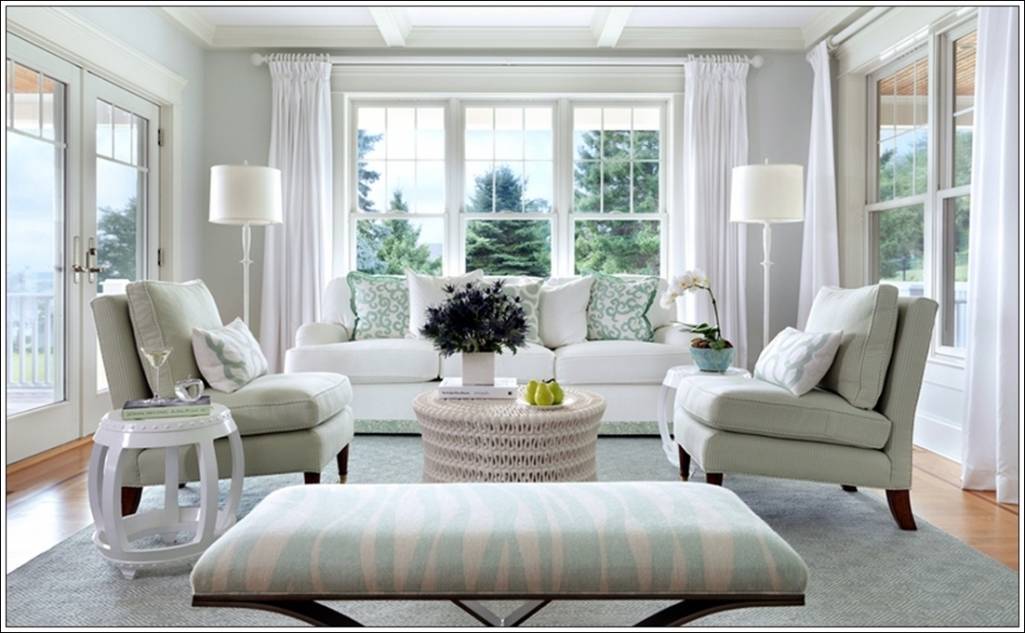 Via: Digs Design Co
1. Digs Design Company
This living room is in greyish blue pastel shade skilfully combined with white. Here symmetry is created if you look at the front of the living room with two white floor lamps and two single sofas at the corners of a central white sofa with cushions of white and blue shades. This living room is not a very big but smart choice of colours and furniture placement has made this appear wide and full of soothing freedom.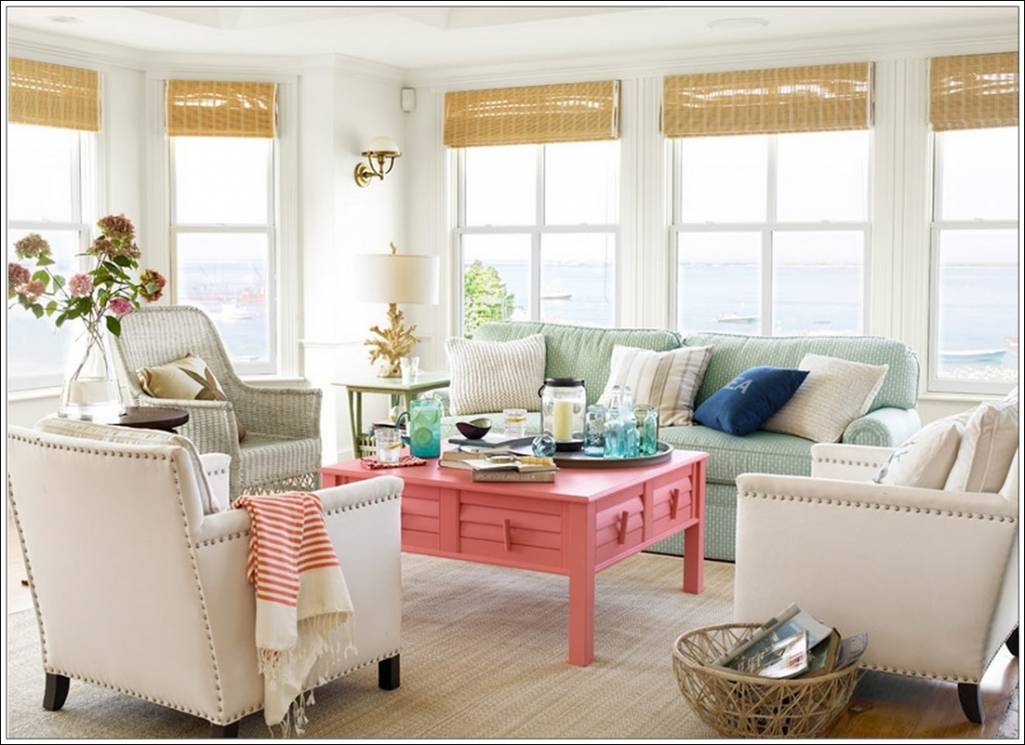 Via: Coco Cozy
2. Coco Cozy
This living room with all the windows having a view over the blue sea is no less serene that the scenario outside. This living room's seating is a marvellous blend of textures and colours. Its seating includes sea shell white leather seats, a pastel blue fabric sofa and a dull grey rattan seat. To compliment all these shades a pastel salmon pink centre table and a bisque rug are adding sophistication.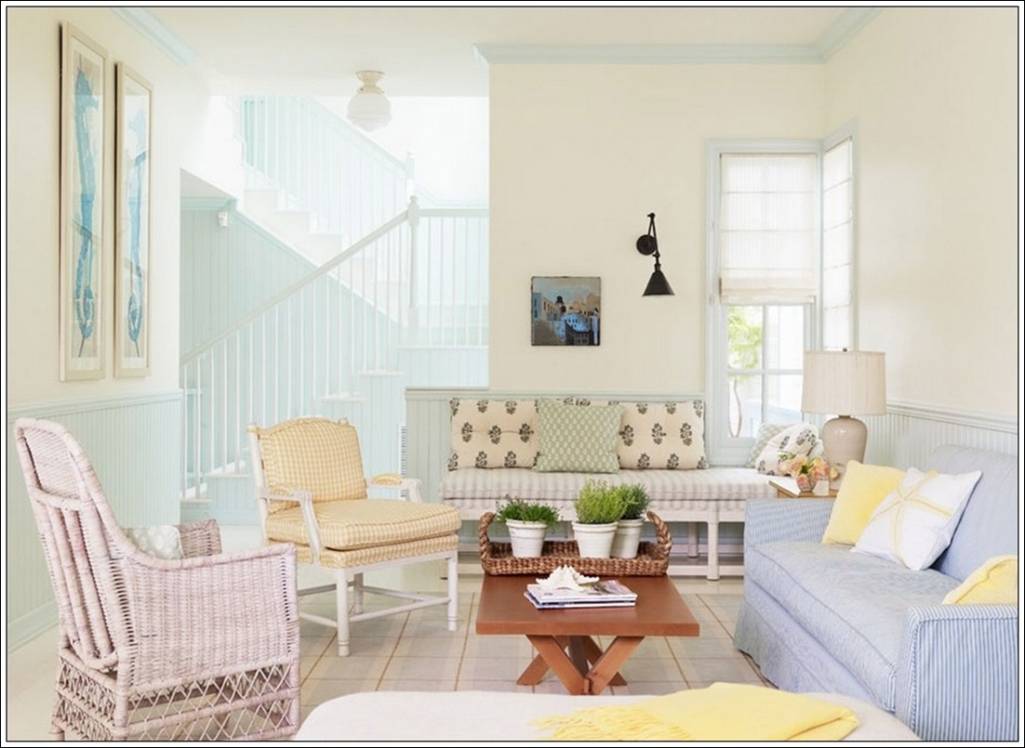 Via: Alexandra Angle
3. Alexandra Angle Interior Design
Here the designer has truly thought out of the box by getting daring and using a combination of heterogeneous seating types. This living room has sober pastel shades of blue, orange, pink, yellow and green. The furniture is a blend of a rattan seat, a stripped wooden sofa and an elegant blue pinstriped sofa. The brown coffee table in the centre is just the right addition.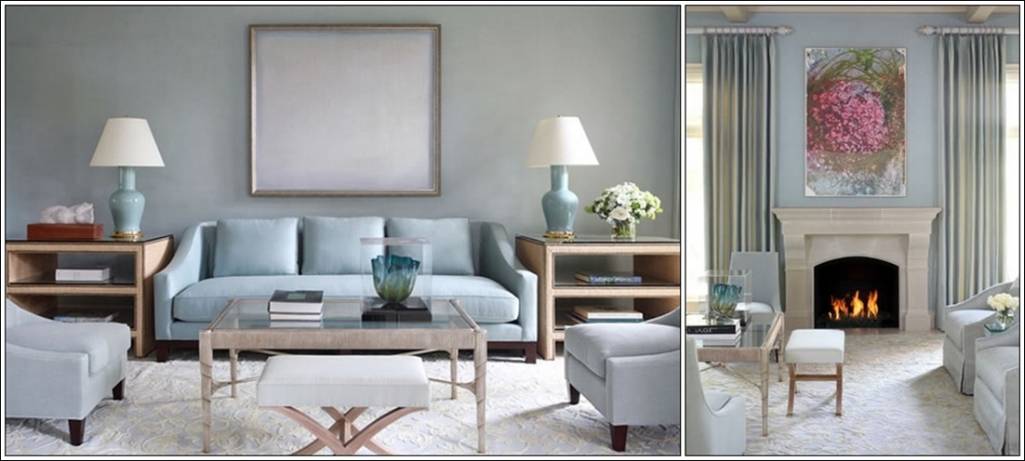 Via: Tobi Fairley
4. Tobi Fairley Interior Design
This living room is with the dominance of the very popular pastel colour that is duck egg blue. It is a simple yet an elegant living room where the designer has mixed and matched duck egg blue, white and wood's colour to perfection. To spice it further a pink floral painting is hung just above the fireplace in between the blue curtains.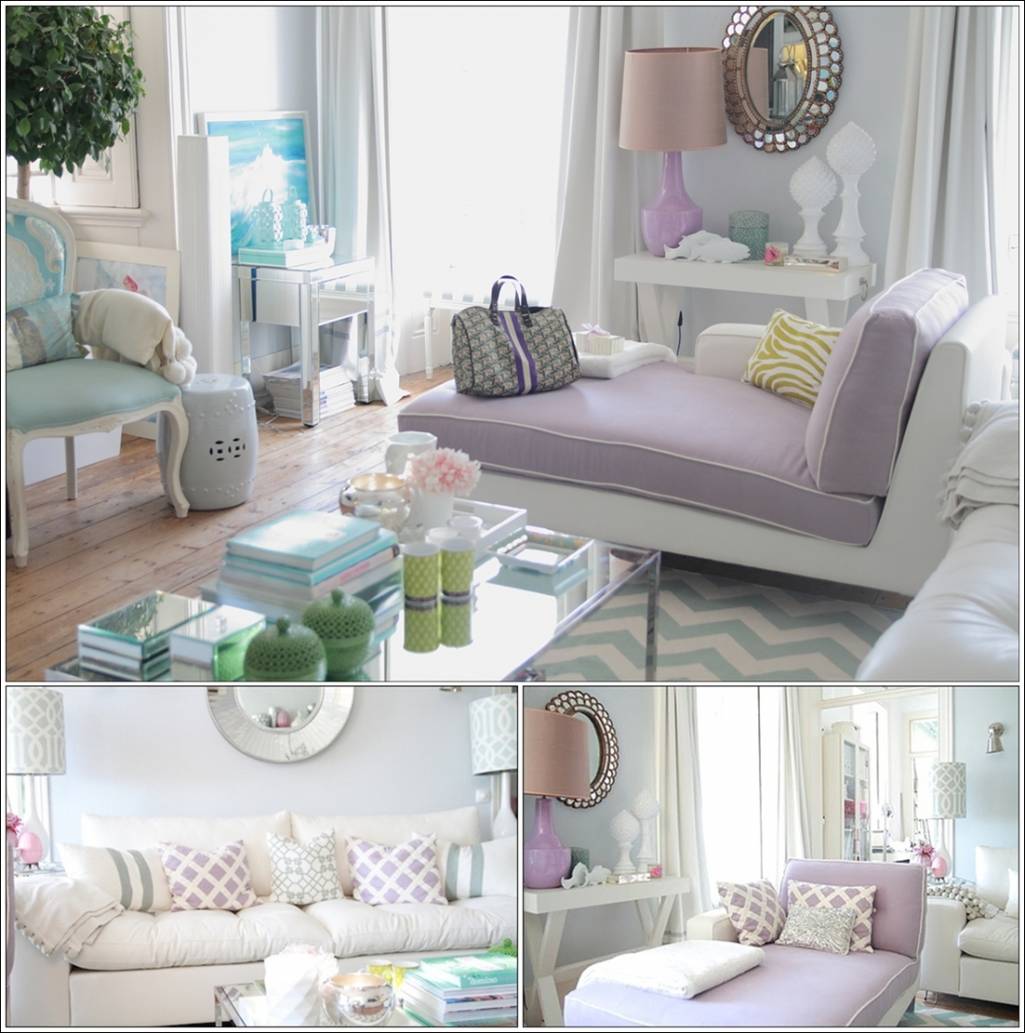 Via: Angie Helm Interiors
5. Angie Helm Interior Design
This living room is giving a sense of femininity with its pure feminine hues. It has seating in pastel purple, light blue and white with colour pops of green, pink and yellow. A zig zag striped pastel blue and white rug is doing wonders to this area.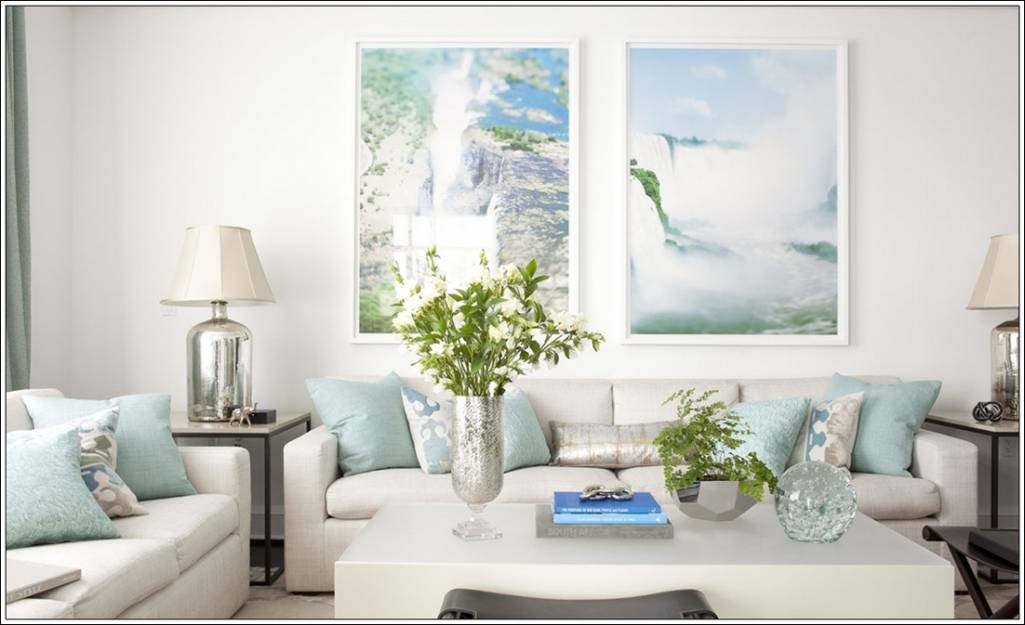 Via: Amanda Nisbet Design
6. Amanda Nisbet Design
This living room is in greyish white and baby blue shade which is further sparked with details of dazzling silver colour in the form of table lamps and centre piece vases on the coffee table. Two large paintings showcasing water falls and green plants in the silvery vases pushe this area close to nature.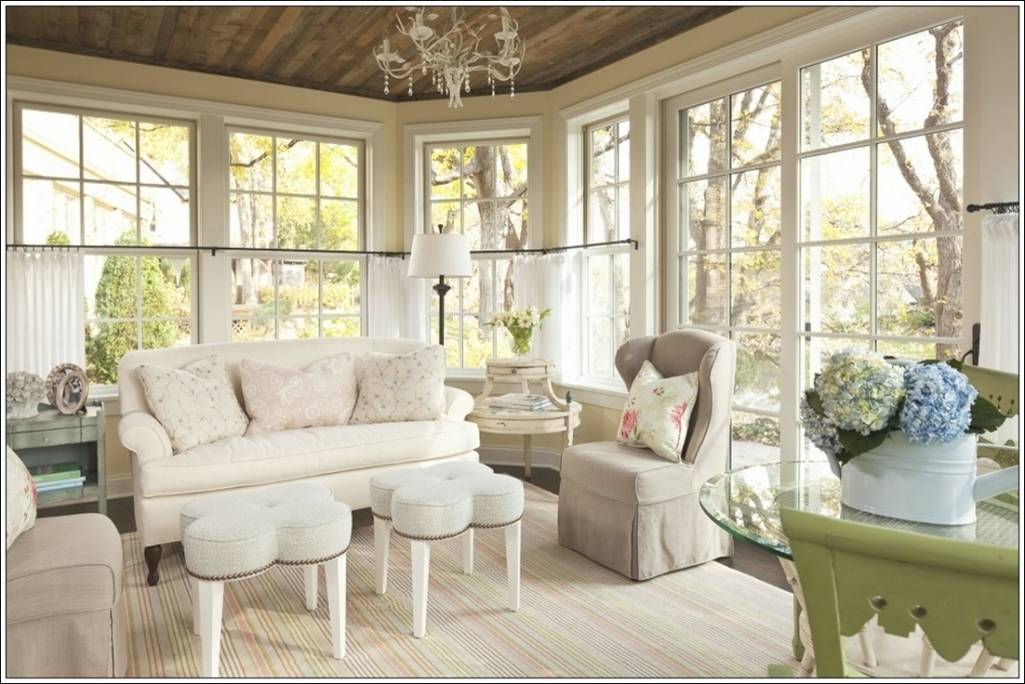 Via: Ohara Interiors
7. Marths O'hara Interiors
This living room with large windows and a backdrop of woods is looking just amazing. Now to talk about the interior it has very balanced shades of beige, peach and greens. The striped rug in pastel shades speaks for itself.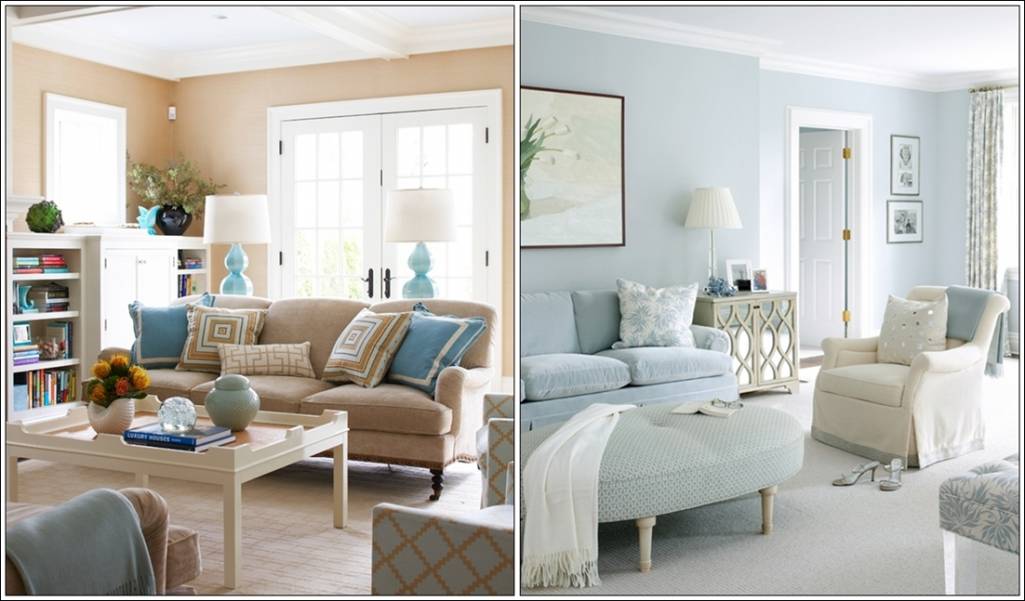 Via: Muse Interiors
8. Muse Interiors
The first living room is with peach puff and baby blue colour combo. The walls, central sofa and the rug are in peach puff dotted with pastel blue using cushions and lamps. The second one is with the purity of grey, blue and white blended with intricate expertise.