The kitchen is the heart of the home. From this space, families gather and share meals, friends chat over coffee, and children do their homework. As such, it's important that they have a functional yet beautiful kitchen with ample storage for dishes and food items as well as enough room to move around in. The following article will provide some great ideas on how to improve your kitchen design.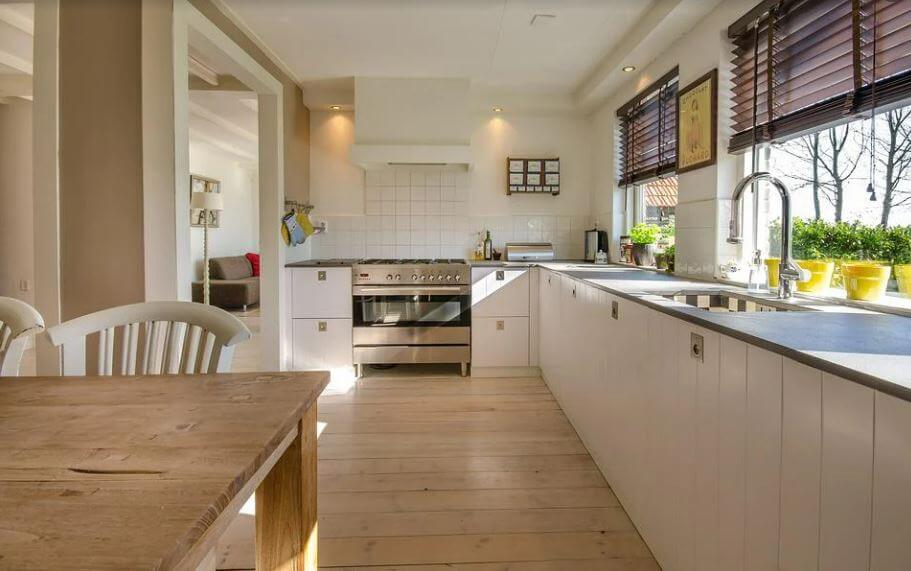 1) New tiles
One way to add interest to your kitchen is by incorporating unique materials into the space. For example, instead of using traditional tile for your backsplash, opt for stone or glass mosaic tiles. These tiles come in a variety of colors and patterns, so you're sure to find something that fits your kitchen's overall aesthetic.
For example, instead of using traditional white tiles, you could use blue glass mosaic tiles to create a nautical feel. Or, use yellow and green stone tiles to give your kitchen an earthy vibe.
2) Custom furniture
Another way to elevate your kitchen design is by opting for custom furniture. This could involve anything from having a built-in banquette made to creating a custom island that fits your specific needs to having one-of-a-kind shelves installed. By working with a carpenter or other artisan, you can create pieces that are both functional and stylish.
Additionally, custom furniture can help you take advantage of unused space in your kitchen. For example, if you have a narrow area that's not being used, consider having a slim cabinet made to house spices or cooking oils.
3) Go bold with color
If you're looking to make a statement, why not go bold with color? Paint your walls a bright, vibrant hue, or use wallpaper with a fun pattern. You could even paint your cabinets or kitchen island a bright color for a fun pop of color.
On the other hand, if you prefer a more subdued look, you could paint your walls a light neutral color and use color in your accessories, like dish towels, drawer liners, or rugs.
4) Install interesting features
Another great way to elevate your kitchen design is by installing interesting features. For example, if you love to cook, consider adding a wine rack or a pot rack. If you entertain often, install a rolling pantry so that you can easily access serving dishes and glasses.
If you have a small kitchen, make the most of the space by installing shelves or cabinets that go all the way up to the ceiling. You can use this extra space to store seldom-used items, like holiday decor or serving platters.
5) Get creative with storage
When it comes to storage, get creative! Incorporate baskets and bins into your design to store items like fruits and vegetables, pots and pans, or dry goods. You could even hang a chalkboard on the inside of a cabinet door to keep track of what you need to restock.
If you have a lot of small items, consider using mason jars to store them. Not only are mason jars attractive, but they're also airtight, so your items will stay fresh longer.
6) Play with texture
Another great way to elevate your kitchen design is by playing with texture. Incorporate different textures into your space through materials like stone, wood, glass, or metal. You could also use textured wallpaper or paint to add interest to the walls.
For example, you could use a stone backsplash with metal accents, or install glass cabinet doors with wood frames. By mixing and matching different textures, you can create a kitchen that's both stylish and unique.
7) Add greenery
Bring the outdoors in by incorporating plants into your kitchen design. Hang a herb planter near the sink so that you can easily snip fresh herbs for cooking. Or, set out a vase of flowers on the counter to brighten up the space.
Greenery not only looks good, but it also purifies the air, so it's a win-win!
8) Use unconventional materials
If you really want to make a statement, use unconventional materials in your kitchen design. For example, instead of using standard granite countertops, opt for marble or soapstone. Or, use concrete or stainless steel for your backsplash.
You could even get creative with the cabinets and use materials like reclaimed wood or barnacles. By thinking outside the box, you can create a kitchen that's truly one-of-a-kind.
Kitchens are one of the most important spaces in a home, and by thinking outside the box and incorporating some of these unique ideas, you can create a kitchen that's both stylish and functional. Don't be afraid to get creative with storage solutions or use unconventional materials to add interest to your space. By thinking outside the conventional design norms, you can create a kitchen that truly reflects your personality and that will be a joy to cook in.