Wood provides an elegant quality to a home. No matter if you are talking about installing decorative wood panels for accent walls or putting in wood flooring, the aesthetic value of a space instantly goes up when wood is introduced into the mix.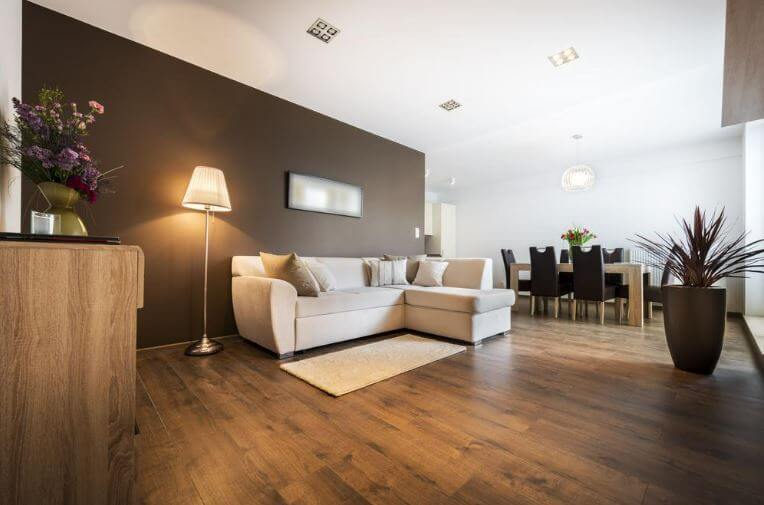 Source: Cinematographer/Shutterstock.com
That said, when it comes to wood floors, there are certain furnishing and decorating mistakes that can undo a lot of what wood floors add to a space.
If you want to get the most out of your wood floor, be sure to avoid these five furnishing and decorating mistakes.
1. Failing to Introduce Complementary Colors
Many folks think that because they either choose to have light or dark floors that the rest of the room needs to match that feel. However, this isn't necessarily true.
The fact is that one of the most essential (and tricky) things to do when decorating with wood flooring is to pick the right color scheme that will complement the floors. The best way to do this is to look at the undertone of the flooring and use that to pick which colors will best go with the wood.
After establishing the undertone of your wood, select complementary colors using the principles of the color wheel.
2. Laying Out an Ill-Fitting Rug
Those who have wood floors in their living rooms, dining rooms and similar areas will often lay out a rug to complement the space. However, a common mistake folks make lies in selecting an appropriately sized rug.
The fact is that if a rug is too small, it will throw the room off balance and look strange. In this kind of situation, no rug at all is better than one that is too small.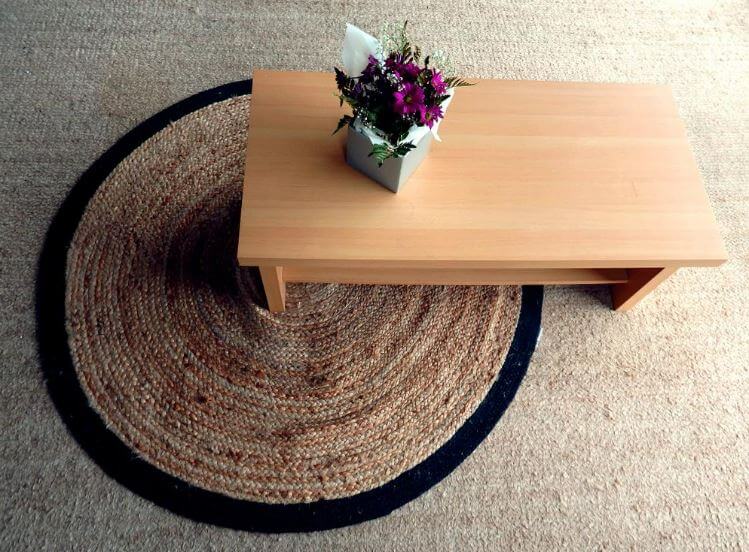 Source: Alex Farias/Shutterstock.com
While rugs can indeed be expensive and many can be reluctant to get the next size up for that reason, it is essential to select the right rug size for the room. If you get an undersized rug, all of the attention will be drawn away from your beautiful wood floors and placed on the awkwardly sized rug in the middle of your room.
3. Not Mixing Up Materials
While purchasing wood appliques to adorn mantels, a beautiful oak dining set and installing rustic-looking floating shelves is all well and good, if you have a room that is wood clad from floor to ceiling and everywhere in between, the room can feel heavy and oppressive for some.
Therefore, when considering how to decorate a room with wood floors, it is wise to try and achieve a balanced feel by incorporating a variety of materials.
Wood flooring pairs wonderfully with leather, woven fabrics, metal and a panoply of other materials. You can also layer in wood accents like clocks or picture frames. Just be sure not to get carried away.
4. Going Too Dark
In a similar manner to mixing in complementary colors and materials, it is also important to achieve a balance in dark and light tones, particularly if you have dark wood floors.
If your wood floors are on the darker side, it is important to pull some light into the room with white painted walls, light and breezy curtains and similar items that will help the space not to feel too dark.
While this isn't as big of a problem for folks with lighter wood floors, it can still be a good idea to bring a sense of balance with a few darker accent pieces in the room.
5. Not Building Around Your Floors
The truth is that when you have beautiful wood floors, they will serve as the foundation and focal point of your room. This means that you need to lean into that and design the space around the kind of atmosphere being created by your floors.
For instance, warm-toned floors with a visible grain pattern or bold marking give off an extremely rustic, traditional and homey feel. Therefore, it is potentially a good idea to lean into that and go with a more farmhouse aesthetic.
However, this is not the only option.
While the aforementioned type of wood flooring certainly lends itself to a more traditional décor, you can also go a more modern route by integrating metal accents with clean lines.
The modern industrial interior design trend is often balanced out by earthy wood floors, thereby opening the door for folks with these types of floors to move away from the traditional design aesthetic.
No matter if you opt for the former, the latter or something else entirely, the point here is that the kind of wood floors you have should serve as your guiding star for designing the rest of the room.
If you fail to follow the wood, you are likely to end up with a mismatched room that doesn't really feel right.
Furnishing Your Wood Floors Correctly
Wood flooring is a beautiful feature to have in a home. Be sure that you help to elevate that elegant look even further by avoiding these five furnishing and decorating mistakes.