Do you like Egypt and its culture and wan it to be a part of your house. Now this has become easy because you can have Egypt inspired walls anywhere in your home by applying these superb wall stickers. Bring Egypt's flavour to your house by these stickers and make your walls a matter of talk among your friends…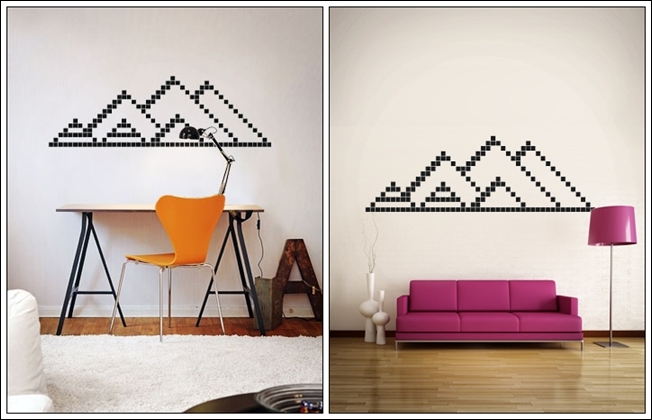 Via: Stickaz
1. STICKAZ
This is a wonderful decal that gives the look of pixelated graphics of the world famous Egypt's pyramids. This sticker is available in 40 colours so now matching this sticker with your interior will be very easy.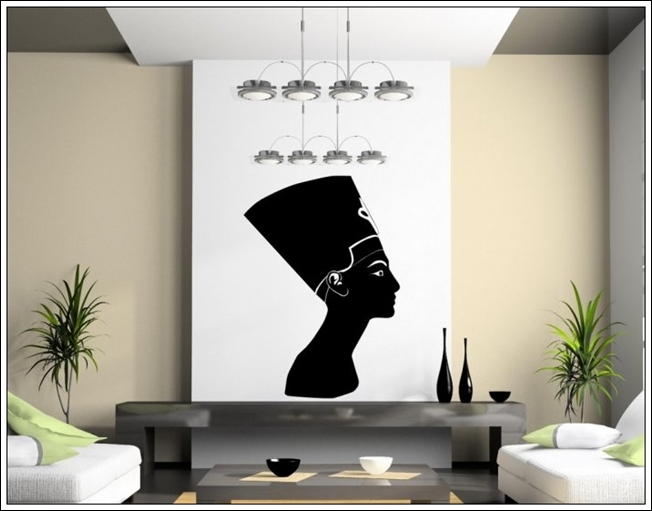 Via: Broom Sticker
2. Broom Sticker
If you like pure Egyptian culture giving true flavour of history then this sticker is for you. This sticker is a picture of 'Nefertiti' who was the wife of Egyptian Pharaoh named as Akhenaten. This decal is available in 33 colors and its price is £13.99.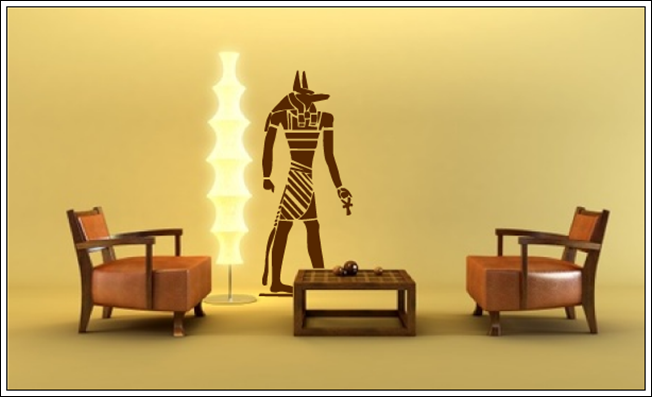 Via: Izidek
3. Izidek
This is an Egyptian God sticker that will take you to the journey of Egyptian History. This sticker will set well with your contemporary interior giving your walls an ethnic look. Its price is 19 €.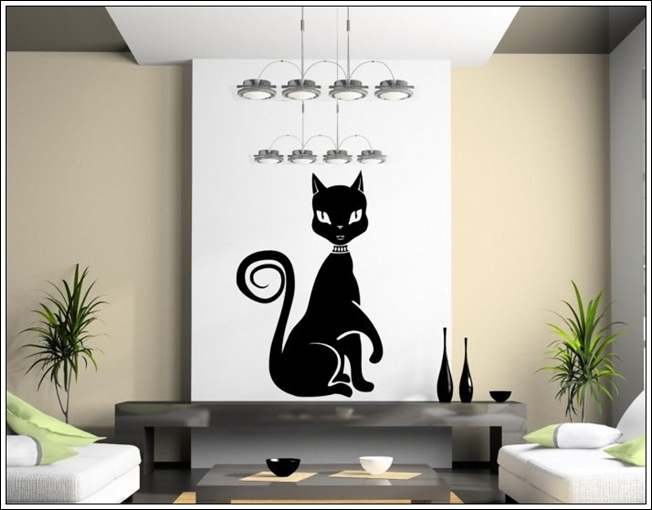 Via: Etsy
4. Etsy
Cats hold a very important position in Egypt's culture and this sticker takes its inspiration from there. It is an Egyptian cat's picture in black colour. Its price is £12.99.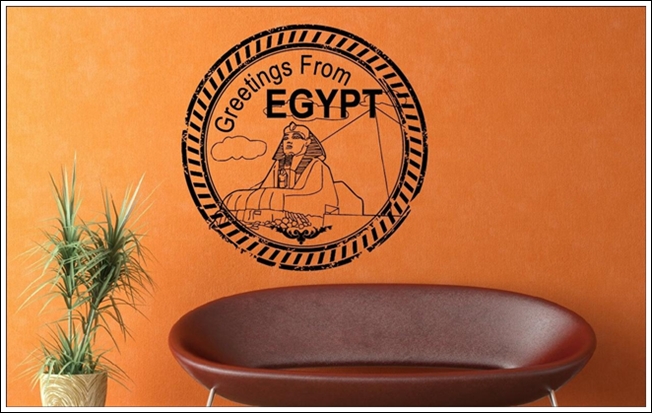 Via: Wall Stics
5. Wall Stics
This is a sticker like a circular stamp with a writing of 'Greeting from Egypt' and below which there is a picture of Egypt's landmark.It is available in three different sizes with a range of 22 colours.Its price is €32.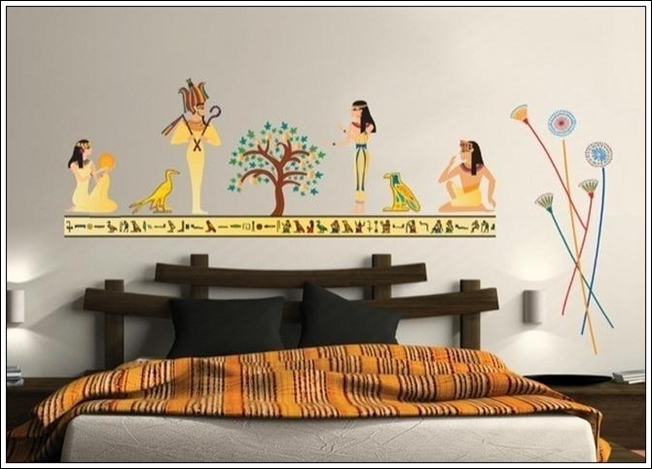 Via: Art Applique
6. Art Applique
This is a very colourful sticker with different small parts all depicting important figures from Egypt's culture and history. At the bottom of this decal is a band with small figures and on one side it has flowers. All these make a wonderful combination. This decal's price is $35.99.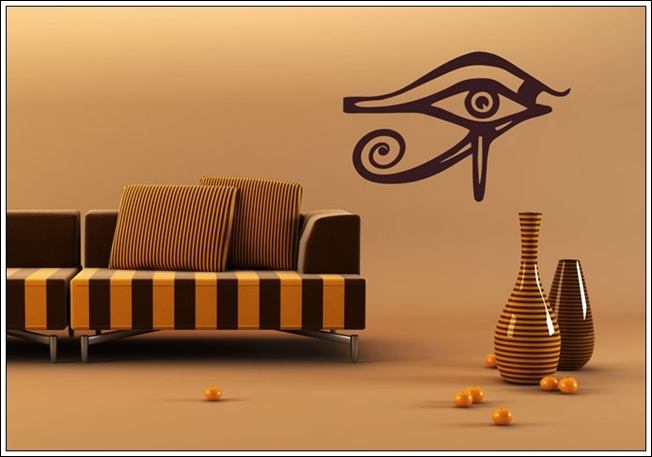 Via: Wall-art
7. k & l Wall Art
This decal symbolises the 'Eye of Horus' which in Egypt is deemed to protect and bring power and sound health. It is available in 35 shades and the price starts from € 13.9.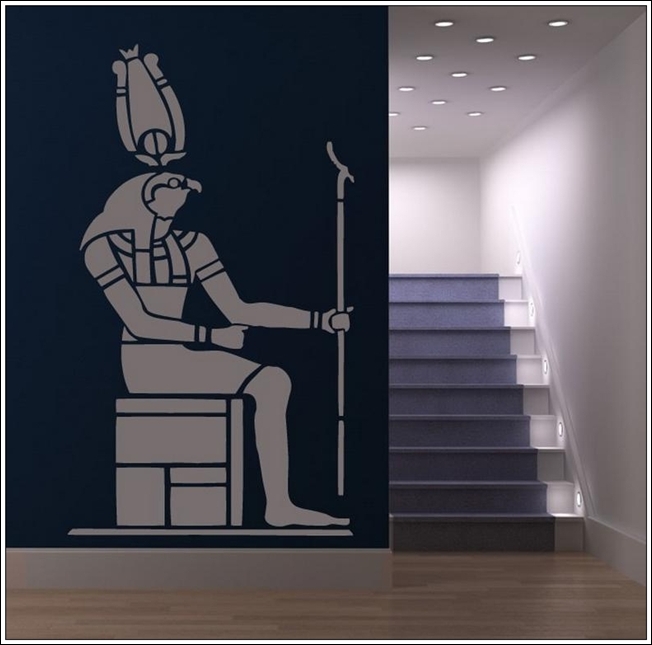 Via: Icon Wall Stickers
8. Icon Wall Stickers
This is a beautiful Egyptian figure sticker which can be applied anywhere in our house. Like the pictures shows if you stick it on the walls near your stairs it really gives a look as if it is guarding stairway of some royal area. This decals is available in 37 gorgeous colours to match your house's walls and interior. The price of this sticker is $14.53.