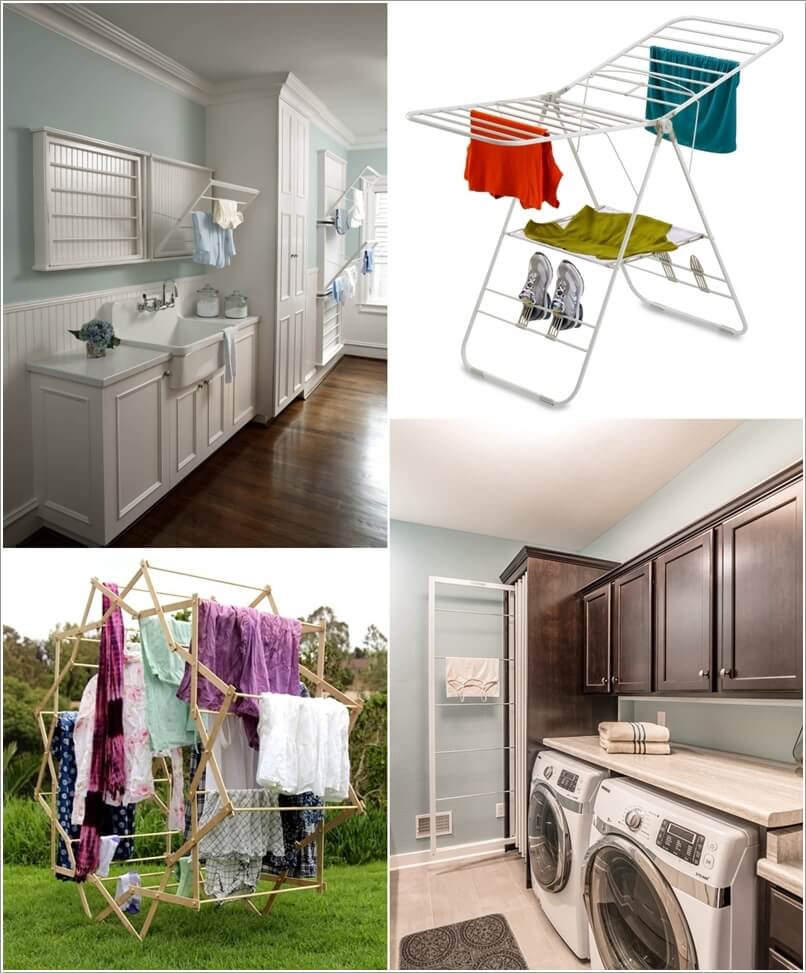 Those of you who regularly do laundry at home must know the struggle of accommodating all the clothes for drying after they are out from the machine. But this chaos can be calmed if you have a proper drying rack. You can choose such a design that suits your laundry room's size the best. For example, for a tiny laundry room fold out drying racks are ideal. For a bigger one a freestanding drying rack can stay there all the time ever ready for use. Moreover, you can also choose a drying rack that can be put in the Sun too because sunlight is also very important for drying clothes in a natural and healthier way. We too have gathered some drying rack ideas so that you can get an inspiration:
1. Flat Beadboard Wall Mounted Drying Racks with Fold Out Rod Panels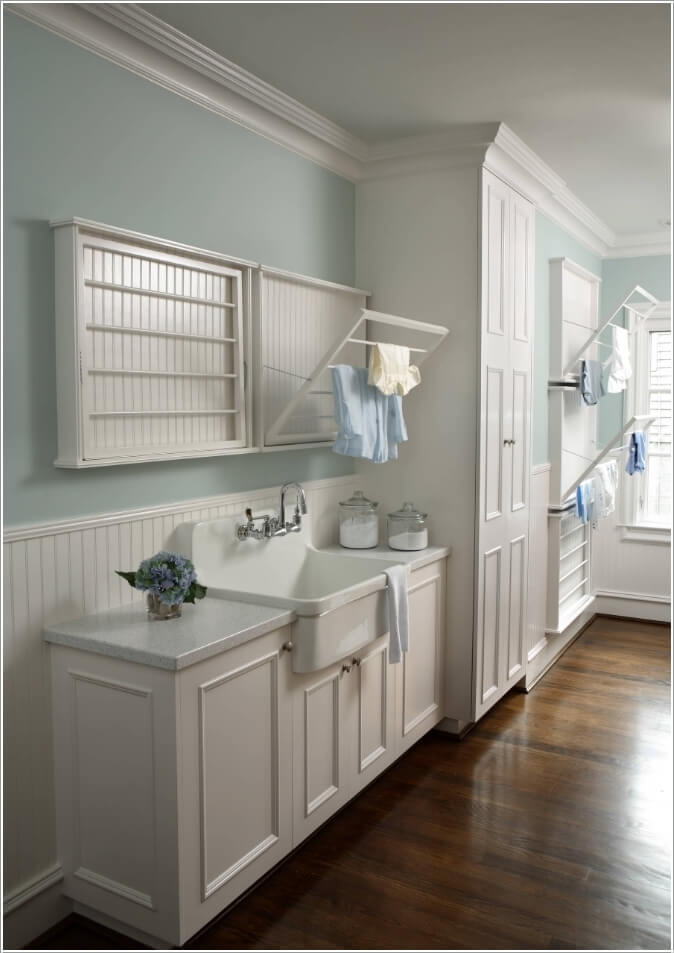 This style of drying rack occupies minimal space. This is why you can see this laundry room has many of them on the wall. Moreover, the beadboards give out a cottage style look.
2. A Classic Style Folding Drying Rack with Loads of Space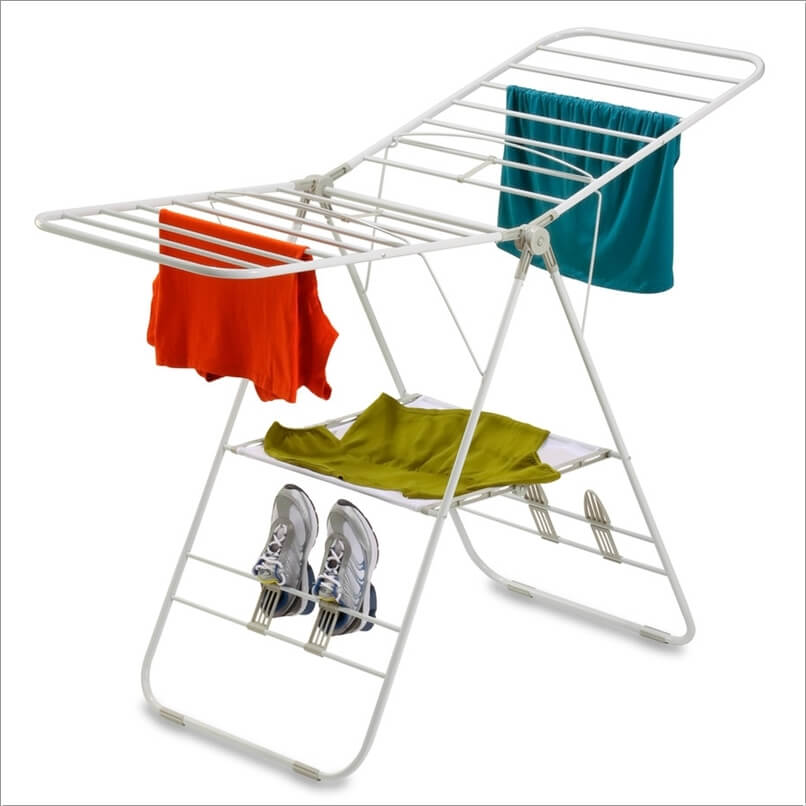 The most popular style of a drying rack is this one. It is easy to use and perfect for both indoor or outdoor use. Here are some of the best and very functional drying racks reviewed you might want to take a look at.
3. A Rack with Pull Out Fabric Mesh Panels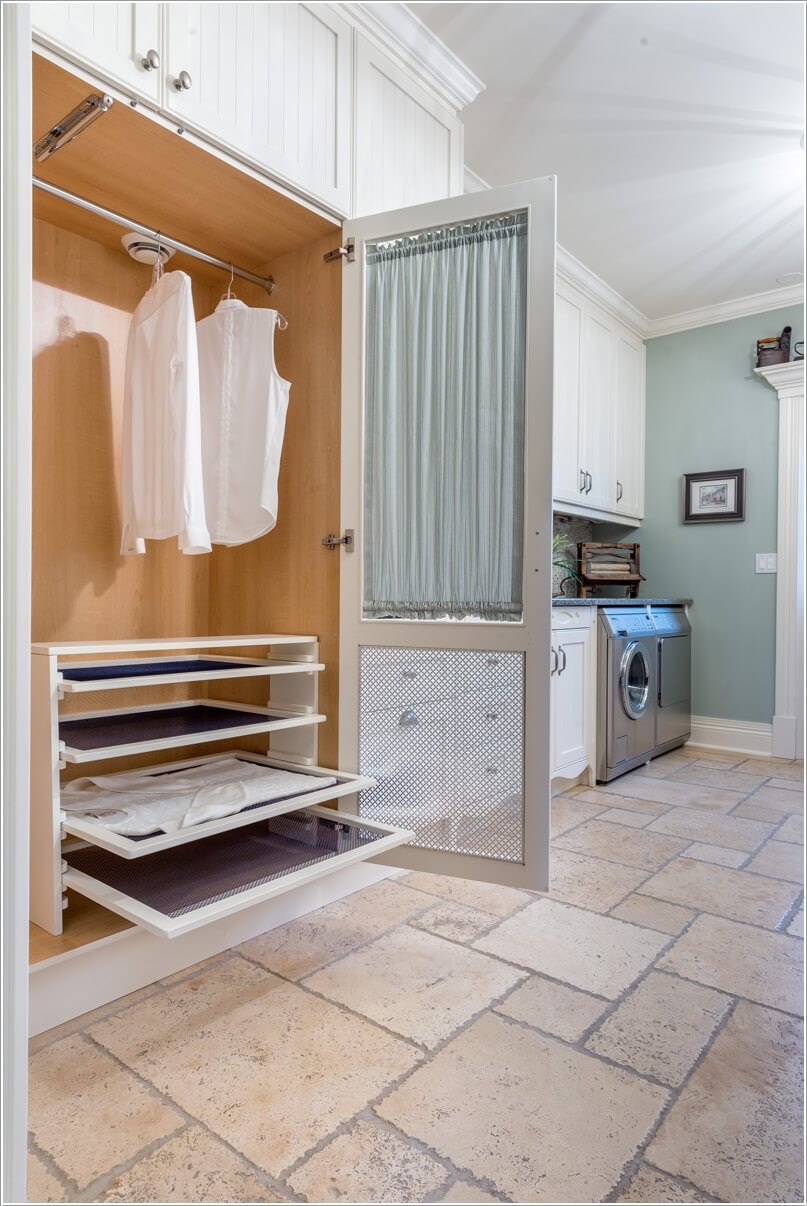 This drying rack has many mesh screens that can be pulled out according to the requirement. It can easily fit into a cabinet as well.
4. Slide Out Drawer Style Drying Racks That Are Great Space Savers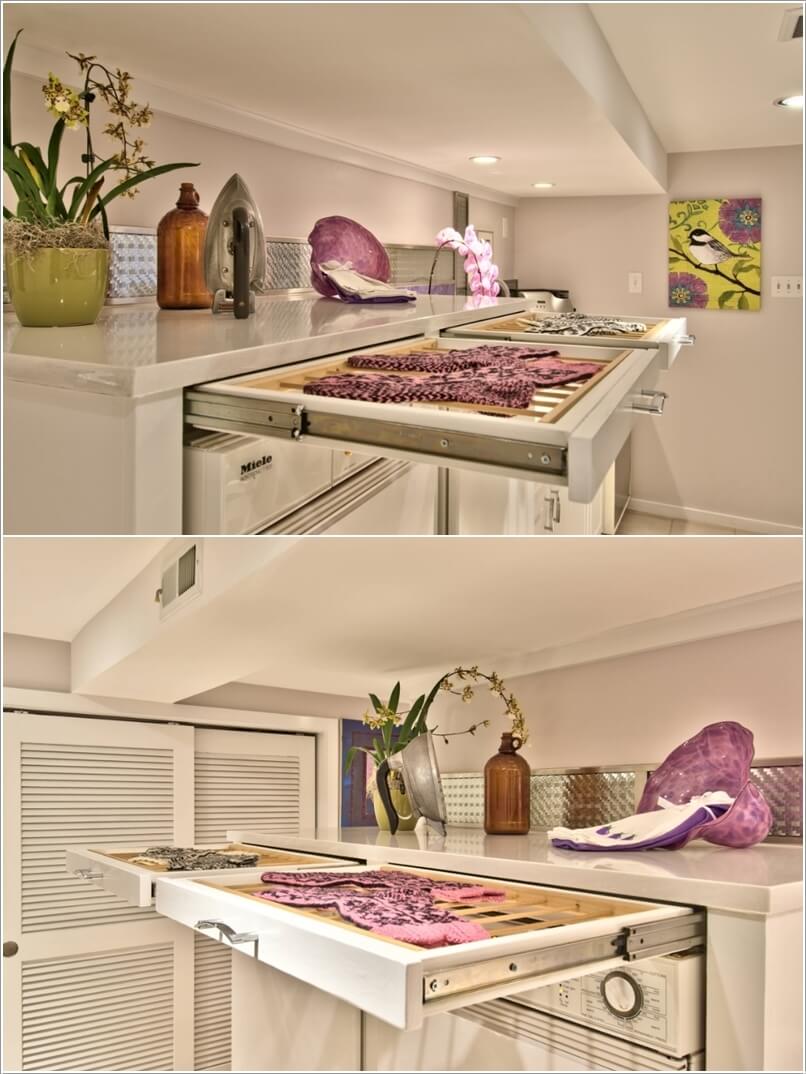 These drying racks are actually drawers with rods in place of boxes. They not only free up a lot of space but are stylish too.
5. A Wall Mount Accordion Drying Rack Suitable for Both Indoor as Well as Outdoor Use
A drying rack in such a style can be easily fixed onto any wall either in your laundry room or patio. In this way you can easily extend it and spread clothes to be dried all day long.
6. An Expandable DIY Star Shaped Drying Rack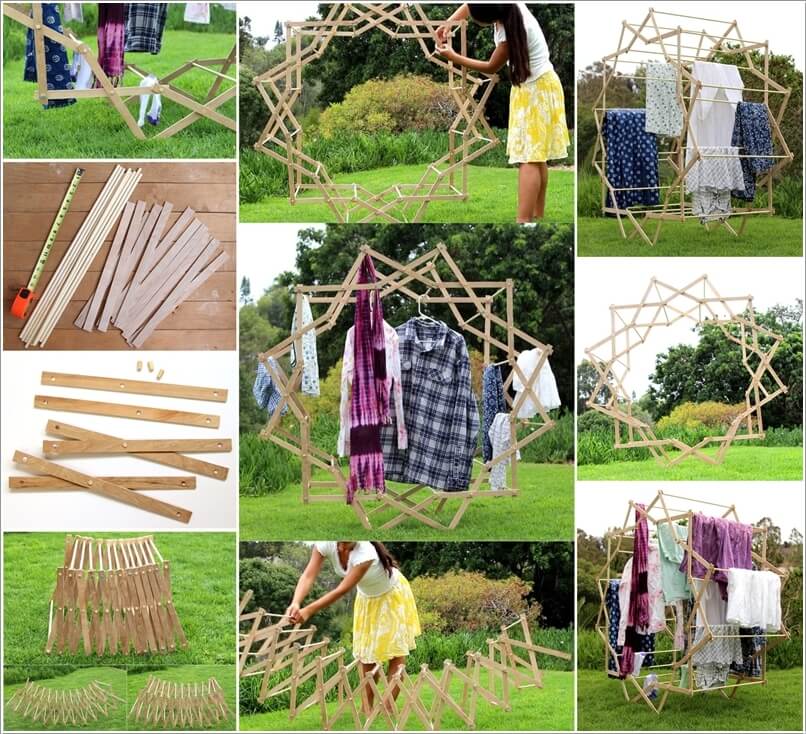 This drying rack makes use of angles. Its design has a compact framework that extends into a large star shaped rack. While your clothes get dry, this rack will serve as a beautiful garden accent too.
7. A Clever Over Door Clothes Drying Rack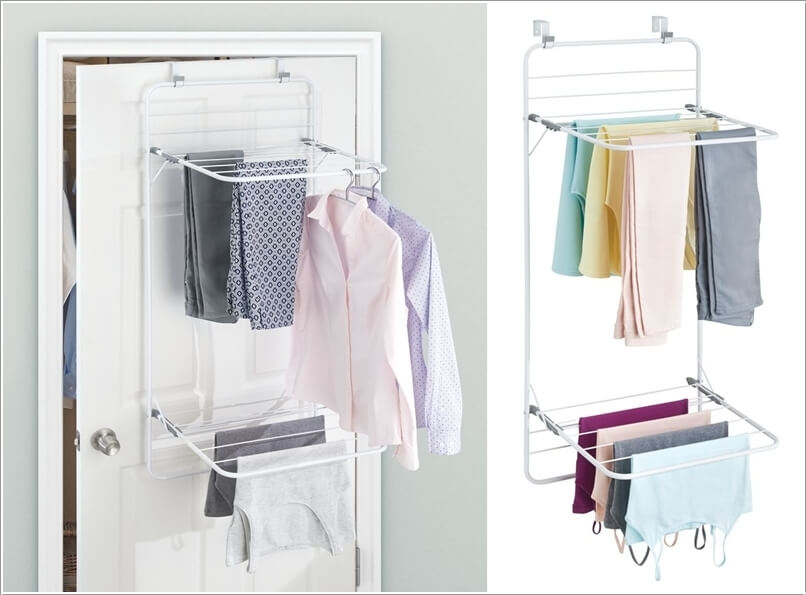 This one is a simple no fancy drying rack that makes use of the door space skillfully and serves its purpose pretty well in a minimalist way.
8. A Drying Rack with Tall Vertical Panels That Can Fit into Even The Most Narrow Spaces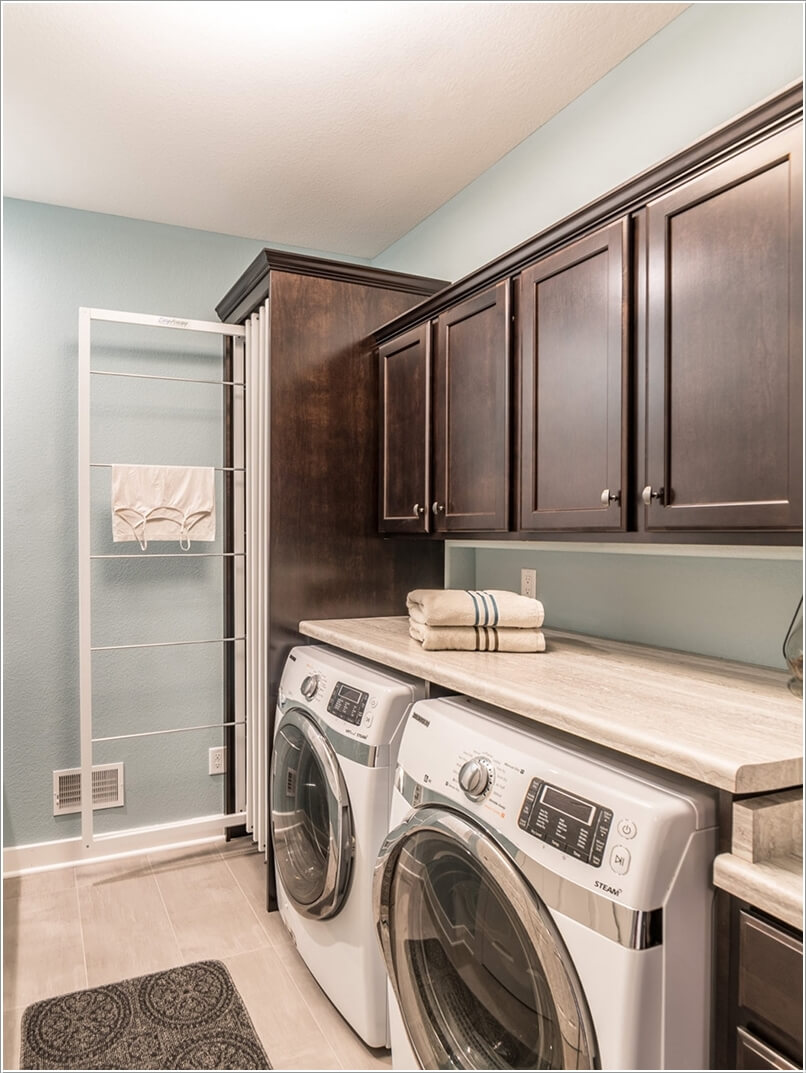 This one takes the game of minimalism to the next level. It utilizes very less amount of width and makes an ingenious use of vertical space. Such a rack can be a life saver in a tiny laundry area.
9. A Portable Tripod Clothes Drying Rack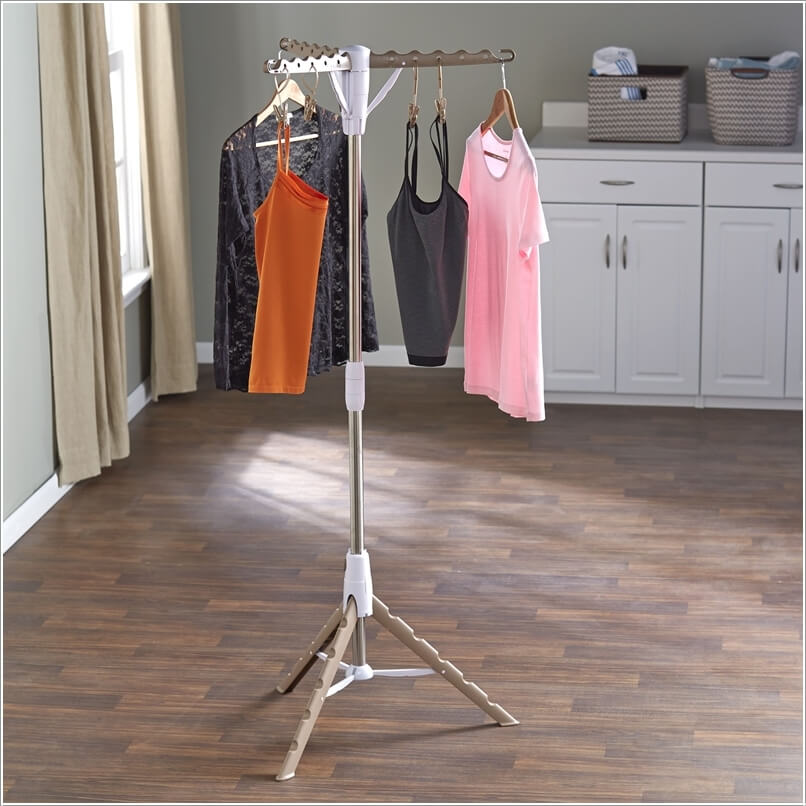 This one is a free standing tripod style drying rack that you can easily move around in your house. Such a rack is suitable for those who don't have too many clothes to dry in one go.
10. A Light Weight Foldable X Frame Drying Rack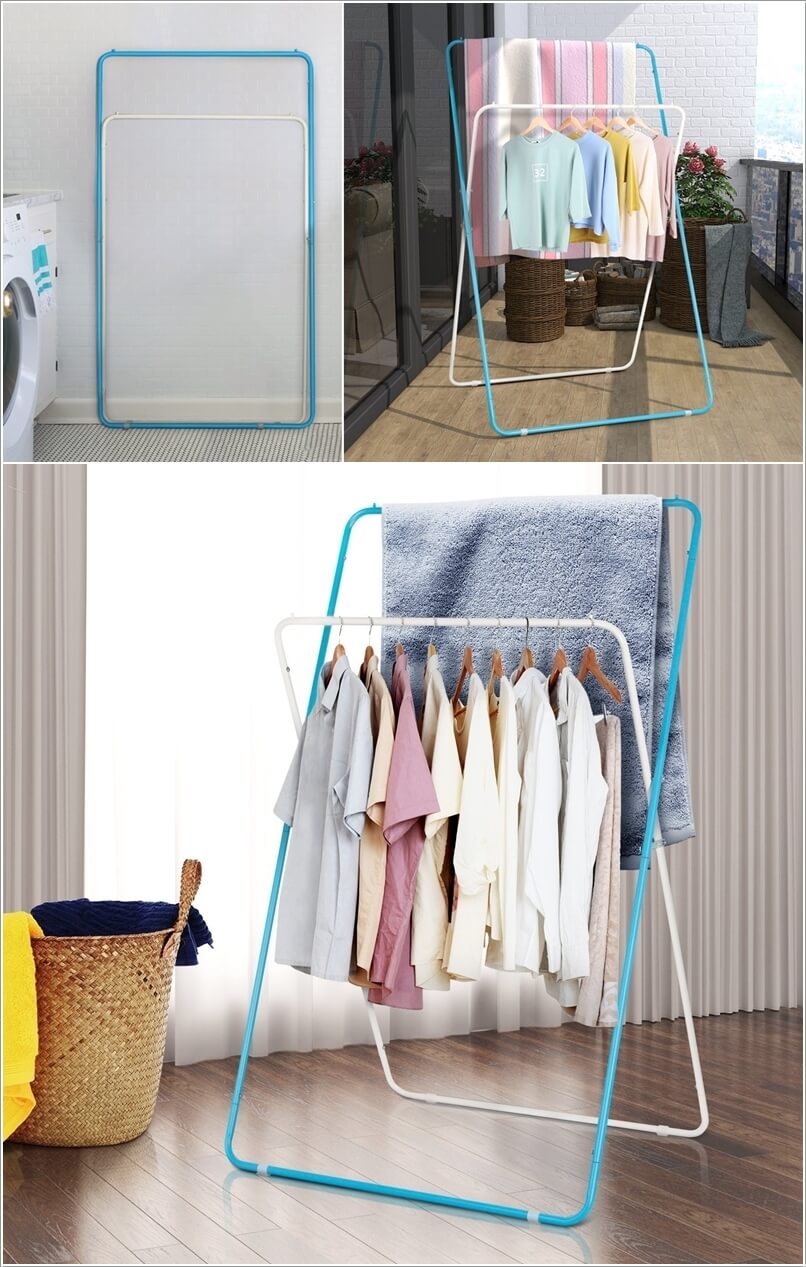 This rack has such a design that when it is in use it occupies very less space and when not in use you won't even notice its existence. All in all, it is a perfect example of space saving in real sense.