As dogs shower us with their love daily, it's only fitting that we'd give back and that we'd want to spoil them sometimes. You don't even have to spend a lot of money on that as these DIY ideas are really cheap and often require things you may already have in your home. Check out the ideas from this website and see your home become comfier for everybody.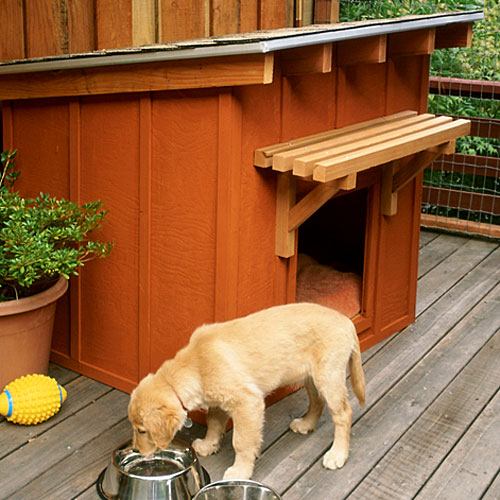 Simple ideas for you
All dogs love bones and to play with them so instead of having broken bone pieces around the home, why not create a toy bone for them made out of plush. This means you won't have to spend any money at the pet store and you'll be able to keep the dog happy for hours to come. If you want to add a fun rattling noise to it, you can fill the "bone" with beans or peas.
If you notice that the toy starts to lose its stuffing (pay attention especially if your dog is known to chew the toys to destruction), it's time to take it away and create a new one. This option is still cheaper than any similar toy you can find in a pet store and if you love DIYs, you'll love making these plush bones anyway.
Do you have a vintage suitcase that you're about to throw out because it's too old or it's broken? Why not turn it into a comfortable bed for your dog? As you know, a dog needs about 12 – 14 hours of sleep/day so why not make this activity a cute and fashionable one? Remove the insides of the suitcase and put in a plush pillow or cushion.
As you are creating the suitcase yourself, you can customize many things about it from what colors you can use to what patterns will go better with your general interior design. Your pup will surely love this new bed you've created by yourself!

Some other cool ideas
Do you feel like the leash you are using is a bit on the basic side? There's a simple solution to that. Take some plain rope that you can use as a leash and dye it in any color or colors you'd like. For this plan, you only need a tie-dye kit or some fabric dye that you can find easily in any store.
Follow the instructions for how the mixing of dyes should be done and water them down a little so you won't have a color that's too intense. You can overlap the sections so you'll get an even cooler design.
If you're going to personalize the leash, why not do something about the collar as well? Change the overall look of the collar by using various sleeves that you can slip over it. This is very simple as you only need to measure a swatch of fabric and make sure that it fits after which you need to hot glue it into a tube.
The finishing touches are creating decorations with some of the things you have available in your home such as ricrac, ribbon or rhinestones. Your pup is sure going to look much more stylish with these cool sleeves and what's even more important is the fact that there's no sewing involved.
Of course, these are just some simple ideas that you can do by yourself with no problem, but there are many more options out there just waiting to be tried like a dog teepee or how to pin a blanket in the backseat of the car. The world is your oyster so get out there and go for it!