Instead of a penny for your thoughts, we are going to give you the idea to add 6000 pennies to your backsplash and provide your kitchen with that zing, that you felt is kind of missing. Who would of thought, that 6000 pennies will cost you only $60,  pretty awesome, right? – Anyway, if you feel like your kitchen needs a makeover and you want to do something daring and bold, here is an idea: Penny Backsplash is a really cool and possible idea. For average sized kitchen you will need approximately 6000 pennies.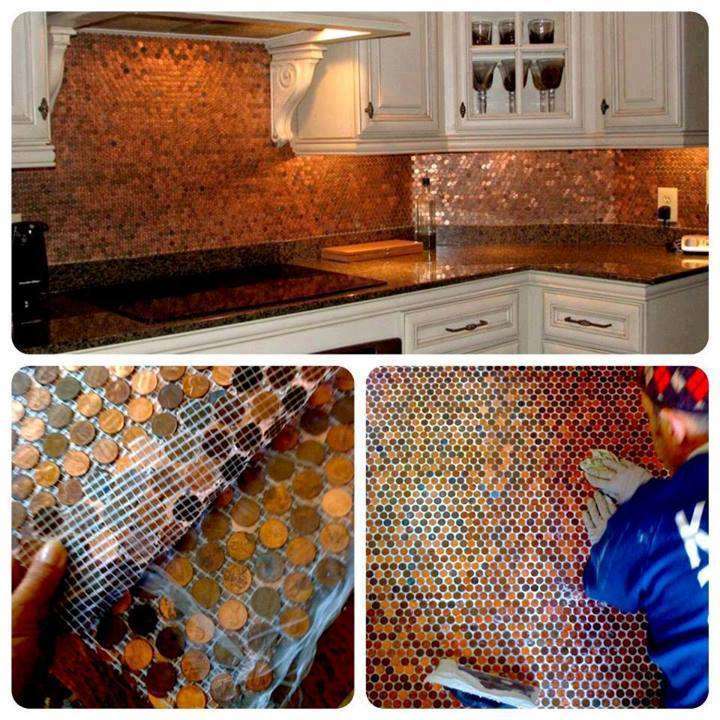 Image Source: DIYcozyhome
To make this project you will need:
-Pennies;
-Glue
– Penny Floor Template
-Cement Board
– Mortar
-Unsanded grout
– Polyurethane Sealant
This project requires a fair amount of time and a lot of focus, but it will be totally worth your time, since you will be creating your own kitchen backspalsh. To see the entire guide on how to make this project follow this guide PretttyFloor, and start preping your kitchen for a make over. Have Fun!