The sock Snowman was a huge hit for Christmas, so for that reason now we have a new variation of adorable sock creature: The Sock Bunny.  Even though, is pretty early for Easter it is a great idea to get ready for the new holiday craft project, since you don't want to get rusty when it will be the holiday season. For that reason, we prepared this super easy and  fun craft project for you in order to inspire you. So, put your creative hamlet on, take your scissors and follow the below easy guide.
The Needed Supplies:
–  Lively Sock
– Buttons( as eyes)
-Ribbon
–  Stuffing material
-Scissors
– Sewing Needle
– Iron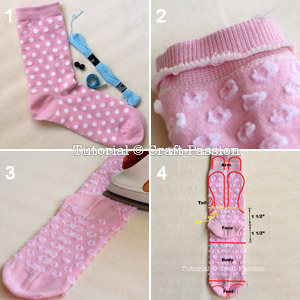 Image Source: Craft Passion
Step 1: Take the sock and turn it to the wrong side.
Step 2: Iron the sock flat.
Step 3:  Mark the sock in form of a bunny
Step 4: With scissors, cut out the marked pattern.
Step 5. When you cut out the face, ears and  arms of a bunny turn the sock on the right side.
Step 6:  Stuff the parts.
Step 7. On the Face part draw a mouth of the bunny with erasable markers.
Step 8.  Sew the floss to the marked part.
Step 9. Sew the buttons on the face.
Step 10 Sew all the parts together.
Step 11. Add the decorative ribbon on the ears of the bunny.