The past couple of months have been hard for most of us, having to remain inside our houses and limit social contact to a minimum. While some had the privilege to work from home and spend more time with their loved ones, others were considered as essential workers and still had to go out every day.
No matter the case, one thing is for sure – during these insecure times, our homes remained the safest places, and this is why many of us tried to enhance our working places, remodel or redecorate to make the most of these sacred spaces.
For those fortunate enough to have a small patio who are still looking for decoration and remodeling ideas, here is what we suggest.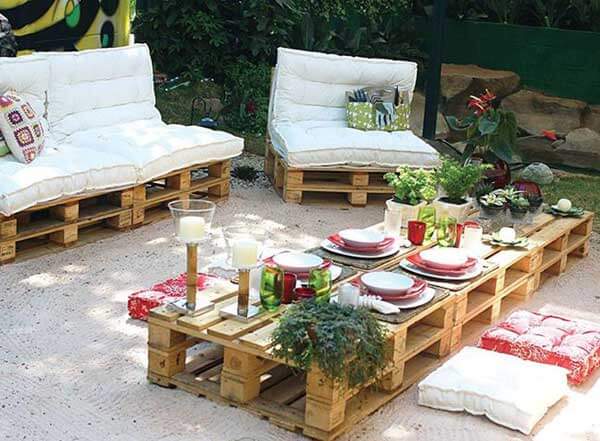 Define the purpose of your space
When space is limited, you need to make sure your patio serves the perfect purpose, according to your needs. A small patio can be easily turned into the perfect relaxation corner for adults who want to unwind after a long day at work, sipping on a glass of wine.
Families with children might want to expand their kids' playing ground and turn their patios into the perfect place to spend time outdoors, breathing fresh air, and benefiting from all childhood joys.
Once you have established the purpose of your patio, it would be a lot easier to pick up a style, a decoration theme, or look for inspiration online.
Choose durable and lightweight furniture
Outdoor furniture should be made of weather-resistant materials that won't break, chip, corrode, or wash off their color as they are constantly exposed to extreme temperatures and weather conditions. Thus, wood and wicker, the most popular choices when it comes to outdoor furniture, should feature protective coatings to maintain their fresh aspect as the seasons change.
The same goes for steel or metallic structures, whereas plastic should be avoided as it looks cheap.
If you live near the ocean or salted waters, don't forget to protect your outdoor furniture from the harmful effects of the salty air that might cause certain materials (wood especially) to swell, break or rot faster.
If you want to make the chairs, sofa, and table more welcoming and homey, you can always add decorative pillows and blankets in bright colors or elegant designs. Faux fur, leather, wool, or cotton represent perfect choices to enhance the look of your small patio.
Choose a style
The most important aspect of the decoration process is to pick a style for your patio that is both functional and works well with the architecture and style of your home.
Depending on your preferences, you can recreate a rustic atmosphere by investing in reclaimed wood tables and chairs with distress paint or go for the shabby chic style with feminine decorations in white and pastel colors.
Your love for the sea and cruises can be easily translated into marine-like decors in tones of blue, turquoise, and water, with tables and book racks made of old parts of boats or paddles. Complete the look with anchor-like mirrors, lighthouse-shaped decorations, and plenty of seashells and scented candles.
If you want your patio to remind you of your former trip to Morocco or Egypt, opt for small leather or leather-decorated stools. Colorful carpets and blankets should be placed all over the patio to enhance the Arabian Nights atmosphere.
Don't forget about plants
Plants are the easiest way to turn any dull patio into an elegant and luxurious relaxation corner for the entire family. Whether we're talking about big bonsais, bamboo sticks, palms, or hanging pots with waterfall flowers, plants are an important part of your decor.
Apart from looking nice and smelling divine, plants can also act as natural repellents against insects, reptiles, small animals, and pests like termites, fire ants, mites, and fleas.
To combine functionality and style, you can choose to plant herbs and spices, including cayenne pepper, peppermint, lemongrass, rosemary, oregano, garlic, and other powerful-smelling herbs. This way, your dishes will always benefit from fresh ingredients, while you won't have to get covered in mosquito repellent every time you step on your porch.
Lights
Lights can easily turn a dull place into a whimsical, magical space for the entire family. Although chandeliers may be too much for some of the decors, you can always opt for handlamps, candles, and lights surrounding your patio.
Lastly, don't forget to also invest in some accessories that will cast away pests and will make your life better.
If squirrels or other small animals are your main concern, these reviews on Seedsandmore.net might help you pick the right method to repel them once and for all. For all other pets, organic solutions based on vinegar and cayenne pepper, as well as planting herbs like we previously suggested, are cruelty-free methods to keep your patio clean.