Purple is the color of good judgement. It is the color of people who seek spiritual fulfillment. It is the color, which symbolized royalty, and denotes a luxurious sense of sophistication. Being the combination of red and blue, the warmest and coolest colors, purple is believed to be the ideal color for any where you use it whether it is on a wall, furnishing or any kind of decor. Whether it is a whimsical accent for yellow and oranges or a majestic accompaniment to warm earth tones, purples can set the stage for a room. Again not to forget purple comes in different names and faces likes lilac, lavender and deep purple which we are going to explore more here in amazing interior designing and enjoy the tour!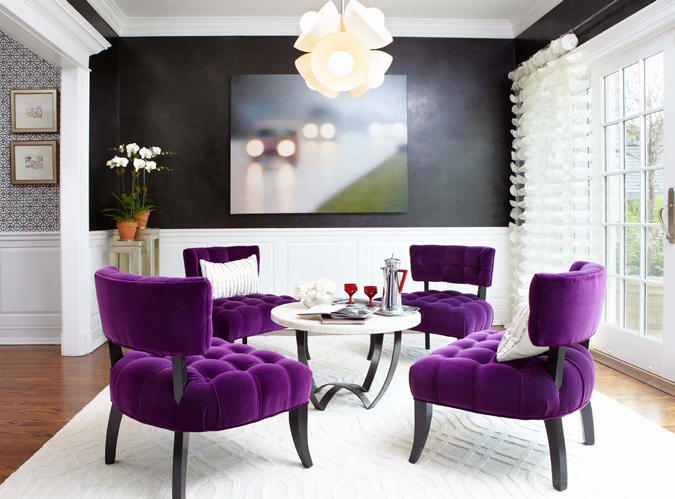 Pic via ; careykarlan
Rich purples are often used in rooms with a quiet elegance and it has witnessed fully here with these push back formal cotton velvet fabric chairs. It brings the royalty and luxurious touch to the bright white living room and have dominated the center stage among all.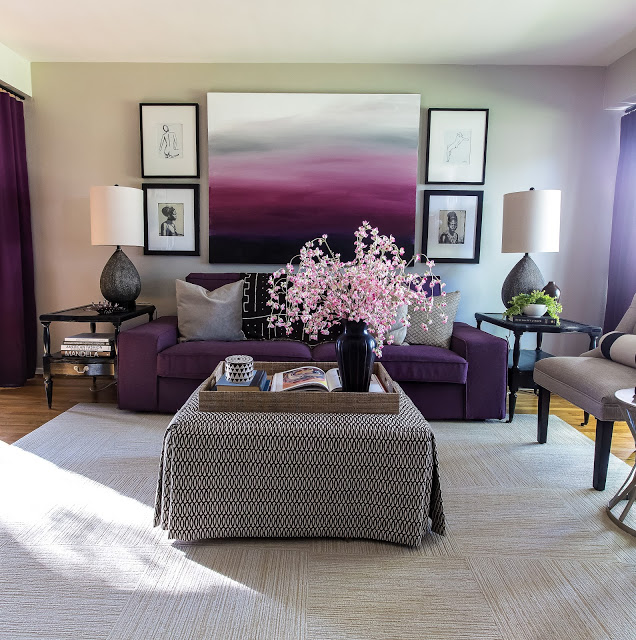 Pic via ; youandyourdecor
Purples, pinks and ethnic designs full of feminine look in one room. The mixture of purple hues on the beautiful wall hanging have spread out it's arms around the sofa, draperies and each and every corner of the room transforming it to a cozy and sophisticated living space, where anyone can feel relaxed.
Pic via; homemu
Some other hues from purple family lavender, which always add a delicate, pleasing touch of colors. A sweet lavender color accent against the neutral walls adds a bit of romance when it's used for floral accents, which here they have used on accent cushions and drapers.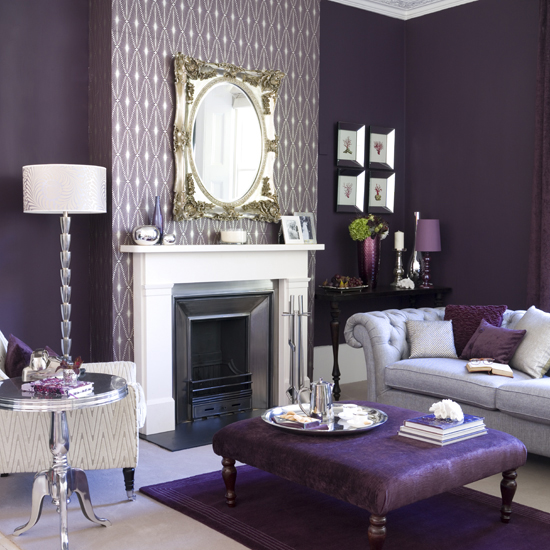 Pic via; room envy
The power of purple has turned heads in this home design. With stunning charm, rich, dark aubergine on the wall, rug and coffee table are the ultimate in visual sensation and it is the luscious shade of purple which has add glamour to the whole purple hue decor plan.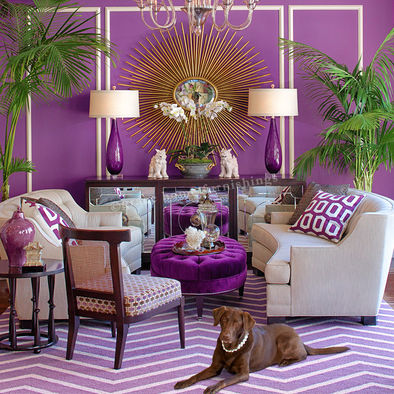 Pic via ; gracehomefurnishings
Another version of purple shade, plum can be rich, exotic and cozy at the same time, because it can blend with neutral colors as well as the purple family and serve as a beautiful accent. While the rosier verso of plum color, raspberry stands still on the wall adding feminine touch plum accent pieces have added the sweetness to the plan.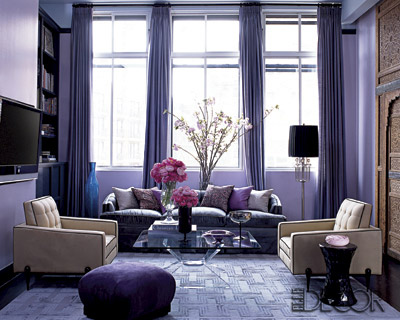 Pic via; fancycribs / Ellie Decor
Soft purple is calm and add simplicity to any decor. Purple dominate decor theme, from wall to the floor rug has complemented with accent rich purple cushions and ottomans.