Deep cleaning your house can seem daunting, but it's definitely worth it! Not only will your home look and feel amazing after a deep clean, but you'll also be rid of all the dirt, dust, and allergens that have been building up over time. This article will discuss the basics of deep cleaning and provide you with a checklist to help get you started. 
Don't Do It Alone 
You should not go through this process without any professional help. People living in the Windy City often hire restoration services in Chicago as it's the fastest way to get the job done right. Having an experienced contractor by your side will surely be a lot of help.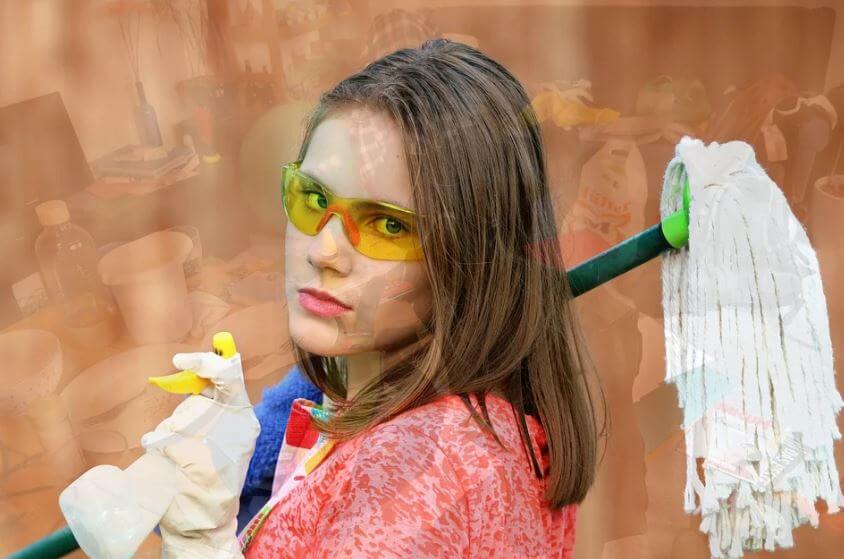 Do some research to find a reputable cleaning service. Ask around for recommendations from friends or family members. Once you've found a few potential candidates, get in touch with them to ask about their services and rates.
When it comes to deep cleaning your home, it's important to know what you're getting yourself into. If you're not up for the challenge of tackling every nook and cranny on your own, that's perfectly understandable. 
De-clutter Before You Start 
It's essential that no debris is in the way before you start cleaning. This will help make the process go faster and smoother overall. de-cluttering can also be a huge relief, and it's a great opportunity to get rid of anything you don't need or want anymore.
Here are some tips on doing this right:
Start with one room at a time

Make three piles: trash, donate and keep

Be ruthless! If you haven't used it in six months, get rid of it

Don't forget about closets, drawers, and cabinets
If you have kids, get them involved in the de-cluttering process. This will help teach them the importance of organization and keeping a tidy home. Plus, it'll be one less thing for you to have to do. Win-win!
Start From High Spots 
Always start from the top when deep cleaning your home. Any dirt or dust that falls while you're cleaning will just end up getting cleaned again. starting from high spots also allows you to work down, which can be less tiring than starting from the ground and working your way up. Plus, it's satisfying to watch the grime disappear as you clean!
If you have any ceiling fans, make sure to give them a good dusting too. The last thing you want is for all that dust to come raining down on you while you're in the middle of cleaning! Once you've dusted all the high surfaces, move on to wiping down walls and baseboards. Again, starting from the top and working your way down will make things easier on you.
Clean The Windows 
Windows will take a toll on your cleaning schedule if you let them. It's important to deep clean them at least a few times a year to prevent any build-up of dirt, pollen, and other debris. 
Start by taking down any screens or storm windows, then wash them with mild soap and water. Next, use a vinegar solution (equal parts vinegar and water) to clean the window panes. Finally, polish the glass with a lint-free cloth until it shines.
If you have time, also clean the window frames and sills. These can be dusted with a microfiber cloth or vacuumed with the upholstery attachment on your vacuum cleaner. 
Remove Dust From All Surfaces 
Dust can be damaging to your health, so make sure to remove it from all surfaces in your home. This includes removing dust from furniture, floors, windows, and any other surface in your house. Use a damp cloth or vacuum cleaner with a dust attachment to remove the dust quickly and easily.
Use a vacuum cleaner with a dust attachment to remove the dust quickly and easily. removing dust from all surfaces in your home is important to your health. Dust can be damaging, so make sure to remove it from furniture, floors, windows, and any other surface in your house. Use a damp cloth or vacuum cleaner with a dust attachment for the best results.
Deep Clean The Floors 
Once all is done, it's time to move on to deep cleaning the floors. This is where a lot of people deep clean their homes but don't realize it. You can use a variety of products to deep clean your floors, but make sure you read the labels first. Some products are only meant for certain types of floors, so you don't want to damage your flooring.
If you have hardwood floors, deep cleaning them is a little different. You'll want to use a product that's specifically made for deep cleaning hardwood floors. 

Deep cleaning a house is one of the best things you can do, but getting help is even more important. Declutter the home before you start and begin with the high spots gradually going down. Clean the windows and remove dust from all surfaces. Finally, do a thorough cleaning of your floors. Good luck with your project!