Kids like to draw, read stories, paint or having virtual tea parties. All these activities can be made fun filled if they are provided with table and chairs play sets that they always love to have. Here are such sets that kids will adore and will spend their fun time at them…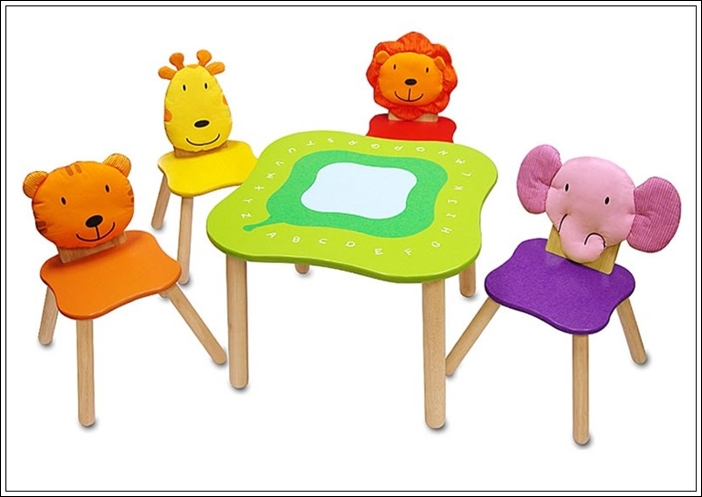 Via: Kids Rooms
1. Kids' Rooms
This is simply a cutie pie chairs and table set that have pretty bright and energizing colours. This set is all wooden with 4 chairs having animal faced cushions on them. You can also hand wash these cushions. The table has a beautiful curved shape with parrot green colour and alphabets printed along its sides. This set will cost you £149.95.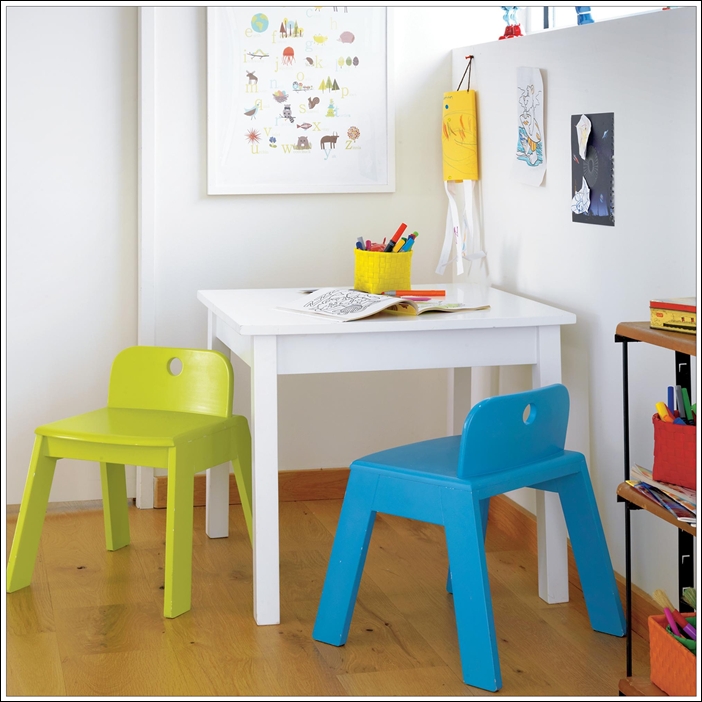 Via: Land of Nod
2. The Land of Nod
This is a very elegant set with 2 chairs of blue and green colour. The table is painted white and is awesomely complimenting the two shades of chairs. The chairs and table are available separately as well. The price of this table is $149 and the price of each chair is $65 and when bought together as a set it will cost you $279.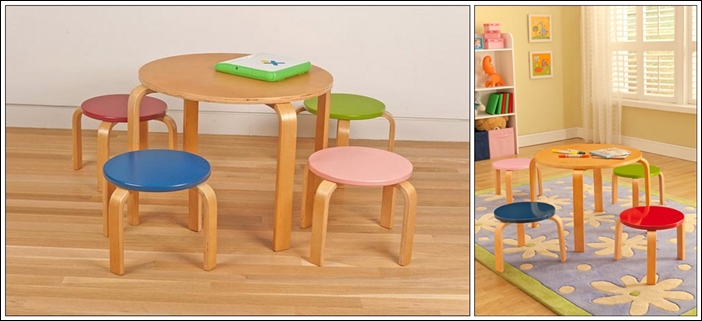 Via: Over Stock
3. Over Stock
This set is in an amazingly beautiful design where a table is matched with stools of same design. The set is in plywood birch finish and the stools are painted with paints of 4 different colours. They will set perfectly will in any kind of your children's room interior. This set will cost you $88.04.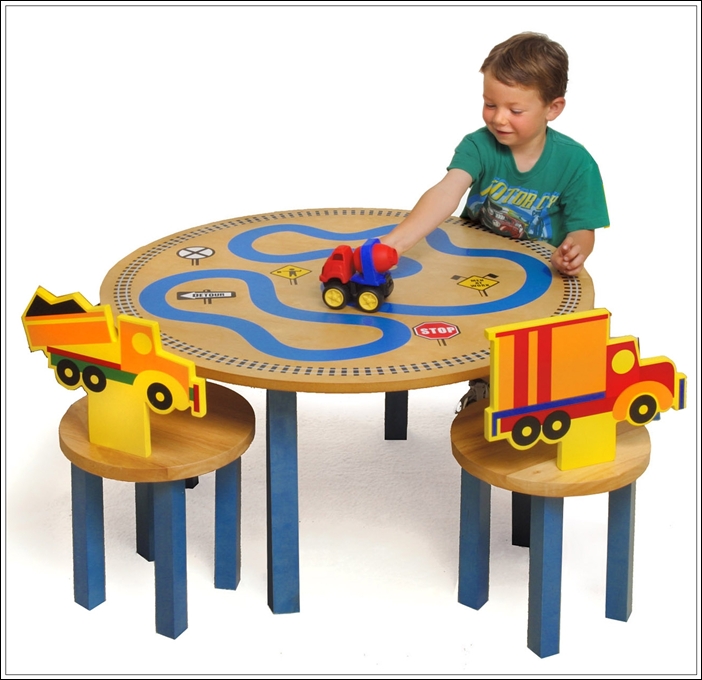 Via: Room Magic
4. Room Magic
This set is for those little boys who are skilled drivers in their driving play. This set has two chairs with backs shaped and painted like trucks. What's more interesting that the table has roads and railway track painted on its top and it will for sure drive your junior crazy in it's joy. Its price is $169.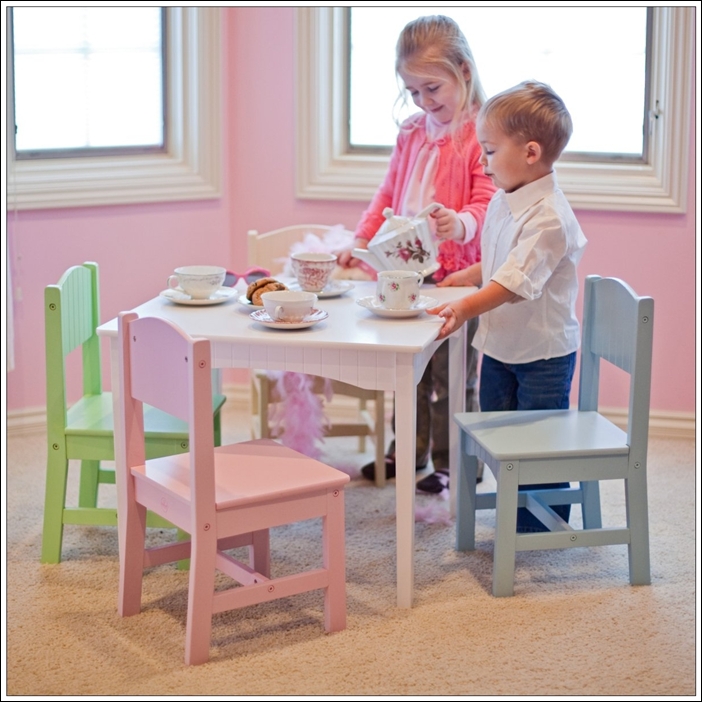 Via: Hay Needle
5. Hay Needle
This is yet another adorable table and chairs set with a white square shaped table and 4 pastel shaded chairs of pink, blue, green and yellow colours, all that children own. With this your kids will have the most delicious tea parties! Its price is $114.99.

Via: Lipper International
6. Lipper International Inc.
These are beautiful two chairs and a table sets with pastel colours where you can pick blue for boys and pink for girls. They have gorgeous mix of blue and white and pink and white combination.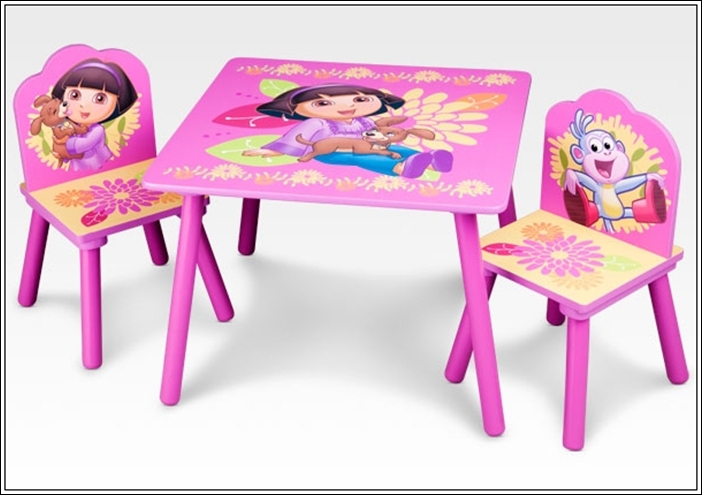 Via: Delta Children
7. Delta Children
Which little angel doesn't want Dora to be a part of his or her room? This table and chairs set will fulfil their wish and they will for sure jump with joy after having this addition to their room or playroom.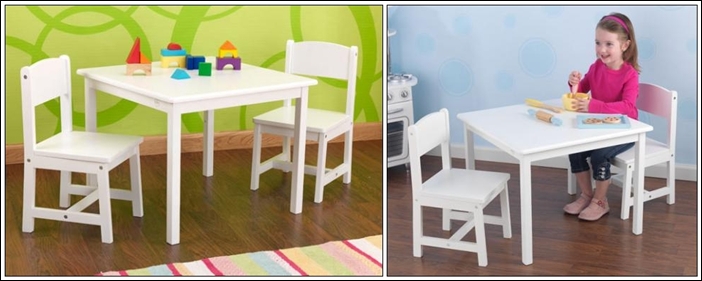 Via: Kid Kraft
8. Kid Kraft
This is a white wooden set that will go absolutely well with those kids' rooms that already have a jazzy interior. As white has the ability to match any kind of room so you can place this set where you want elegance to be maintained without creating a hotchpotch of colours and providing your kids a space to read stories, draw and play table games.