We've always considered bathroom as a place where you just need to finish some business and then leave. No decoration is needed, no extra stuff but the cosmetics, towels, paper…
Think about how sometimes bathroom can be the only place where you can get your peace of mind, meditate for a while, enjoy your long bubble bath after the hard day at work, or a warm shower in the morning, or make your home-made facial, brush your hair…
Wouldn't you prefer to make it look cozier, more comfortable; even decorate it with some paintings on the wall?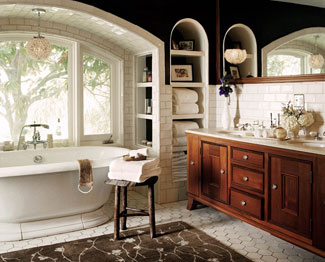 via Kari Whitman Interiors LLC
Sometimes you might need a chair, to sit in front of the mirror, or a curtain to separate the toilet from the bath tub. Also, small details besides using the space under the sink to make a cabinet can make the sterile-looking bathroom look more like a regular room. Experts in psychology and "feng shui" say that paintingz in the restrooms are calming and act well upon our physiological system. Cold bathroom floor tiles can be covered with some small carpet, and if you add some wood elements, it would be even warmer.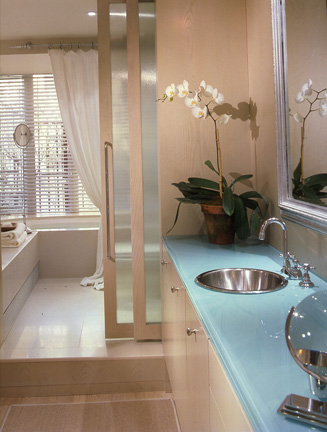 Even plants are in combination! You can put a basket of magazines, books; you can even put a stereo in your bathroom or a whole TV set! Or some night-table lamps! How about candles for aromatic action and some relaxation oil? Make your own little spa in the bathroom, use your imagination!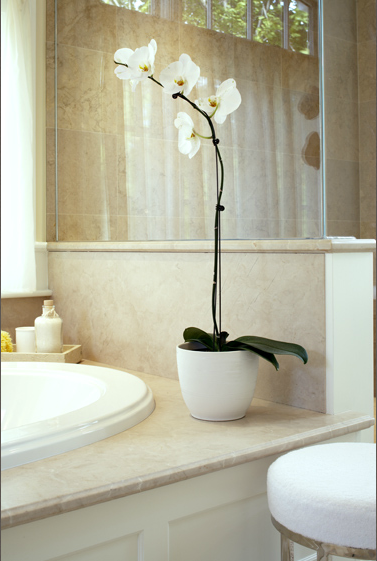 via Carter&Company Interior design