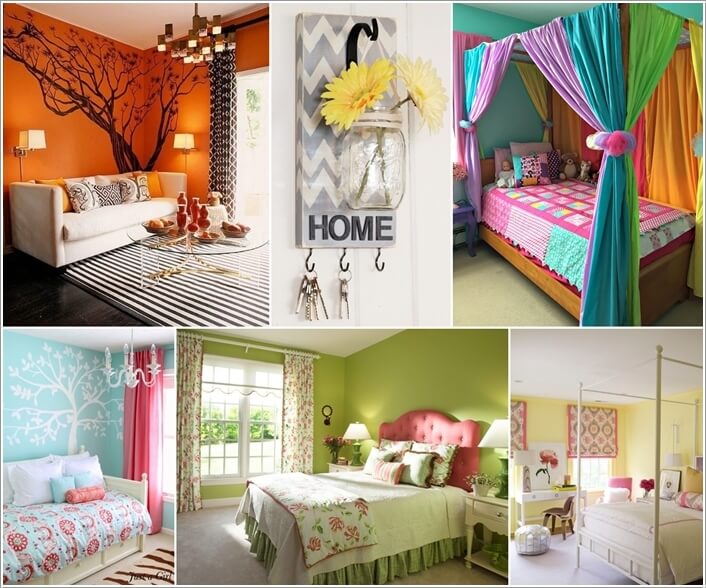 Colors leave an impact on our mood and if you want your home to be cheerful then you can create a mix of colors that complement each other well. Usually when we choose a color scheme, we think of painting one or more walls in the theme colors. For that you can use these best rated paint sprayers. So, take a look at different color combos you can use to brighten your rooms:
1. Cheerful Pink and Lime Green

The combination of pink and green looks really good for a master bedroom or a girls' room. You can get creative and use the pink and green in different forms such as florals, color blocking, patterns, textures and more.
2. Aqua, Lime Green and White

The combo of aqua, lime green and white is very breezy and summer like. It soothes the eyes and gives out fresh vibes.
3. Fun Yellow and Pink

Yellow and pink is a feminine color combination. Depending upon your taste you can choose from pastel to deep and vivid shades of these two colors.
4. Girly Coral and Mint

Coral and mint is ideal for a little or teenage girls' bedroom. Mint is a cooler tone and coral is a warmer one. Hence, they both create a perfect balance and harmony.
5. Inspiring Tangerine and Turquoise

If you like to decorate your home with daring hues, then go for the mix of tangerine and turquoise. If you find these two colors too busy, balance with accent colors like white, dull gold or even pink.
6. Chic and Cool Peacock Hues

There are certain combos that are given to us by nature. Which means perfection at its zenith. And one such color scheme is the peacock combination.
7. A Warm Palette of Autumn Tones

While we are talking about nature, we thought of brining you a palette inspired from seasons. If you want your home to look warm and cozy all year round, perhaps for the reason that you live in that region of the world that stays cold most of the year, then choose warm autumn tones.
8. Elegant Gray and Yellow

Most people think gray is boring. But just look at the beauty it brings out when mixed with a bright color such as yellow.
9. Oh So Happy Rainbow Colors

Kids' are crazy for colors. Therefore, they won't mind even if you put a rainbow of colors in their room. And yeah, it looks really wonderful too as you can see.
10. Tantalizing Hues of Sorbets

Finally, we have chosen you a very yummy color scheme and that is sorbet hues. Spring has arrived and sorbet colors are perfect to decorate your rooms with.