Did you know that running a ceiling fan can make a room feel up to four degrees cooler, without even adjusting the thermostat? A ceiling fan doesn't actually change the temperature in the room, but by generating a breeze, it creates a wind chill effect that makes a room feel cooler. And its benefits aren't just limited to the summer months –  most ceiling fans allow you to reverse the direction of the fan blades, so you can push warm air down from the ceiling in the winter and feel warmer while spending less money on heating.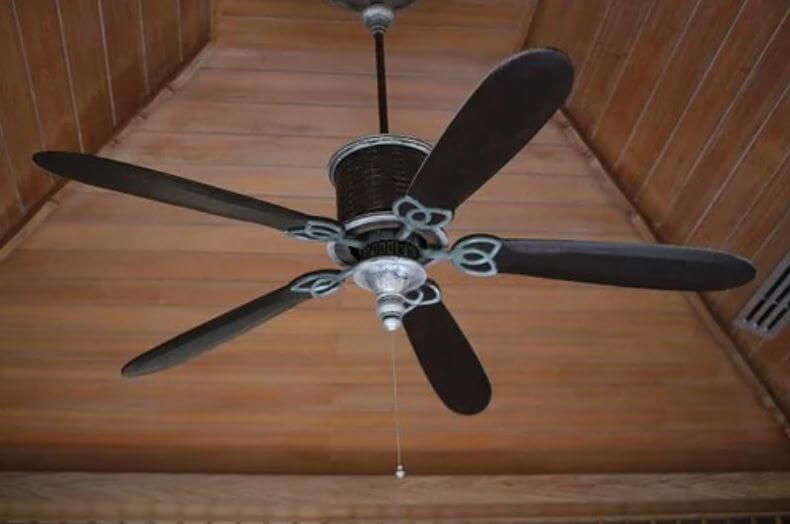 But choosing a new ceiling fan can feel daunting, especially if you're installing fans in your home for the first time. You need to know how high your ceilings are and the size of the room in which you want to install your new fan. You should consider what features you absolutely need in a fan, what airflow rating you should choose, and, of course, what style of fan will best match your decor.
Measure the Size of Your Room
The most important part of choosing a ceiling fan is getting the size right. Too small, and you won't feel the cooling effects of the fan. Too large, and you'll feel like you're about to blow away. 
Measure your room and calculate the total square footage by multiplying the width and length of your room together. If the total is less than 100 square feet, get a fan 36 inches across or smaller. If your room is 101 to 200 square feet, get a fan that is 42 to 50 inches across. If your room is 201 to 400 square feet, grab a 52- to 56-inch fan. If your room is larger than 400 square feet, shop for fans that are 60 inches across or larger. The larger the room, the larger the fan – and for very large rooms, you may want to consider hanging two fans. 
Measure the Height of Your Ceiling
For safety and efficacy, a ceiling fan should hang about eight feet off the floor. The fan motor and motor housing are about one foot thick, so subtract seven feet from the height of your ceiling to figure out how long of a downrod you need to install. Most fans come with a downrod of about 12 inches in length, but you can buy downrod extension kits for rooms with very high ceilings.
If your room has a very low ceiling, on the other hand, you need a flush mount or hugger mount type fan. This type of fan doesn't have a downrod, but attaches directly to the ceiling. They're ideal for rooms with low ceilings.
Consider the Features You Need
Ceiling fans come with a range of features for your convenience. For example, you'll probably want a fan with a light fixture included, especially if you're taking down a light fixture to replace it with a fan. You may also want remote controls for your fan – you can choose a fan with a remote or a wireless wall-mounted control that doesn't require any additional electrical wiring. You'll also want to make sure your fan allows you to reverse the direction of the fan blades.
Match Your Decorating Style
There was a time when homeowners were advised to choose a fan that matched their ceiling, on the theory that it would "blend in" with the background and not stick out as an eyesore. But today, that advice is out of date. Modern ceiling fans are no longer the ugly, wood-and-wicker-bladed monstrosities of yore. These days, it's easy to find stylish modern ceiling fans that can tie a room together with sleek lines, a pop of color, or an industrial finish. 
If your decor is more traditional, choose an ornate, traditional fan. If your style is more contemporary, choose something with clean modern lines. If your style is eclectic, grab something fun and unique. These days, a ceiling fan can tie the room together or act as a conversation piece on its own. Follow your heart and choose a fan design that really speaks to you.
The amount of air a fan can move is measured in cubic feet per minute (CFM). The higher a fan's CFM rating, the more of a breeze it will create. You want a fan with a CFM rating of at least 4,000 to 5,000, although 5,000 to 6,000 would be better. You can buy fans with a CFM rating above 6,000, but you may want to avoid a rating this high unless you're hanging the fan in a very large room.
Choosing a new ceiling fan is a big decision. Think carefully about what you need from your fan, so you can get the climate control you need at a price that's right.