Stripes are the hottest trend in bedroom décor these days. They are easy to incorporate in room's interior in the form of striped walls, bedding or even ceiling. So give your room a makeover with stripes like these…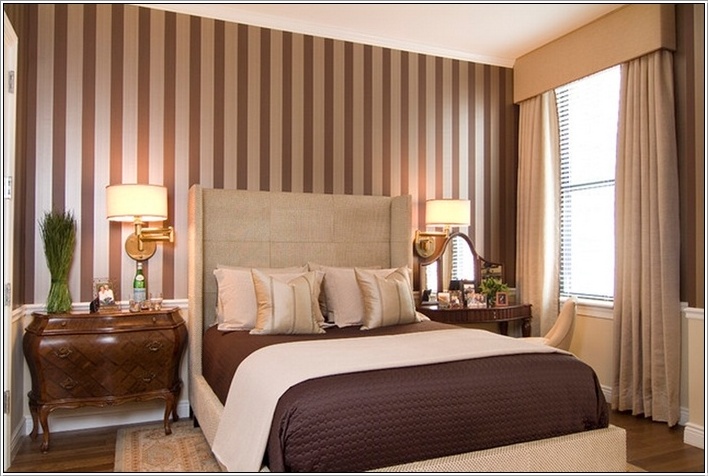 Via: Al Dilauro
1. Alfonso Dilauro
If you have an inclination towards decorating your room with stripes in brown hue then this one is meant for you. This room's walls are done in vertical brown and cream white stripes. To balance it the bed linen is in brown colour with silky throw pillows. This room altogether evokes chocolate to your mind.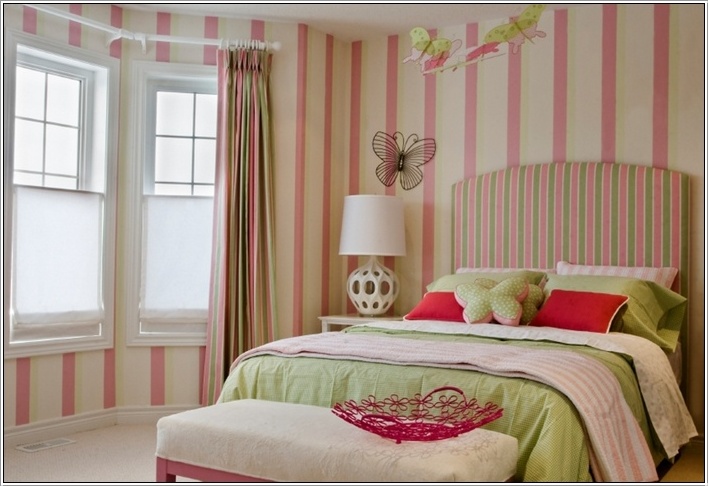 Via: Luc Crawford
2. Luc Crawford Design Inc
This room showcases fun all around. It has candy stripes theme in pink and green combination. The walls have beautiful pink, pastel green and white stripes. The drapery and headboard are also partners with the pattern of the wall. To top it all the bed linen, a pure white lamp and butterflies hanging above make it a fairyland.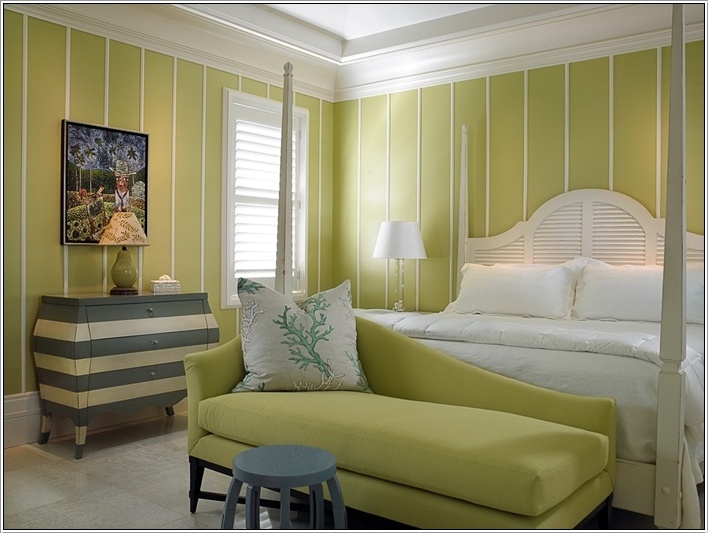 Via: John David Edison
3. John David Edison Interior Design Inc
Love the purity of green? Then this design will be your first inspiration. This room has coziness and purity blended so well that you will not stop feasting your eyes on it. Its walls have an elegant lime green colour with thin white stripes on it. Then a drawer table with grey and white horizontal stripes captures your attention as if it is showing unity with the pattern of the wall. The white bed with crisp pure white linen and a lime green daybed are doing justice with the beauty of this room making it look yet more tranquil.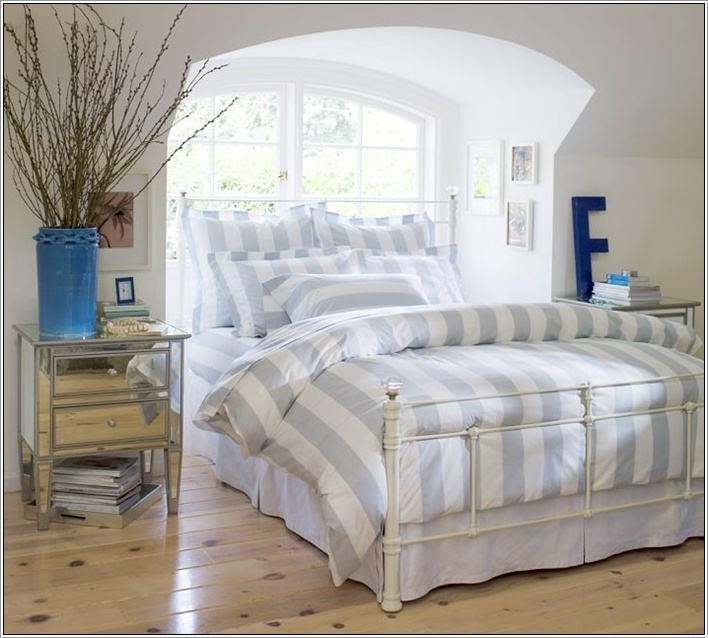 Via: Pottery Barn
4. Pottery Barn
If you have a small bedroom and you like stripes but don't want to make a hotchpotch of patterns then having a pastel shaded striped bedding should be you choice. This beautiful duvet cover with pastel greyish blue shade is giving this bedroom a very cozy appearance.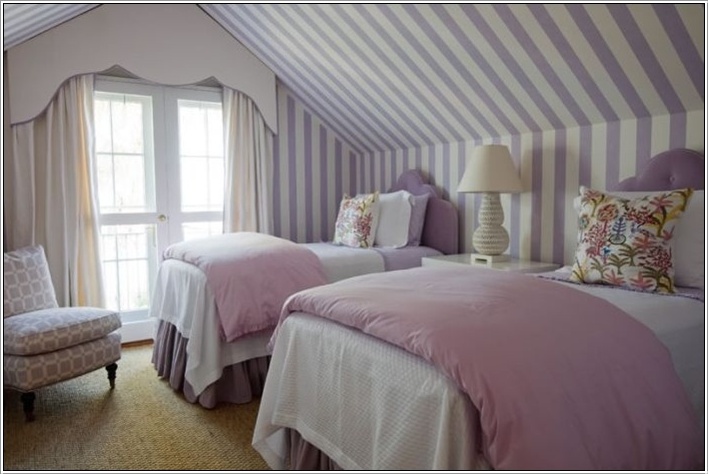 Via: Phoebe Howard
5. Phoebe Howard
If you want to get a bit more experimental with stripes then painting the ceiling in stripes along with the walls would be wonderful. This is an attic room with a tent shaped ceiling and it is painted in pastel purple and white stripes. To enhance the beauty of the stripes the designer has done colour blocking in the form of white, purple and pink bedding. With this the white curtains make this room complete.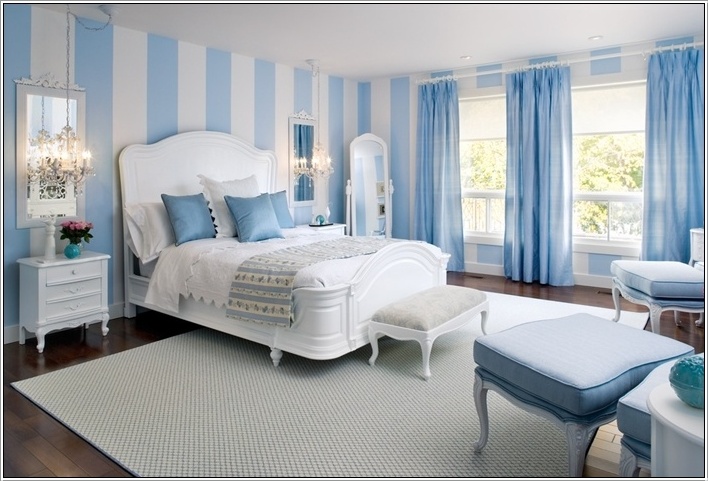 Via: Colin and Justin
6. Colin & Justin
Can a room be more calm and pleasing to eyes than this one? This room is a blue bliss with its walls painted in wide light blue and white vertical stripes. The white furniture and bursts of blue in the form of throw pillows and ottomans are making this room divine.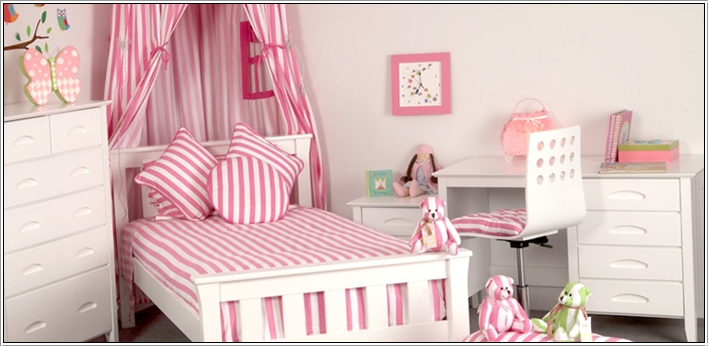 Via: Annie B's
7. Annie B's
Little girls will simply adore this room. This room is jazzed up with pink and white stripes in the form of bed canopy , throws and bedspread. Above all the teddy bears are also in stripes. Isn't it cute?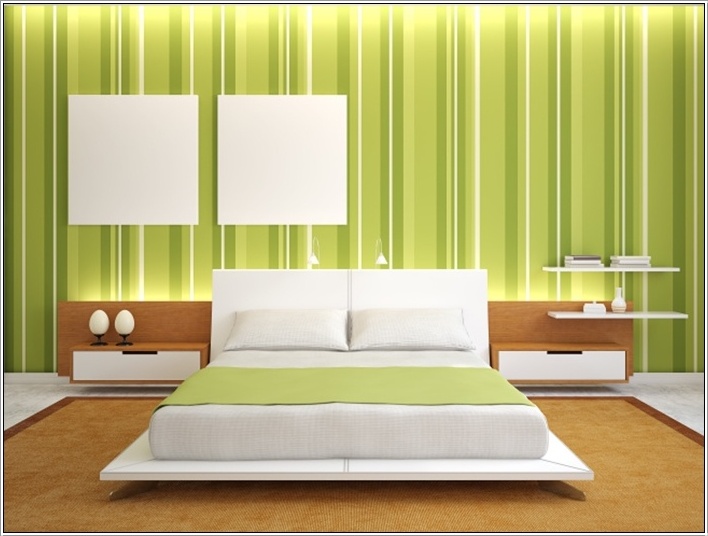 Via: All Coating
8. All Coating
This room with a bright green coloured striped wall gives a sense of tranquillity and freedom. Turn your room into a soothing and comforting place by painting your wall in light and dark green stripes along with traces of white like this.