THEMED HOTEL ROOMS TO STAY AT,
A TOTAL FANTASY TREATMENT!!
Have you ever wondered what some breath taking places have got to offer you? Thinking of planning a holiday then this is the right place. You love adventures and want to spend your money in a place that worth it then off you go…

1. Hôtel de Glace, Canada
This will be an unparalleled snow – experience .It has a charismatic ambience created through the combination of ice, fire and lights. In other words it's an out of the world must to see experience.
Source: http://www.hoteldeglace-canada.com/

2. Hotel seven, Paris:
This room is well suited for those who want serenity all around them. What makes this room exclusive is the elegantly styled bed and sofa with scribbled curtains surrounding the bed.
Source: http://www.sevenhotelparis.com/

3. Maddona Hotel: Merry Go Round
This room offers the tranquility of green color. Contrasted with beautiful pink carpet and the jazzy chandelier make this room complete for little fellows.

4. Gadds Town House, Durham: Le Jardin
This is a dream room for a nature – lover. With the soothing carpet of fresh
green grass and a large glass window extended till the ceiling give you a view
over the Wear River.
Source: http://www.gaddstownhouse.com/le-jardin.aspx

5. Adventure Suites: New Hamspire, US: The Tree House
Themed like a backyard accompanying a tree house, children can play around and also rejoice a separate hut within the suite. It is a real lush!
Source: http://newhampshire.ettractions.com/storage/attraction/

6. Propeller Island City Lodge, Berlin
With surrounding wall all painted with colorful city buildings' view this place is a mini world that boys will cherish. The bed shaped like a castle is yet another thing to look forward to.
Source: http://kajgana.com/sites/default/files/imagecache/full-size/statija/2012/08/images/content/najludite-hoteli-na-svetot-98601.jpg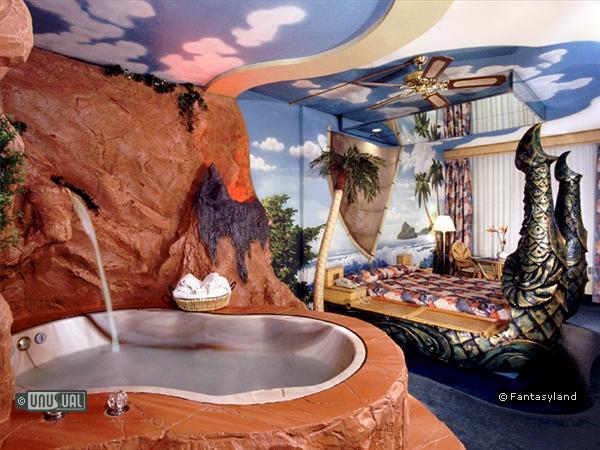 7. Fantasyland Hotel Edmonton, Canada
This room is designed in such a manner that both kids and elders will like it equally. Who love to be a little wild can refer to this place. The reptile style bed and the side pool like a mountain spring is a treat.
Source: http://www.unusualhotelsoftheworld.com/Images/Hotels/Big/FantasylandHotel633828018398273260_Big.jpg

8. Travelodge Hotel (Saskatoon, Saskatchewan)
This is such sort of a room for juniors which is an under the sea experience. So your kids can sail in the sea of full-on entertainment in this room's stay.
Source: http://www.vitrinenews.com.br/vitrine/images/stories/casa/decoracao/quartohomem/quarto3.jpg

9. Grand Hilai hotel – Kaohsiung, Taiwan
Little angels who like to spend time with their beloved partner hello kitty can opt for this one. The room is all done in pink with a huge cuddly hello kitty soft toy.
Source: www.grand–hilai.com.tw

10. Grand Hotel Savoy: Barbie
Designed by the renowned "Happy Chic" interior designer the peachy monochrome face portrait of Barbie doll is balancing the pink and white theme of the room well. It is altogether a complete amusement for those young princesses who admire Barbie doll.
Source: http://www.grandhotelsavoiacortina.com/hotel/suite-barbie-cortina-hotel-italy