People have started becoming more environmentally conscious in recent times. Mankind is trying to adopt eco-friendly practices because of global warming. Switching to solar lights is an excellent way of reducing carbon footprint. Solar lights use photovoltaic cells to absorb solar energy.
Solar energy gets stored in rechargeable cell batteries. It helps in powering the solar lighting solution installed on your property. You will come across different types of solar lights. For instance, you can use solar path lights to enlighten certain sections of your property. 
You can also find solar spotlights, which are the brightest type of solar lights. The light generated by solar spotlights is quite similar to a 40-watt incandescent bulb. Some of the solar spotlights also have motion detection properties. They get turned on in response to movements. Some solar spotlights are also specifically designed to work in low-light conditions.
Nowadays, you can also find decorative lights powered by solar energy. The decorative lights can be used in a plethora of ways, such as for lawn or garden decoration. 
If you are still skeptical about installing solar lights, you should learn about its benefits. The benefits are as follows:
The street lights in the US account for carbon dioxide emissions equivalent to that of 26 million vehicles. With the escalating levels of pollution all over the world, the need for green energy is more critical than you think. 
The adoption of solar energy can reduce the emission of pollutants like nitrous oxides and sulfur dioxide. Using solar lights will be better for the environment and also keep various human health hazards at bay.
Reduces Carbon Footprints
Solar energy reduces the daily usage of solar power. In a majority of households, lights are the most used electrical appliances. Lights powered by non-renewable resources leave carbon footprints everywhere. 
Around 17% of carbon footprints in the environment are contributed by lights. By opting for solar lights, a huge amount of carbon footprints in the world can be reduced. 
Solar power is generated by solar panels fixed on the roof or the ground. The electricity required for consumption is generated locally. It eliminates the need for transit for electricity to travel from a grid to the place of usage. Therefore, the bills generated for running solar-powered appliances are minimal. 
You should not worry about paying high electricity bills once you install solar lights at your home. Solar lights might seem unusually expensive at first glance. But its energy savings capacity will help you save more in the long run. 
Once you install solar lights, you can completely forget about their maintenance. Cleaning the panels occasionally and changing the batteries from time to time is enough to maintain the solar lights for a long time. Moreover, solar lights are also water-proof. 
You can easily install solar lights for gardens without having to worry about ruining them while watering your green babies. You can use your solar lights for years without having to worry about tedious maintenance requirements.
The net metering facility makes solar lights and other solar-powered appliances profitable. Net metering is a governmental initiative. It encourages people to use solar power by providing credits for extra solar power. 
A part of the surplus solar power gets stored within the batteries. The rest of the power is given back to the grid, which helps in lowering your solar power bills. The stored power is enough to make the solar lights illuminate your entire home.
Solar lights are capable of having an unlimited power supply. As long as the lights stay in contact with sunlight, they will keep illuminating your home. You know that electrical lights are dependent on the source. It means you will face power cuts from time to time. If a blackout lasts for hours, you will have to stay in the dark all that while. 
But solar lights are not affected by power cuts. People often have the misconception that solar lights don't work at night. The truth is solar lights work in the dark using stored solar energy. They draw out the stored solar energy from the batteries. 
Solar lights are great for community security. Thefts and vandalism often occur when there are power cuts. But solar lights will keep your community illuminated at all times. It will ensure you can deter crime rates to a huge extent. 
Solar lights will save you from the hassle of calling electricians for installation. Since the lights have in-built batteries, you won't find any wires. You can easily install solar lights on your own. 
The only thing that needs to be taken care of is the placement of the panels. You will have to place the panels in a way that it gets a good amount of sunlight. It will ensure that the batteries of the lights self-charge.
You need to handle electric bulbs with care. In fact, all electrical appliances should be kept out of the reach of children. You will always have the chance of getting electrocuted or getting an electric shock. 
But solar lights will relieve you from any such worries. However, you should never touch the solar panels when the sun is shining. It is also prudent not to touch the panels when they are wet.
Final Thoughts
Solar lights are great for people who want to transition to using renewable sources of energy. After reading the benefits of solar lights, you shouldn't back away from installing them in your home. You will find the lights in different sizes and shapes. 
You can even use the aesthetically-pleasing lights to decorate your garden or lawns. You can check out the Gigalum Solar Garden Lights on Amazon. The stainless steel lights with a mosaic design will give your garden a stunning appearance.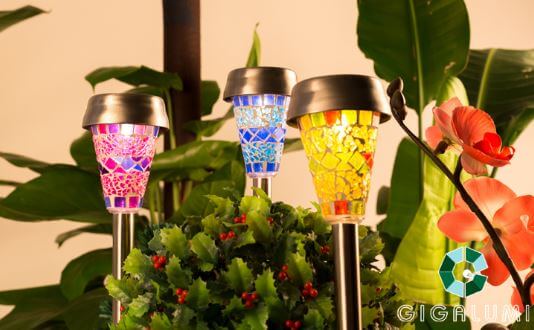 Switch to solar lights for your garden today and save on electricity bills. Your neighbors will also appreciate your choice of home decor. The next time you hold a party, the garden would be a perfect place to accommodate your guests.