As parents we always want the best for our kids, but may be we all do not have skills to create an inspiring atmosphere to our children's bedroom when we begin to decorate their rooms. On top of that we always consider the budget as always kid's likings change with their growing ages and none cannot afford to keep on changing wall colors, mural arts or furniture with the time. At a situation like this, I think wall stickers is the best solution and comes in handy to handle the situation with ease. I am indeed a huge fan of wall stickers as those are considerably can get with affordable price and the option of re-using it again and again. Basically, wall stickers are unique and an affordable idea for kids rooms wall art and it has everything you need to turn out a kids room in to a interesting and exciting place. Among these wall sticker arts, one of the most popular and very interesting art is jungle theme or animal stickers. Specially for baby nurseries and toddler rooms, when we decorate with jungle theme with bright colored vinyl stickers, kid's attraction towards it is more than any other design. I have got some very adorable animal designs which looks so cuddly and more playful to any room to create a jungle, farm or safari theme.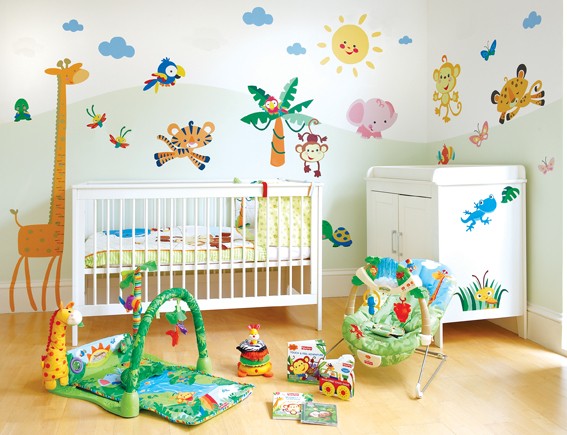 This gorgeous Fisher-Price safari theme wall decals from funtosee is simply perfect choice for any baby, toddler or young kid's room who loves animals.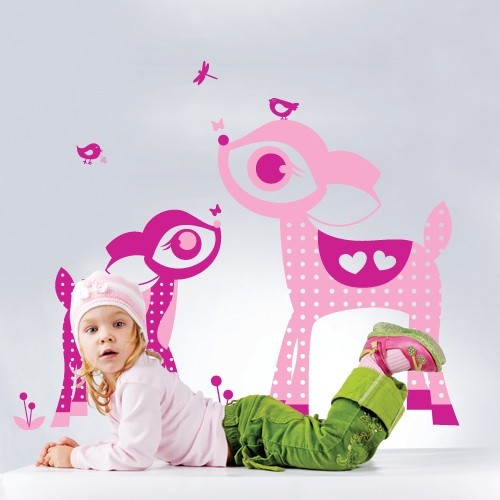 With this kind of colorful Bambi wall stickers from coolwallart, we can make kid's fantasies come true while they feel assured of the environment, which belongs to them and also to create private zoo just for them.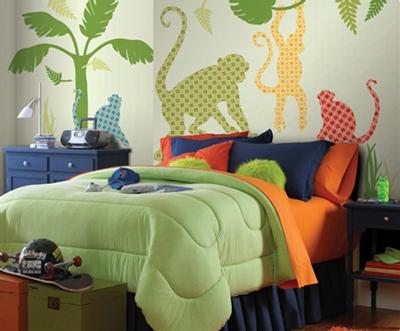 These Retro jungle theme wall stickers from  colorfulkidsworld , really makes look any room an African Jungle and looks extremely adorable and pleasing.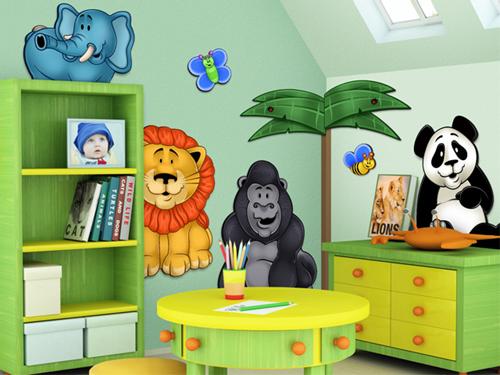 3D wall murals absolutely stunning as it gives more lively look to the room These individual pieces of animal stickers, again from colorfulkidsworld looks bright, bold and huge from size about 3 feet tall and 2 feet wide make any child's room more attractive and lovable place just for them to spend most of their time.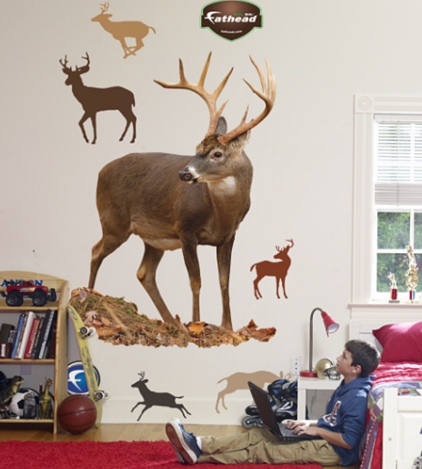 Looking absolutely natural and with the feel of the forest, this large deer decal set is just what you need to bring the king of the forest into your kids room. This is an absolutely beautiful wall sticker with great detail and natural color. It brings any room to life with a constant reminder of the things your kids love to have. These fabulous stickers are from decalsandskins and you get these in bigger and smaller sizes the way you need.