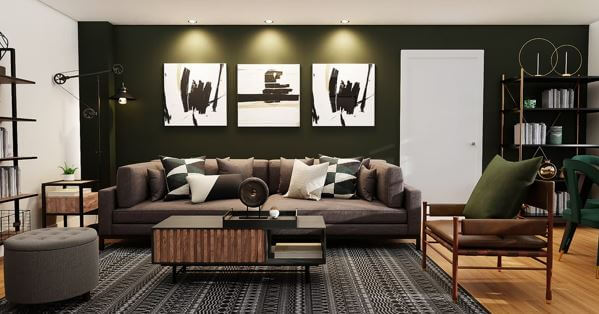 When it comes to interior design, there are endless possibilities. However, some styles have stood the test of time and remain popular today. Here are five styles you should consider if you're looking for classic design inspiration.
1.  Traditional Design
If you want to create a traditional space, focus on creating a cohesive look with plenty of texture and layers. One of the most important aspects of traditional design is choosing the right colors. Rich, jewel tones are often used in traditional spaces. Deep greens, burgundy, and navy are all great choices for a traditional space. You can also use lighter colors like cream or white, as long as darker accents offset them. When it comes to furniture, traditional spaces often feature pieces that have been passed down through generations. Antique furniture is a great way to add traditional style to your home. However, you don't need to fill your space with antiques.
2.  Mid-Century Modern
This style arose in the 1940s and 50s, and its focus on simplicity, functionality and clean lines has made it one of the most enduring styles of all time. If you're considering a mid-century modern design for your home, here are a few key elements to keep in mind.
One of the hallmarks of mid-century modern design is furniture with clean, simple lines. Think of sleek sofas and chairs with minimal adornment. This style also typically eschews clutter in favor of a more streamlined look. Regarding materials, mid-century modern designs often incorporate natural woods and stone for a warm and inviting feel.
3.  Rustic Design
The rustic design emphasizes using natural materials like wood and stone and elements like exposed beams and rustic hardware. This design is best done by interior design Greenville SC, which specializes in new build and renovation projects in Greenville. When it comes to colors, think earth tones like deep yellows, rich browns, and muted greens. And for furnishings, look for comfortable and relaxed pieces with a hint of ruggedness. When executed well, rustic design can be the perfect way to bring a sense of cozy charm to your home.
4.  Industrial Design
This style often features exposed brick, concrete floors, and metal fixtures. When it comes to furniture, look for pieces that are either vintage or have a distressed finish. Don't be afraid to mix and match different materials to create an eclectic look. The key to nailing industrial design is to strike the right balance between rough and refined. Too much of one can make your space either cold and sterile or too busy and cluttered. Instead, focus on creating a space that feels both stylish and comfortable.
5.  Scandinavian Design
Characterized by its focus on simplicity, the Scandinavian design originated in the Nordic countries of Sweden, Denmark, Norway, and Finland. This style is defined by its use of natural materials like wood, stone, neutral colors, and minimal decorations. One of the most iconic features of Scandinavian design is geometric patterns, which often echo the shapes of snowflakes or icicles.
There are countless design styles to choose from, but the traditional, mid-century modern, rustic, industrial, and Scandinavian designs are a great place to start if you're redesigning your home. Each style has unique characteristics that can be used to create a stylish and comfortable space.