A chess set is a battleground that's palm-sweating, crushing and brain-tightening. The best part about the game is a beautifully-designed classic board. Chess sets are designed to create a character and give life to a room even when it's not in use. There are many chess sets for players made out of unique themes and materials.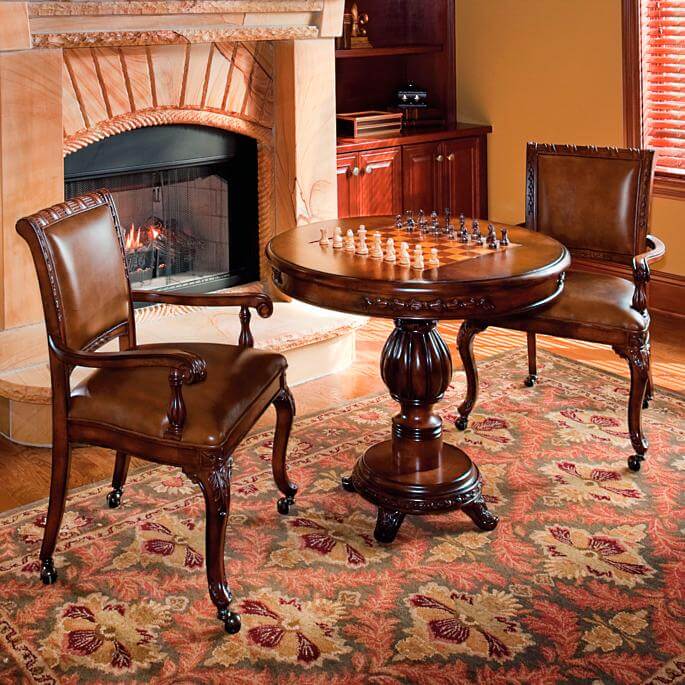 Based on material, here are some ways you can use a chess set for decoration:
Top 4 Ways to Decorating with a Chess Set
Based on Materials



Use Metal and Marble Chess Sets and Pieces
Chess sets made of silver, bronze, copper and gold require detailed production to give a striking look. Chess sets made of heavy metal pieces feel great when in your hand and could complement your room. Select a lardy style or character-based metal chess to match your traditional decorations.
Marble chess pieces are hand-carved and polished for a unique, classic look. They can give a great feel in an industrial space. Using alabaster can evoke the true king image within your room. Polystone set represents union of taste and technology.



Use Polymer Resin and Wooden Chess Sets and Pieces
Polymer resin chess sets can add a splash of color in your room. They can feature detail of high level for a colorful paint. It can also be used for historical chess sets among other character-based pieces. Re-enacting your chess set add chess fever while giving color to the game.
You can't go wrong with a classic wooden chess set. Some of the most common woods within the chess sets include walnut, ebony and rosewood. The dark, grainy chess sets look beautiful and stands out compared to traditional hardwoods. Wooden chess sets can work well in traditional and modern style interior spaces.
Based on Themes
Chess is a battleground literally and metaphorically. With a theme in mind, here are some tips to using a chess set for decoration:



Use of American History and Middle Age Chess Sets
Re-enacting United States' eras and battles on your chess board can ring freedom in your mind. Pearl Harbor, Revolutionary War and the Civil War can be painted and molded into a chess set to please both a serious player and a historian player. Freedom will be ringing in your home.
The time of noblemen, knights and kings can be made rich with chess sets representing battles, adventures and classic struggles. Chess set themed in the medieval brings a touch of class to your room. With Holy Grail or King Arthur, your home can never go out of style.



Use World Civilizations and Novelty Themed Chess Sets
Chess sets representing both historical and current world civilizations can bring a sense of the world to your home and an exotic feeling to the game. Whether you want to play as an Emperor or a Roman, it's a choice you have to make. People take chess game so seriously.
However, you could still have some fun when not playing chess. Choose a unique chess set to give your home a distinct look and feel, while reflecting your style and personality.
The Regency Chess Company USA has a collection of chess sets in different themes, colors or finishes and materials to choose form. Check them out for the right functional and decorative game set for your interior space.