Mirrored accent furniture tends to give the impression of extra space while adding some glitz and glam without overpowering a room. They can also add style to the overall décor. Due to their design, they are usually very costly.  You should also maintain them carefully due to their fragile nature.
Some maintenance practices are necessary to ensure they serve for long. Here are a couple of useful tips you could incorporate in taking care of your mirrored furniture.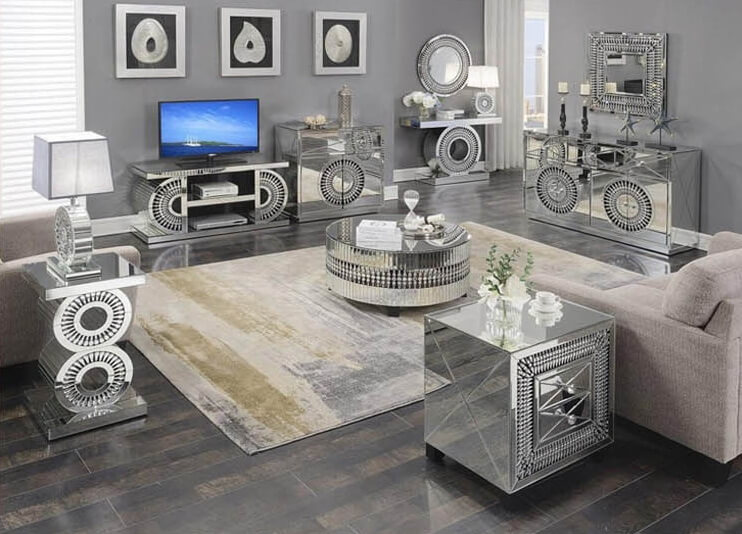 Keep them in Less Traffic Spots
Mirrors are fragile hence they can break at any given time if not well protected. Keeping your stylish mirrored furniture in high-traffic areas such as near doors, near kids' playing area, near the storage rooms and narrow pathways should be avoided. Pets should also be kept off to prevent them from scratching the furniture with their paws and dirtying them with their poop.
For instance, placing a mirrored table in a high traffic pathway will result in people and pets scratching it with objects as they move up and about.
Therefore, the perfect place to keep such furniture is in rooms that have low traffic such as a study room or the master bedroom.
Perform Regular Dusting and Polishing
The trick to keeping your elegant mirrored furniture in a good state is by cleaning it regularly. Dirt and dust will make a brand new mirrored furniture look old and worn out. It might sound like lots of pain, but it's still the best trick to keeping your mirrored furniture in long-lasting shape.
When cleaning your mirrored furniture always use a soft cloth with recommended glass cleaners. If glass cleaners are not at your disposal, you can always improvise by using water and white vinegar. Use of inappropriate cleaning cloths and chemicals such as alcohol, perfumes and hair dye should be avoided to prevent surface damage.
If the mirror on the furniture is vertically placed, wipe from top to bottom by using little circular motions. Regular dusting and polishing will prevent build up dust and particles smudges on the surface. Should you spill drinks or food particles on your furniture, wipe it off immediately.
Perform Simple Maintenance Practices
Just like machines, furniture also needs repaired once in a while. Depending on how your stylish mirrored furniture is designed, you may need to maintain it. Repair broken mirrors immediately to prevent them from causing injuries. If the furniture has nuts, bolts or screws, ensure to tighten them safely to hold the furniture in position. What you should avoid is tightening too hard. Handles and knobs should also be repaired or replaced if they are damaged.
If you want to change the position of your mirrored furniture around the house, desist from dragging directly on the floor. Ordinarily, the vibrations will make the glass or mirror to break. Always lift them gently when moving and positioning them.
For far distance relocations, you can wrap them safely in a cushioned box to prevent damages.
Additional Protection Tip: Always cover your stylish mirrored furniture with appropriate covering fabrics.