Trees are highly valuable. They provide you with cleaner and fresher air. Trees are also one of the most excellent landscaping features accessible in a residential setting. They can provide additional privacy and protection while also improving your house's overall ambiance and aesthetic. 
If you're fortunate enough to have a large yard or property, you most likely have a few scattered trees. However, there is a cost that comes with having trees. Living organisms require extensive care and upkeep to remain secure and healthy. Trees can become hazardous without sufficient maintenance or due to old age. This is when arborists services come in. 
This article will provide you with the basic definition of an arborist and some of the most common signs that you need their services. 
What Is An Arborist?
Arborists are frequently referred to as tree doctors. They have expertise and training in arboriculture, which studies nurturing and managing trees and plant life.
Arborists also research the structure and function of trees. They know all elements of tree surgery and management, such as growth, cultivation, diseases, damage, decay, and pruning. 
Unlike foresters, arborists focus more on the health and safety of individual plants and trees rather than on the management of a forest ecosystem. Moreover, they are also different from tree trimming services, although most companies may have an arborist on their team. 
In general, both tree trimmers and arborists may offer trim and pruning services. However, only an arborist can provide more comprehensive planning and actions toward tree health management.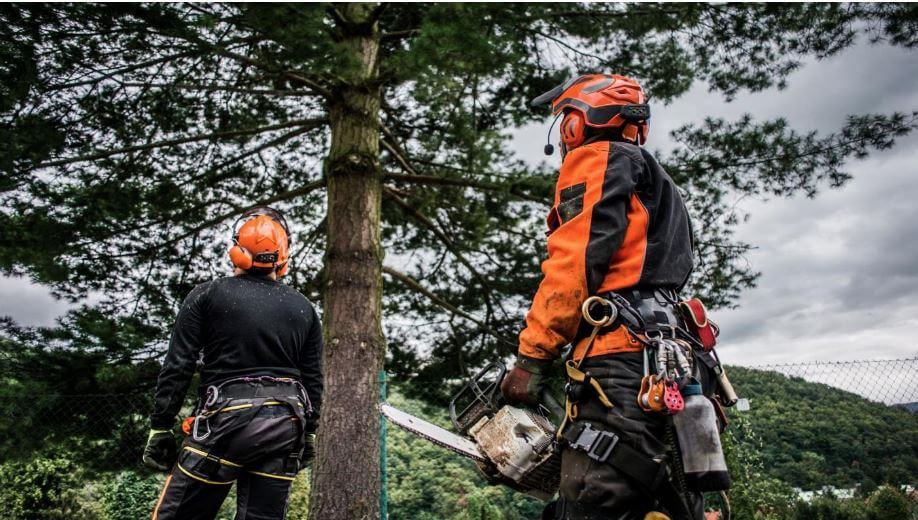 3 Signs You Need An Arborist
So, when will you require the services of an arborist? Here are some telltale signs to look out for:
A bushy, dark yard with overgrown branches and trees resembles a haunted, gloomy home. Aside from the terrifying effect, unkempt properties reduce your home's aesthetic and become a breeding ground for mosquitoes and other harmful pests and animals. 
While most trees grow slowly, there may come a time when they become too big or have dense branches covering your property. This is a sign to call an arborist to help trim the trees. 
In general, most arborists suggest pruning your tree once every 1-3 years, depending on the growth, water, and proximity to potential hazards such as your home's roofing or power lines. 
While most people like to go the do-it-yourself (DIY) route, only a certified arborist knows where to make safe cuts, how much to prune for optimal tree growth, and how to dispose of the removed foliage correctly. In addition, some arborists may even offer trim designing, which involves cutting trees into attractive shapes for extra appeal.  
Like any living thing, trees are also prone to pests, diseases, and death. Thus, they also require monitoring and care to grow healthy and strong. And just like humans, trees also need a doctor to treat them when they're sick. 
But, how do you know if your tree is sick or dying? Some of the signs will include:
Peeling or cracking bark

Brittle branches

Leaf discoloration

Thinning foliage

Unwanted growth (mushroom and other forms of fungi) on its bark or base

Unwanted pest infestation
If you see these signs, there's a good chance that your tree is sick or dying. A certified arborist can inspect your tree to determine the right solution to the problem. They can offer a personalized and comprehensive approach for your tree health care–from root protection and soil care to managing tree pests and diseases–ensuring that your trees can recover and continue to thrive for years. 
You Have A Leaning Or Down Tree
If you notice that your tree is leaning to one side, this is a sign to call an arborist immediately. When a tree starts to lean, it's a sign that the roots are no longer strong enough to ground and hold the tree up. It's only a matter of time that a storm or a strong gust of wind can take it down. Your family, home, and other properties are at risk if this occurs. 
In terms of storms, if you have a fallen or leaning tree due to the recent bad weather, you should call an arborist right once. It is critical to chop down trees before they collapse and cause more catastrophic harm to your property. 
It is important to note that cutting the tree alone is not suggested. Tree removal is both dangerous and complicated. A single error can be costly, resulting in significant injuries or, in the worst-case scenario, death. So, to securely and quickly remove a leaning or downed tree, hire a qualified arborist. 
Takeaway
Trees are significant because they are necessary for life to exist on this planet. So, keep yours alive. Consult an arborist as soon as you notice the signs mentioned above. They can assist you in developing a strategy for maintaining and protecting the valuable trees on your property so that you may reap the benefits they provide.