It's important to prioritize the comfort of your house so that you and your family may live more happily. Aside from keeping your house clean, you can also make it more pleasant with a heating, ventilation, and air conditioning (HVAC) system.
An HVAC system will keep your home at your desired temperature. However, maintaining it might be difficult, especially if you're a first-time owner. If you own an HVAC unit, here are some air conditioning maintenance tips to keep it functioning smoothly and efficiently.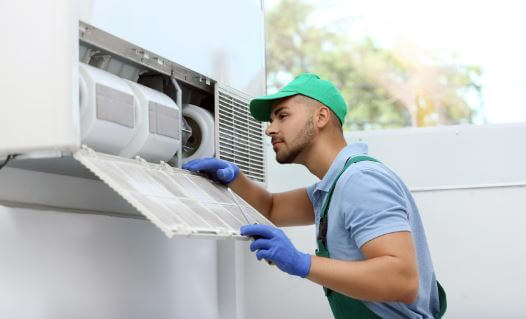 Have It Professionally Checked
Having a qualified HVAC specialist inspect your unit is one of the most efficient methods to ensure that it remains in good condition. Having them on hand is beneficial to prevent problems from becoming even more severe. 
They can also alert you of any possible issues that may arise with your HVAC system, allowing you to take the necessary precautions before any of these occur.
Qualified HVAC technicians can perform services such as lubricating moving parts, tightening electrical connections, checking the system control and fuel line connections, and adjusting blower components.
Change Air Filters Regularly
Air filters are responsible for removing dust, filth, hair, pollutants, and other particles from the air. As these particles build up, your HVAC system will get blocked, resulting in impeded airflow. When your HVAC gets clogged, it has to work more to maintain functioning, resulting in poorer efficiency and an increase in your utility bill.
Change the filters every 90 days or as soon as you see it is covered in dust to keep it running properly. Since air filters aren't expensive, you can always afford to replace them. Ensure that it fits your unit because incorrect size may diminish its effectiveness and shorten its life span.
Clear The Surrounding Area
You should sweep away the leaves, fallen branches, dirt, and grass from the area surrounding your HVAC unit at least once each week since this debris can infiltrate your vent system and cause damage.
You need to leave at least two feet of safe clearance around your HVAC unit to help optimize its air movement. Thus, you'll have a more energy-efficient HVAC system.
The thermostat is in charge of maintaining your home at the proper temperature. Therefore, you must regularly check it to ensure that it's operating accurately to utilize the energy-efficient feature of your HVAC system.
If your thermostat runs on batteries, check its status as well. When it runs out, your HVAC system won't be able to maintain the required temperature. Replace these batteries at least once every year.
Invest In Programmable Thermostat
Installing a programmable thermostat is the simplest method to take advantage of your HVAC unit's energy-saving capabilities. Since temperatures fluctuate throughout the day, you must manually regulate your HVAC system from time to time. 
A programmable thermostat allows you to set a plan for the whole week at your preferred temperature every day. Then it'll automatically adjust to its schedule, saving you money in the long run.
You may also set it to operate at a low temperature when no one is at home. By doing so, you'll lower your energy use and extend the lifespan of your equipment.
The air ducts in your home facilitate the movement of air from the HVAC system to the rooms. If these channels are obstructed, your unit will have to work more, which will result in inefficiency and an increased energy bill.
Regularly inspect your air ducts by going around your home while the unit is running. Check to determine if the air is moving smoothly through the vents and if the temperature in the room is accurate. If not, it might have been clogged by debris, dust, or mold.
Remove the vent covers to clean your air ducts. Clean them well with hot water and soap. By doing so, you'll help your unit run more efficiently and prevent additional dirt accumulation.
If you believe that closing any of your HVAC unit's air vents would help you save energy, you're mistaken. By doing so, you force your unit to work harder while using the same amount of energy. 
Since the cooling fan won't cease functioning, you're also increasing the pressure load. As a result, your unit and ductwork may be damaged, resulting in air leakage. The more closed vents you have in your home, the more pressure there will be which can cause air leaks.
Your HVAC unit runs more effectively if you keep the air vents open. When you do this, you're also optimizing the gaps for air flow and minimizing system clogging.
Make it a practice to clean your air vents or grills regularly. Simply remove the grills and clean them with a moist towel until no more dust or debris remains. The accumulation of these particles will also interrupt airflow and reduce the effectiveness of your HVAC system.
Clean The Evaporator And Condenser Coils
The evaporator coil is in charge of absorbing heat from the air. Meanwhile, the condenser coil absorbs heat and expels it outside. When these two are clogged, your HVAC unit won't operate.
Cleaning the coils regularly is one method of keeping your HVAC machine at its optimum condition. Use a soft brush to remove dust to ensure that they are always clear of dirt. Spray a coil solution on the residual particles after that. You must be careful when cleaning the coils since damage might be expensive.
Clean The Condensate Drain Line
The condensate drain line is the moisture's escape path. When air flows through an evaporator coil, it absorbs humidity and transforms it into water. This water is then collected by the drain pan and sent outside the house via the condensate drain line.
Molds and algae are likely to grow since water runs through them. Therefore, you must clean this pipe regularly, since clogging might cause the system to freeze and fail to work. Simply disconnect the line and clean it with vinegar or bleach to eliminate algae and other debris.
HVAC systems are built to be energy efficient. So, if you observe an increase in your bill despite constant use of the system, it might be an indicator that something is wrong with your unit. This might be due to duct leaks, faulty components, low refrigerant levels, or clogged filters. 
Whatever the cause, arrange a professional checkup as soon as possible. Failure to solve the issue quickly may result in increased energy expenditure.
Consider Replacing Your HVAC Unit
The typical lifespan of an HVAC unit is 15 to 25 years, depending on the manufacturer and how well it is maintained. If your HVAC system fails to function properly regularly, it may be time to replace it, especially if it is an older model.
A new HVAC unit is pricey, but retaining the old one will cost you more money in the long run.
Conclusion
Although there are several factors to consider when maintaining an HVAC unit, it'll undoubtedly pay off by allowing you to keep your home's temperature under control and your energy usage as low as possible.
Simply follow these HVAC maintenance guidelines and do additional studies to learn about other ways to keep your HVAC equipment in good working order.