The TV room, family room, entertainment room, bonus room, etc., the living room has a lot of names as it should. It's one of the most important rooms in the house. After the kitchen, it's probably where your family is going to be all in one spot the most.
Here, we're going to explore how you can jump on the DIY train and come up with different DIY ideas for your living room to make it more comfortable and enjoyable.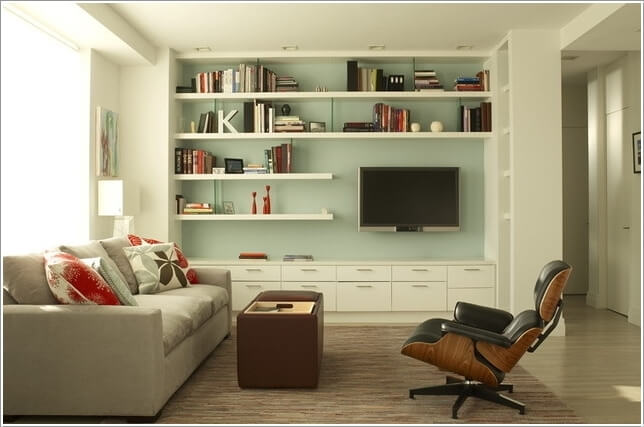 DIY Sofa
Having a comfortable, solid sofa is key for just about any living room. Instead of heading to the store and browsing tons of sofas, you can make your own bench and armrests while picking out the cushions and pillows you like.
You can even stain or paint if you want as well. Make sure you have a great coffee table as well.
Redo the Fireplace
If you're not using your fireplace for fire, then you can make it into a work of art. Paint the bricks to add a different feel and fill the fireplace with some decorations.
It could be books, artwork, or pictures. Your fireplace can warm your heart if it doesn't warm your hands anymore.
Mount the TV
A great way to clear up clutter, get an extra thin TV and mount it to the wall. Have the wires strung through the wall to remove any nasty cables lying around. It'll make your place feel more like a movie theater.
While you're at it, make sure you have a device that will give you access to almost limitless entertainment.
Ladder Shelf
Another easy project for DIY beginners, a ladder shelf is a fantastic place for a bit of extra storage. It makes storing books, photos, and movies quite easy.
Another great way for organizing your clutter.
Under Sofa Storage
If you want to keep your coffee table clear, add some under sofa storage to your living room. It's a great place for blankets, books, or magazines.
Put a small handle on the front so you can pull it out quickly without having to fumble around too much.
DIY Blankets
For any people that have a sewing or knitting gift, now is the time to add something to the living room. You can make blankets that go perfectly with your couch or other chairs.
A cool idea is to take t-shirts and knit them into a giant blanket or quilt.
Crocheted Foot Rest
A chair is great, but a chair with a footrest is even better. One way to make the perfect footrest is by crocheting one.
Not only can you make it the height you want (it is do it yourself), but the footrest can be perfectly soft for any tired legs and feet.
Plant Stands
One of the biggest trends in interior design is by having your furniture match the wall behind it. That's why you can make plant stands that blend in with the floorboard and wall.
Paint the bottom legs to match the floorboard and have the body of the plant holder match the wall.
Blanket Ladder
Blankets are great, but they can get in the way sometimes, especially during the spring and summer months. One way to take them out of the way in style is to make a blanket ladder.
Another fairly easy project, a blanket ladder can simply be leaned against the wall and have your blankets hung over each rung. Just make sure your children don't start climbing it.
DIY Side Tables
Besides the coffee table, you're going to need some side tables here and there for lamps or other items. There are limitless options when it comes to making a side table.
One of the cooler options is to make one out of copper and marble. Those two materials together will spice up any room.
Perhaps the easiest DIY tip on this list, but just because you have wall space doesn't mean that you need to go to great lengths to put something there.
Don't be afraid to leave blank space on parts of your walls. The blank space can draw attention to artwork or other areas of your living room.