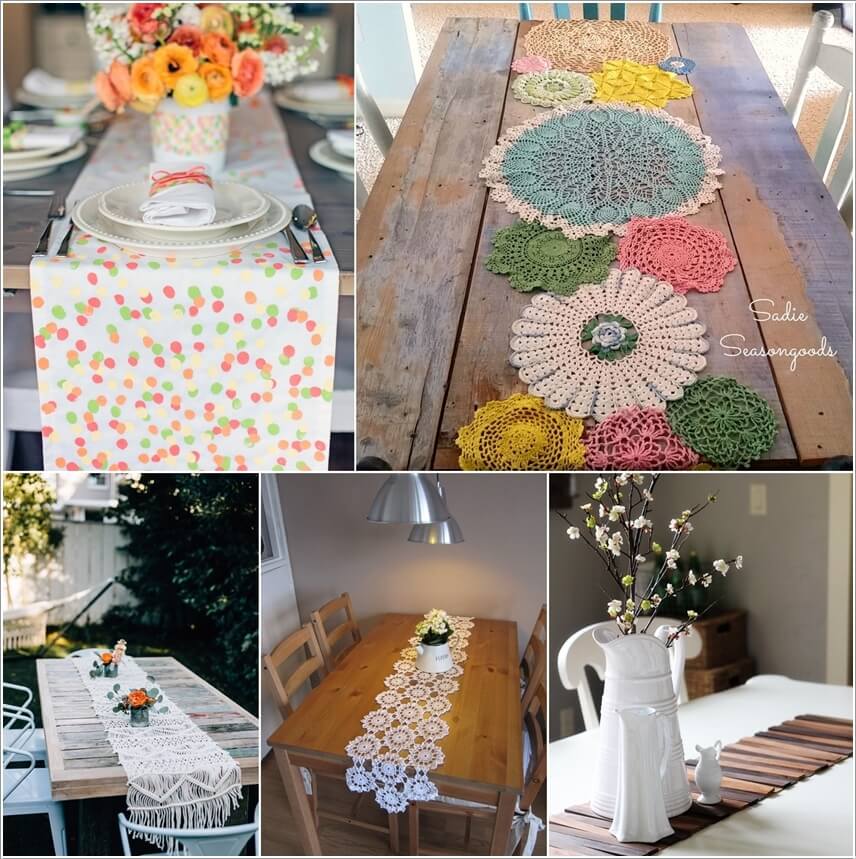 A well decorated dining table isn't only a tradition that you have to follow in just holidays. A festive or a unique table runner on the table can always add to the beauty of the dining room all year round. So, here are different DIY versions of table runners you will surely want to give a whirl to:
1. Collect All the Vintage Doilies; Arrange and Join Them Together in a Way That They Form a Table Runner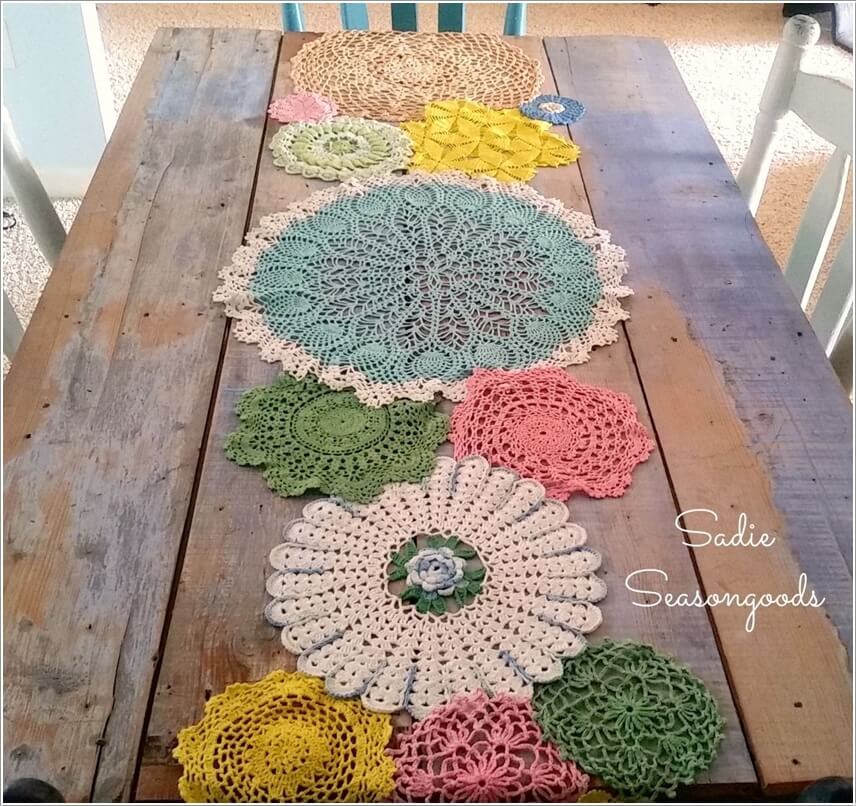 Image via: hometalk
Many of us have vintage doilies stashed somewhere in a drawer that we no more need. So, it is the perfect time to bring them out and make a runner for the table. You can even dye them in fun colors for a cheerful look.
2. Craft a Runner with Burlap Fabric and Pom Pom Trim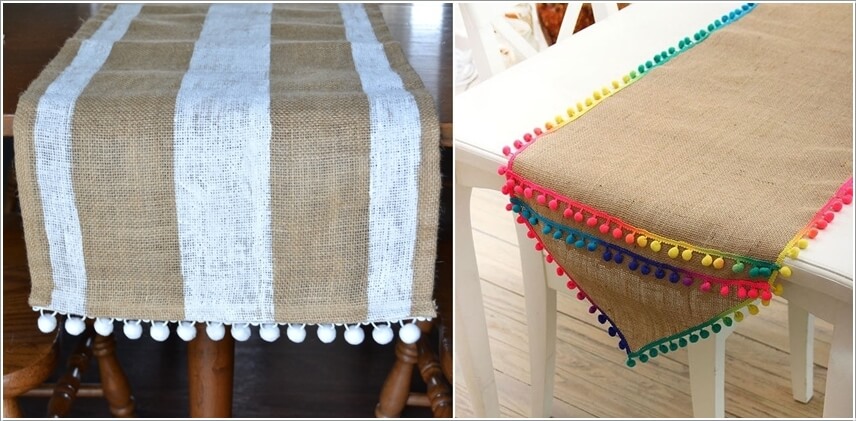 Image via: marymarthamama , trendyol
If you have some length of burlap available perhaps as a leftover from some other project then just get some pom pom trim from a nearby craft store and tada! You can choose any color that you like. You can be as simple as white and as bold as a rainbow of colorful pom poms.
3. Whip Up a Macrame Table Runner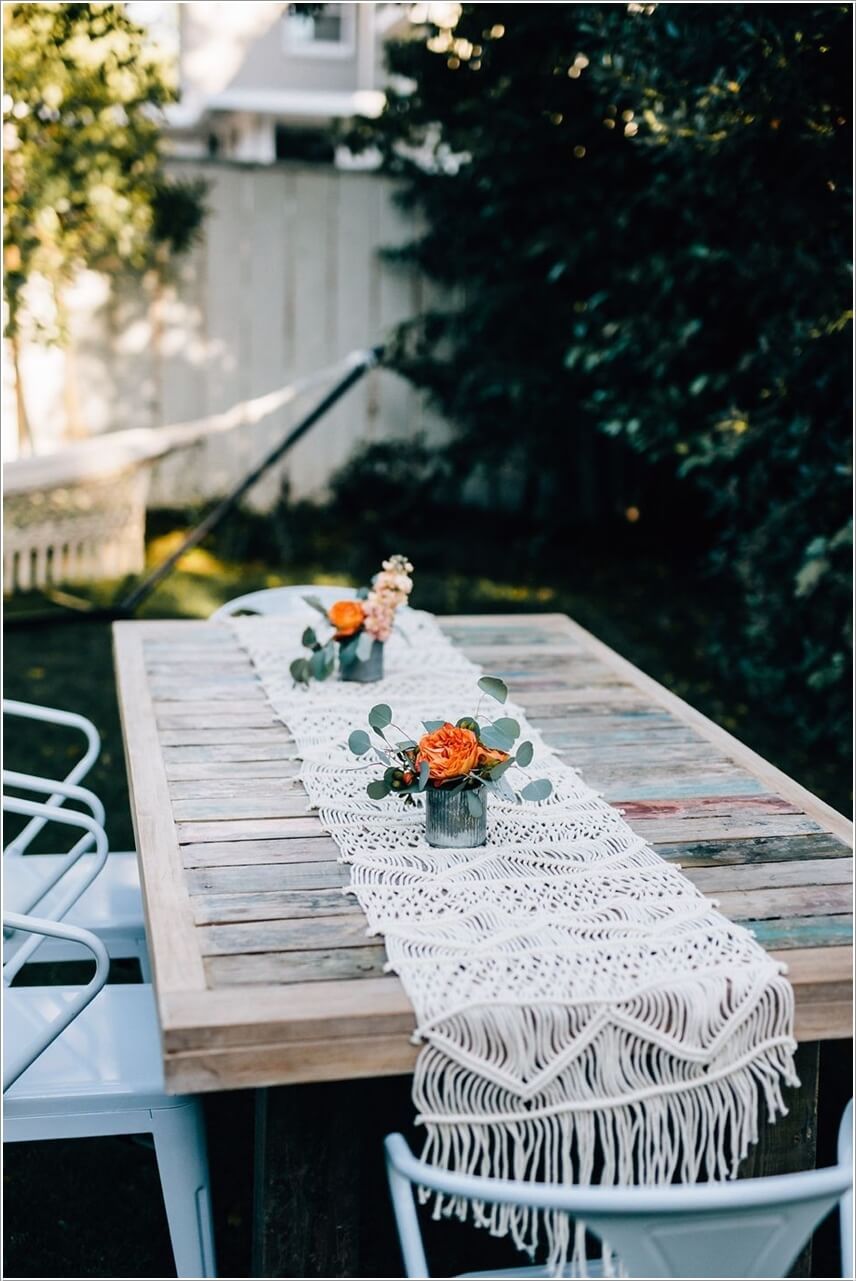 Image via: homefulies
Macrame is an ancient art that is trending a lot these days. If your grandma has taught you this skill then it is the time to bring it to use. Winter is approaching in the coming months and a crisp white macrame runner on your indoor or outdoor table will be just the right addition.
4. You Can Try Crochet Too
An equally beautiful and a close cousin of macrame is crochet. So, stretch your creative muscle and make a crochet runner.
5. Get Thrifty with Fabric Scraps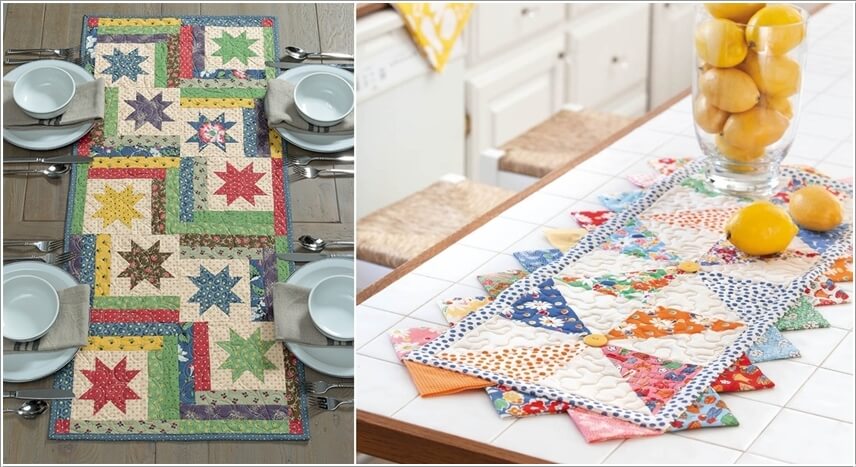 Image via: shopmartingale , leisurearts
Those who sew almost always end up with fabric scraps that sometimes are in too cute prints to be thrown away. So, you can recycle them and create a masterpiece of a table runner.
6. Why Use Fabric Only?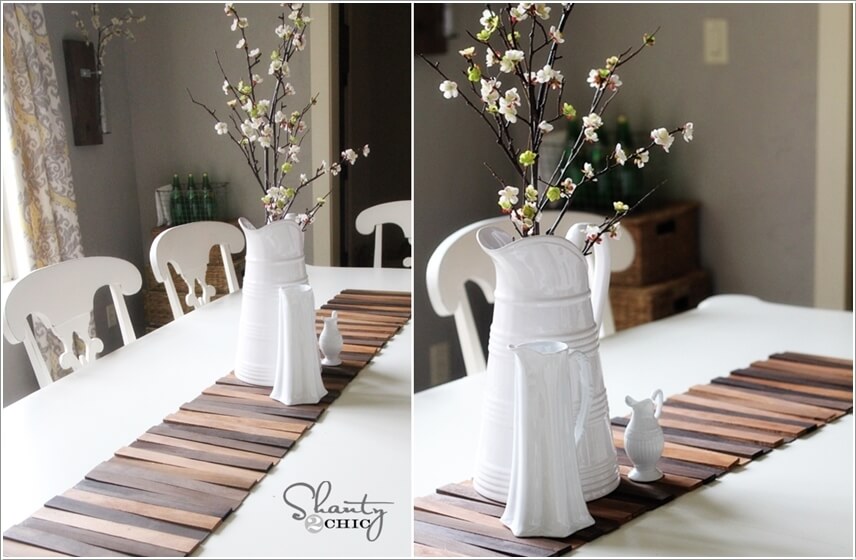 Image via: shanty 2 chic
When we think of a table runner the only material that comes to mind is fabric. But in the DIY world the sky's the limit. This is why here is an idea that shows a runner created from wood shims. Isn't it stunning? Especially with the ombre shades of stains this one is a winner.
7. Make a Runner with Printed Stripes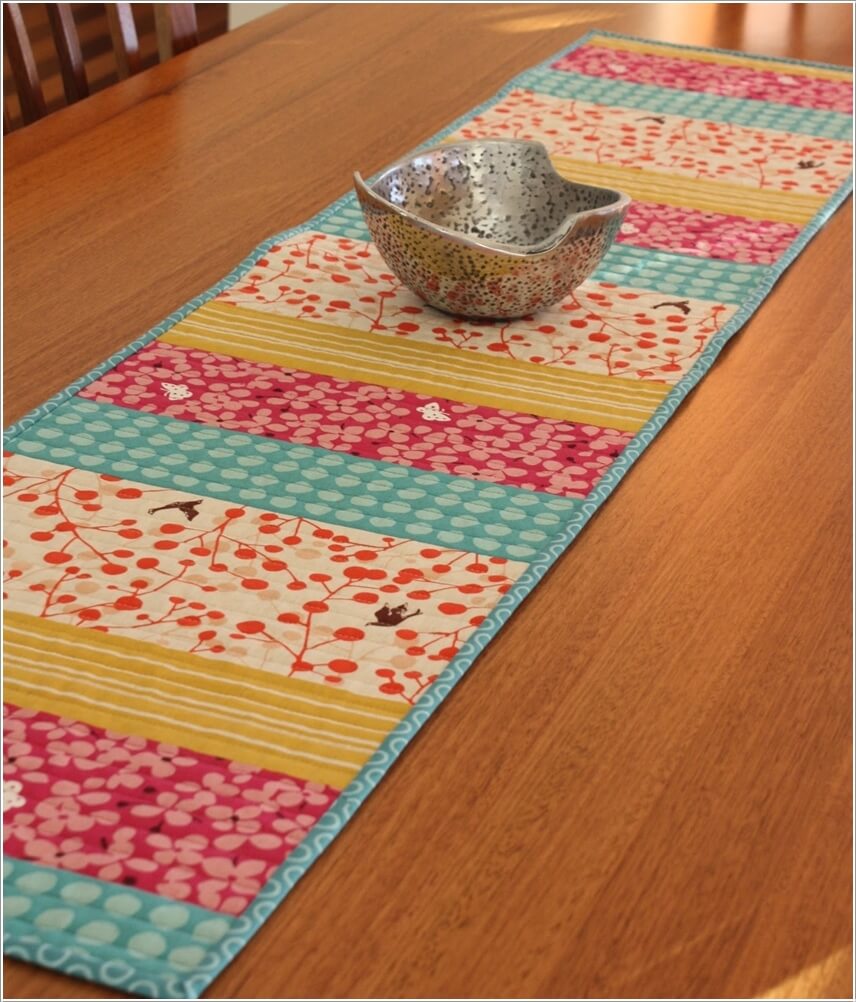 Image via: aspoonfulofsugardesigns
If you are a fan of prints and one print is not your thing then mix or match two or more prints. Then cut stripes of them and create a striped table runner.
8. Make Themed Table Runners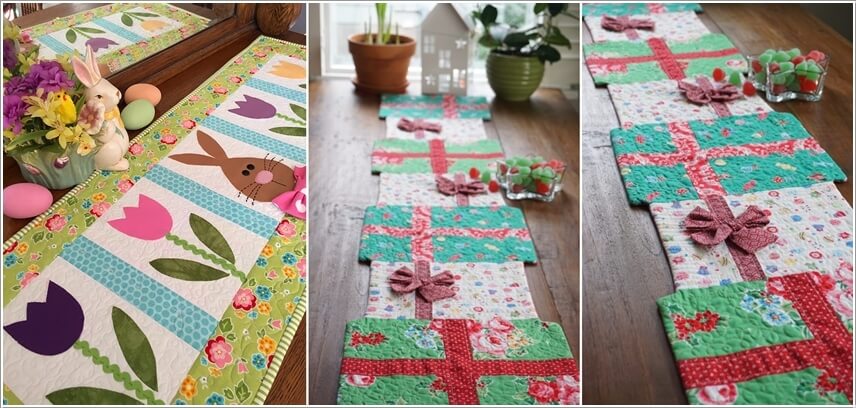 Image via: quiltingdigest , quiltingintherain
Soon after Halloween the holiday season will start and will continue till December. So, you can make a few table runners according to the themes of all the holidays. With a festive table runner you won't really have to worry about the centerpieces.
9. Create a Fun Tassel Table Runner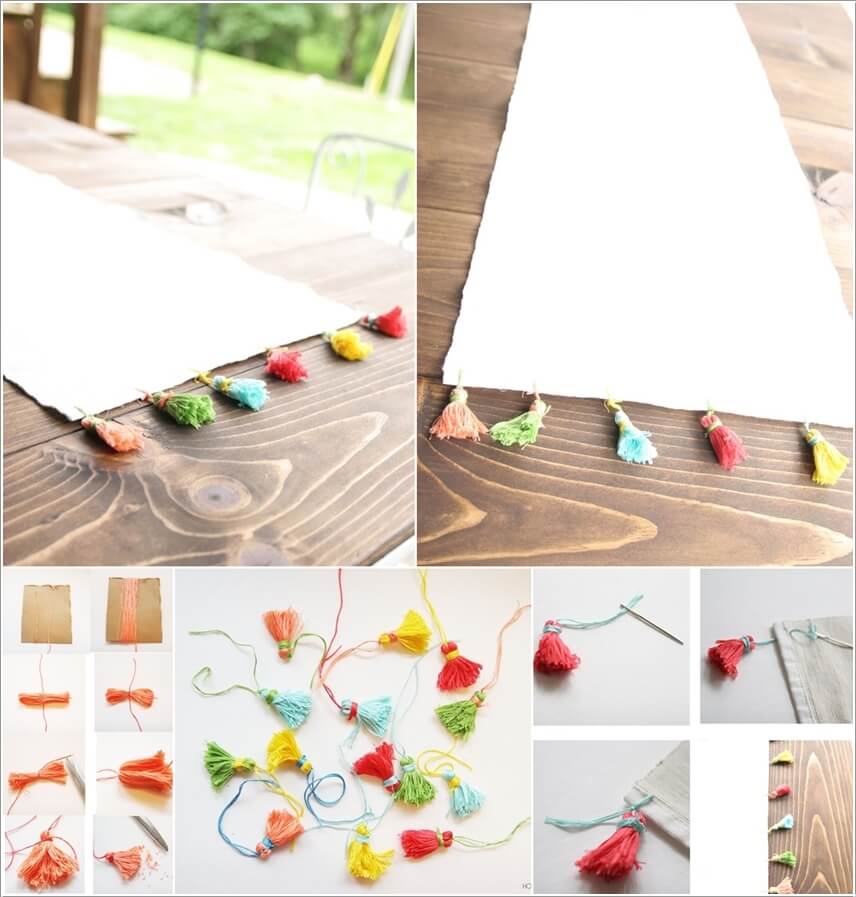 Image via: homemadeginger
A super quick way to make a plain table runner fun and cute is with tassels. Make a few tassels using embroidery floss in your favorite colors and voila!
10. Craft a Cute Fingerprint Table Runner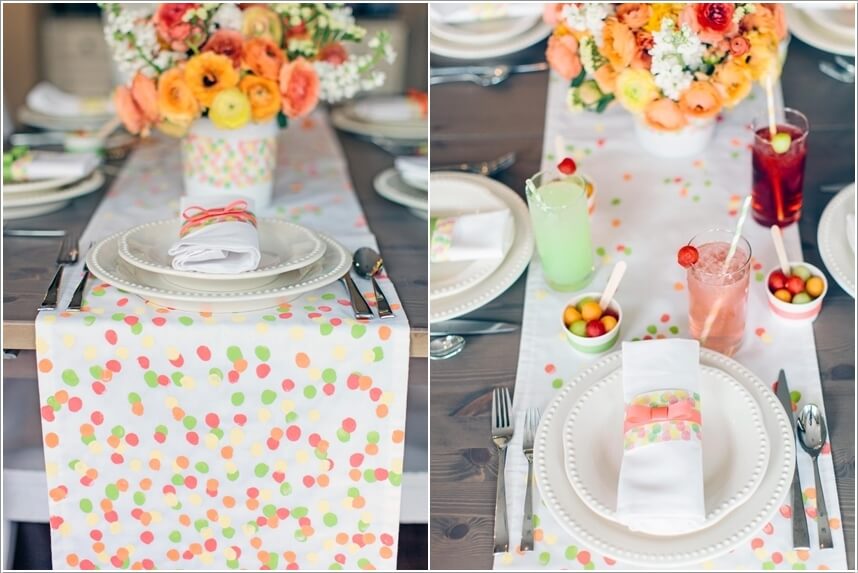 Image via: hgtv
You can make a table runner along your kids too by using fabric paints. You can either fill the whole runner with fingerprints or create a pattern.